June 12, 2008 10:54 IST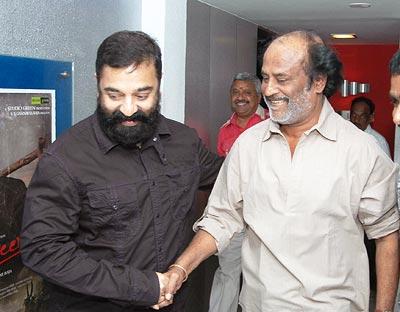 While all those Kamal Haasan [Images] fans out there have to wait till Friday [June 13] to catch the year's most awaited and hyped Tamil film, Dasavathaaram [Images], a selected few from the Tamil film industry got a chance to watch the film at a special screening in Chennai.
Also Read: Showcasing Dasavathaaram
And, naturally the most special invitee of the evening was none other than Rajnikanth [Images], the superstar himself. Also present on the occasion was both Kamal and Rajnikanth's guru, K.Balachander.
"Extraordinary!" was the word used by Rajnikanth to describe the film. As for K.Balachander, the film has such a lasting impact that the very next morning he went straight to the homes of Kamal and Ravikumar to congratulate them again.
As for all the unlucky ones in Chennai who have not booked tickets till now, they would have to wait for one more week to experience the magic of Dasavathaaram as tickets for the film are booked for a whole week in advance!