'We saw the room we stayed in on fire'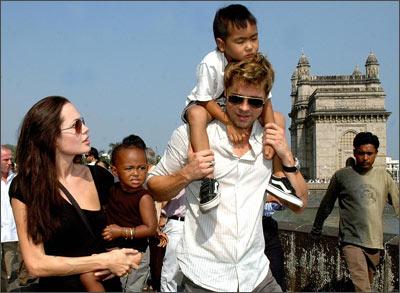 Brad Pitt has expressed shock over the recent terrorist attacks in Mumbai.
The actor, who once along with his partner Angelina Jolie [Images] stayed in Taj Mahal hotel [Images], has admitted that watching the horrific events on television was very moving for the couple.
Many people have been killed and hundreds were injured in a series of attacks that began last November 26, as militants targeted hotels, a Jewish centre, a hospital and a railway station, reports Contactmusic.
'We stayed in the Taj and we saw the room we stayed in was on fire. I can't begin to make any sense of it but I'm sure they are doing their best to uncover what was at the base of it," Pitt told US show host Larry King.
'It's an incredible building. It was incredible -- India itself is one of the most amazing countries that I've ever been to,' he added. 'Everyone should be so fortunate to get to explore it. It's also suffered from inefficiency in a strange way and a great gulf between the rich and the poor there that needs to be addressed there.'
In the photograph: Angelina holds daughter Zahara as husband Brad carries son Maddox during a stroll on the seafront promenade at the historic Gateway of India [Images], Mumbai in this 2006 file photograph.
Text: ANI | Photograph: Getty Images
Email |
Print | Get latest news on your desktop