Photographer sues Rihanna, Brown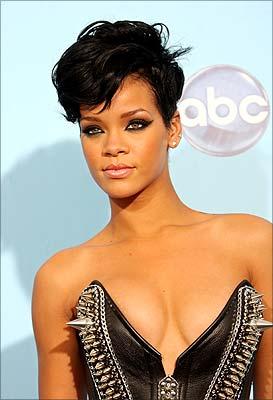 A paparazzi photographer has filed USD 1 million law suit against R&B singers Rihanna [Images] and Chris Brown after their bodyguards allegedly assaulted him.
The photographer Luis Santana alleged that the bodyguards of the stars knocked him down and stole his camera outside a nightclub while he was trying to take the pictures of the rumoured couple, the Contactmusic reported.
Reacting to the incident, Rihanna's publicist, Jonathan Hay has called the lawsuit a "really unfortunate event" adding that the matter has been completely blown out of proportion.
Santana claims to have been working outside the Vintage Ultra Lounge in St Petersburg [Images] when he clicked a picture of the pair through their limousine window. He says the stars' employees then assaulted him and took his equipment. Santana's attorney, Paul Kimsey, claims that the stolen photographs were worth a fortune as they contained the proof of Rihana [Images] and Brown's romance.
Santana is demanding a compensation for the photographs and the stolen camera, as well as his own personal injuries and distress.
The 20-year-old singer Rihanna and the young hip-hop sensation Brown have been seen together for almost a year but neither of them have confirmed reports of being a couple.
In the photograph: Singer Rihanna poses in the press room during the 2008 American Music Awards held in Los Angeles, California.
Text: PTI | Photograph: Frederick M Brown(Getty Images)
Email |
Print | Get latest news on your desktop