June 04, 2007 15:28 IST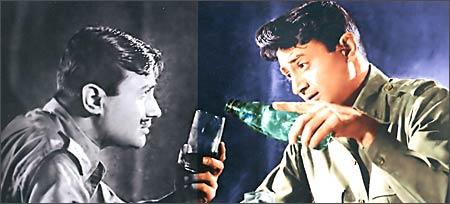 He was one of the most popular romantic heroes of his time, but very few from the younger generations really saw his charm. Now, come December, and you will see the evergreen hero in his prime.
His enjoyable film, Hum Dono, will be released in colour. In this movie, Devsaab appeared in a double role with Nanda and Sadhna. This will be the third film to re-release in colour, after Mughal-e-Azam and Naya Daur.
Naya Daur, starring Dilip Kumar and Vyjanthimala, is likely to release in August.
"Hum Dono is a special film to me because I played a double role for the first time in it," Dev Anand [Images] says. I had no training and no expertise but I did it and everyone loved the film in those days."
Asked if the younger generation would want to see the young Dev Anand, he said, "Any person in the world who loves Dev Anand will see Hum Dono.
"Even today when a girl says goodbye to her boyfriend before going home, he will sing, 'Abhi naa jao chod kar, ke dil abhi bhara nahin.' I am sure young lovers still hum these lines of my songs. Main zindagi ka saath nibhata chala gaya, har phikar ko dhuen mein udata chala gaya. Who wont love these lines of poetry? They sum up everything about life," he says.
The songs in Hum Dono were written by the late lyricist Sahir Ludhianvi, and scored by late music director Jaidev.
Goldstone Technologies Ltd [Get Quote] will colourise the film.