January 12, 2007 16:10 IST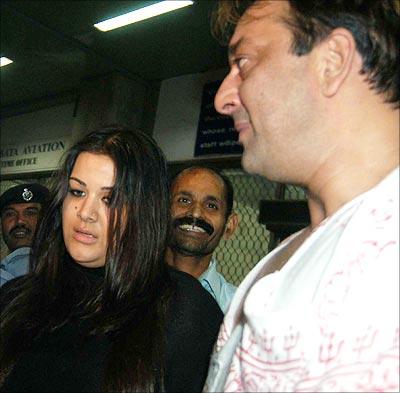 Sanjay Dutt, for once, was the center of media focus without a controversy to spark it.
This morning, the actor was at Sahar International Airport to meet Trishala, his daughter from first wife Richa Sharma.
The two are reportedly very close; Dutt has often, in interviews, spoken of how just thinking of his daughter was sufficient to make him cry.
More recently, while pleading for an extension of bail before the TADA court in Mumbai that found him guilty of possessing illegal arms, Dutt said he needed time to arrange for the further education of his daughter, currently studying in New York.
Trishala, during her last visit to India, had discussed with the media the 'strong' relationship she shares with her father.
She said, then, that people who think she and her father are not close are wrong -- the fact that they do not see each other very often does not, she pointed out, indicate a lack of closeness in relationship. She talks to her father at least once in three days, Trishala said then.
His daughter's arrival gives Dutt a respite from controversy. Just a day earlier, he was busy denying rumors of his marriage to a small-time actress, after reportedly telling a Mumbai afternoon paper that he was in fact married.
And next week, he will be in the headlines again, when the TADA court takes up his bail application. For now, though, there is just the father, and daughter, and some quality bonding time.
Photograph: Arun Patil