August 10, 2007 17:11 IST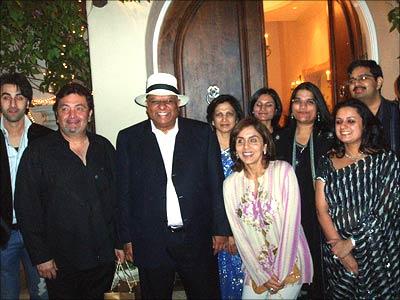 Ranbir Kapoor, extreme left, took a break from shooting Sanjay Leela Bhansali's [Images] Saanwariya and the hot Mumbai film studios, to accompany his parents Rishi Kapoor and Neetu Singh to California.

Thursday evening saw them partying with Indian billionaire B K Modi (the gent with the hat) at his mansion in Beverly Hills.

Among the other guests were Sri Sri Ravi Shankar, Navin and Pratima Doshi, Rajendra Vora and Rekha [Images] Bajaria.

Mody's MGlobal Trust, in association with the University of California Los Angeles School of Theatre, Film and Television, International Creative Management and Art Wallah, is hosting the India Splendor event to celebrate the 60th anniversary of India's independence in the United States.

India Splendor will unfold over the next six days in Los Angeles, starting today, August 10. It will culminate with a live performance finale on August 15.

The festival will feature Indian filmmakers and will include a tribute to the legendary Raj Kapoor.

Other highlights include a spiritual discourse by Sri Sri Ravi Shankar, founder of the Art of Living movement. A fashion show by designer Suneet Verma will follow.

On August 15, prominent Indians who have carved a name for themselves in their respective fields will receive the India Splendor Awards.