Home > Movies > First Look

Spotted: Hanging out with Arshad Warsi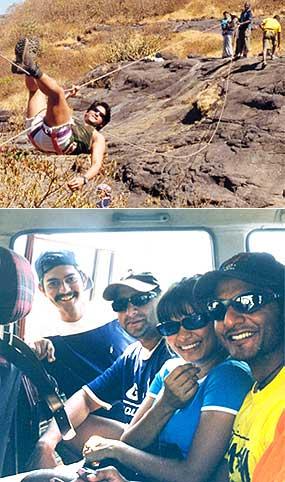 Reader Rajendra Mahajan hung out with Circuit.
Working as a technical advisor in an MTV show called Chill Out back in February 2000, Rajendra had the chance to meet Arshad Warsi.
The show was about adventure sports, focussing on MTV VJs. Describing Arshad as a 'devout husband,' Rajendra explains that the actor was accompanying VJ-wife Maria Goretti.
The picture on top shows Warsi crossing the valley, and the next picture shows Rajendra, Arshad, Maria and Nikhil Chinappa.
Rajendra also revealed that Arshad made Mutton Biryani for the whole crew. 'He is too good at cooking,' Rajendra writes. 'He had decided in advance that he will cook and was carrying masala prepared by him for the Biryani.'
'I must add here, that I was with him for 3 days and he is very down to
earth and has no hang ups.'
That sounds like a seriously good time.
f you encounter/meet/see film or television personalities and photograph them, please scan the photographs and mail the pictures to us. We will feature the best images right here on Rediff Movies.
Also check out: Other Stars Readers Spotted