Home > Movies > Bollywood News

'I'm representing Indian art and music'

Patcy N | March 24, 2006 17:38 IST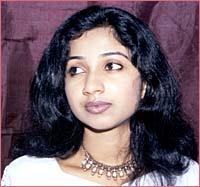 Shreya Ghosal is very excited.
In Melbourne for the closing ceremony of the Commonwealth Games, the singer is one of the participants in the cultural extravaganza that will showcase India, the host of the 2010 Commonwealth Games, and its rich diversity.
"I feel very proud that I am here to invite the Commonwealth Games to our country and I am representing Indian music and art," says Ghosal on the phone from Melbourne, where she arrived on Thursday.
"I am really happy. It is a different kind of experience, which is I am sure I will remember through out my life," she adds.
Bollywood stars participating in the event include Aishwarya Rai, Rani Mukerji, Saif Ali Khan, Lara Dutta, Priyanka Chopra and Isha Sharwani.
Percussion virtuosos Taufiq Qureshi and Sivamani will strut their stuff and singers Sunidhi Chauhan, Sonu Nigam and Shiamak Davar will be performing as well.
"I am singing the Delhi theme song Delhi chale chalna hai chal (written by Gulzar and put to music by Shankar-Ehsaan-Loy). We have just 11 minutes for India and our song is around three-and-a-half minutes. It appears at the finale of the cultural program," says Shreya.
She, Sonu and Sunidhi will be wearing costumes with the colours of the Indian flag, which have been designed by Anna Singh.
"It is fantastic because this is not just about singing but also about participating in the Commonwealth games," says Ghosal, who informs us that they have already rehearsed once. Though the Melbourne Cricket Ground – the venue -- is occupied, the Indian team of musicians, dancers and singers have been rehearsing at a different venue, which is also a huge ground.
"Rehearsals are fun and they are going great. Even though it is very hot in Melbourne right now, we are enjoying. Australia is a very vibrant country. Melbourne especially is the centre of art and culture," says Shreya, who will be leaving for India on Monday.
"People here are very nice friendly and peace loving. It's fun to be associated with such a wonderful country, people and occasion. There is a festive environment everywhere," she adds.
What about shopping? She doesn't like shopping while on work, is Ghosal's professional answer.