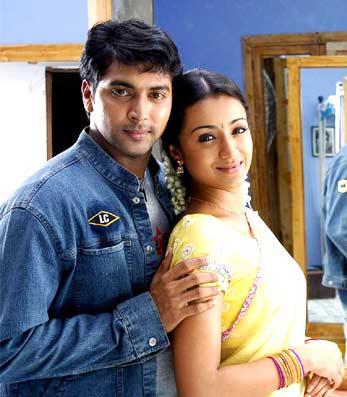 The title of the film is Something Something Enakkum Unakkum. One wonders why there was no opposition from the so-called Tamil protection force who had, in the past, forced many filmmakers to change the titles of their films. They even attacked Mumbai Express.
Something, Something has been made by the 'Jayam' family. It is produced by Mohan, with editing and direction by 'Jayam' Raja. It stars 'Jayam' Ravi and Trisha in the lead roles. The first film the family made was Jayam, a remake from Telugu, which was a huge hit. They then re-made M.Kumaran, S/o Mahalakshmy, again from Telugu, which was also successful. Ravi then made films outside his family, and all of them -- Das, Mazhai and the latest Idaya Thirudan made by K.Balachander's Kavithalaya banner -- turned out to be damp squibs at the box office.
Now, perhaps to revive his career, his father and brother have decided on another remake. Will they be lucky a third time around?
Something..Something is the remake of one of the most successful films in Telugu called Nuvvostanante Nenoddantana, which heralded the arrival of Prabhu Deva as a successful director. It also catapulted Siddharth, the hero, into the big league. Interestingly, for the role of Trisha's brother, an important character, the filmmakers had to really struggle hard. The role finally went to Prabhu.
The film is extremely important for Trisha too. Her position in the Tamil industry has been threatened by Asin and Nayanthara. Moreover, her last two films were not hits. Though Aaru with Surya did decent business, Aathi with Vijay was a disaster.
All said and done, a lot of hopes riding on Something..Something.
Netflix delivers DVD rentals -- from $ 9.99 a month. No Late Fees, Free Shipping. Two week FREE Trial.