Advertisement
January 12, 2005 15:38 IST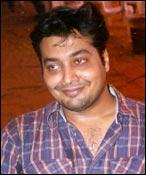 Director Anurag Kashyap's film, Black Friday is being extended into a television serial.
The movie is an adaption of Mid-Day journalist S Hussain Zaidi's book on the March 12, 1993 Mumbai bomb blasts.
Black Friday the centre of attraction at the ongoing Mumbai Academy of Moving Images festival, will be converted into a television serial after its theatrical release on January 28. The serial will consist of 13 episodes of 23 minutes duration, or five episodes of one hour each, according to Kashyap.
The film is 2 hours, 51 minutes long.
Additional footage will be shot for the television serial, which would include actor Sanjay Dutt's [Images] arrest and customs officer S N Thapa's alleged role in the movement of RDX, the explosive used in the blasts, the director said.
Kashyap plans to ask Dutt to act as himself in the serial.