Home > Movies > First Look

Sanjay Dutt's SON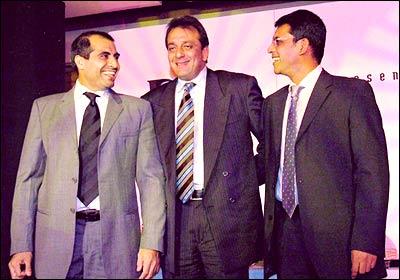 C

lose your eyes and imagine Sanjay Dutt.

You may see a tall, muscular man wearing a loose shirt, jeans and maybe carrying a gun in his hand, if you imagine him as a gangster in one of his films.

But on Thursday, October 14, Sanju was immaculately dressed in a suit, as he launched his new company SON (Son of Nargis) in Mumbai.

SON will do joint business with P9, a company floated by the Rs 8 billion Percept group.

SON intends to undertake production and marketing, create web sites for film stars and do stage shows.

The actor was in a light mood as he joked, "You can see that [a change] in my looks. Now, I am very formally dressed. Moreover, I have reached on time! I was asked to reach at 1 pm and have arrived at 12.45 pm!"

Sanju is known to be softhearted, distributing money to his friends generously. Would he make a shrewd businessman?

"The most important thing in my life is God. After that, my friends. If somebody I know needs money to get his sister married or if someone needs money for his mother's hospital bills, then I will not say no. I am generous. But at the same time, I am shrewd when I need to be. I believe in my friends and if they need help, I will always there for them."

He said he had wanted to do business but could never do so because of problems he faced earlier. "I could not do business because of various reasons in life. Today, I have great friends. They are like my brothers. The chief executive of the Percept group Shailendra Singh told me he had a business plan for me. I immediately gave him a green signal."

Sanjay did not go into the financial details, saying, "It's too early. You can ask the monetary questions after six months because we have just set up this company. But I must say I liked the name of the company SON. The concept really appealed to me. This is the best name I can have for my company."

Sanju added he will launch his web site soon, so that his fans can interact with him. "I don't have much time as I am mostly out of the country. But today, I am Sanjay Dutt because of my fans. I never forget this fact."

Close friend Suniel Shetty recently burnt his fingers in film production when his films, Khel and Rakht, bombed. But Sanjay assured us, "People around me will help me out in this venture. If you market your film well, you can easily get a good opening, and that is huge money. If your film gets a good opening, it will surely become a hit."

Sanjay Dutt, flanked by Percept CEO Shailendra Singh (left) and P9 CEO Sanjay Bhutiani.