Home > Movies > Bollywood News

'They can call me Junior, not Sivaji'

Shobha Warrier | September 02, 2003 16:29 IST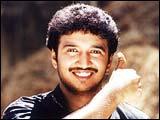 Had he not helped bring out a book on his grandfather, the late Chevalier Sivaji Ganesan, Dushyant would not have become Junior Sivaji.
Acting was never on 20-year-old Dushyant's agenda.
Dushyant had planned to go to the US for higher studies like his other cousin Vikram, son of actor Prabhu. But he stayed back in Chennai, completed his graduation, and decided to go to the US later for post-graduation.
Meanwhile, he helped his father Ram Kumar bring out a book on his grandfather. Had he not done that, feels Dushyant, he would not have become an actor.
While assisting his father, a producer friend noticed Dushyant and asked him, 'We heard you are interested in acting. Do you want to act in my film?'
His answer: No.
Dushyant was never interested in acting. Whenever teachers and friends asked him about joining films, his answer had always been, 'Not interested.'
In deference to his grandfather's wishes, he and other children of the household were kept away from films throughout their childhood. They never attended film parties or film shoots and never talked about films at home.
Life was normal.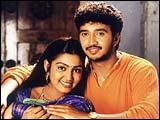 "I spent a lot of time with my grandfather. Not once did he talk to me about movies. We used to watch English films, films of my liking, together. But he was more interested in knowing about my college life," recalls Dushyant.
When Dushyant refused the film offer, the producer Sundaram approached Ram Kumar. After they persisted, Kumar sent them to his brother Prabhu. After a long discussion with the producer, Prabhu asked Dushyant whether he wanted to try his hand at acting.
The young man said he needed time to think. He then consulted his friends, parents, even grandmother.
Finally, Prabhu's son Vikram made him accept the offer, says Dushyant, "Had Vikram been here in Chennai, he would have been approached to act, as he is the son of an actor. I asked him whether he was interested. He was not, and asked me to not let the offer go.
"We are what we are only because of him [Sivaji Ganesan]. If we are respected, it is because of him. So I thought I was paying him back by entering this field."
The moment he said yes, he was rechristened Junior Sivaji. "I was already under tremendous pressure and did not want his [Ganesan's] name also on me. But they [the producers] insisted. Apparently, his [Ganesan's] fans and my uncle's fans wanted me to have the name. I told everyone not to call me by my grandfather's name. They can call me Junior, not Sivaji."
But he has still not got used to being called Junior.
His grandfather's first word in front of the camera was Success, for the classic Parasakthi. More than five decades later, Junior's film has been titled Success. He also utters the word success in his first shot in the film.
These coincidences make Dushyant believe he was destined to be an actor.
The Tamil film is directed by debutant Suresh Prasanna, and co-stars Sonia Agarwal (of Kaadal Kondein) and Nandana (of the Malayalam films Snehithan, Swapnam Kondoru Thulabharam).
Dushyant says he was nervous on the first day of shooting, but seniors like Roja, Urvashi, and Y G Mahendran, who had acted with his uncle, made him feel at home with valuable tips and advice. "They went out of their way to tell me how to face the camera, how to deliver dialogues, etc. They watched all my scenes on the monitor as if I were part of their family and later commented on them. If they found the scene okay, they would say 'thumbs up' or they would ask me to do it again."
Dushyant would also sit in his makeup room with his eyes closed so that he could "try to be inside the character".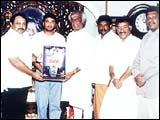 Dushyant is aware that comparisons with his grandfather and uncle are inevitable. Expectations are high. "The thought is scary. When I used to get tense for my exams, my grandfather used to tell me, 'Think about me. You will get courage.' I am doing the same today. I know people expect the same kind of versatility from me too, but the only consolation is that acting is not dramatic these days. It is more realistic. So I hope they will not compare me with my grandfather. He was the ultimate as far as acting was concerned. My uncle was a good dancer. Now, people might wonder if I can dance like Prabhu!"
On September 5, when his film releases, Dushyant plans to be in the theatres, watching the audience and his family's reaction.
He says, "Had grandfather been alive, it would have been different. He would have told me what to do and what not to do. I am sure he is somewhere up there, blessing me."
Click here for More South Features