Home > Movies > Bollywood News

Azhagam Perumal's 'Joot' takes off

Shobha Warrier | June 28, 2003 15:43 IST



Azhagam Perumal shot to fame when he became the first outsider to direct a film for Mani Ratnam's production house -- Madras Talkies. But the film, Dum Dum Dum, starring Madhavan and Jyothika, did not live up to many expectations.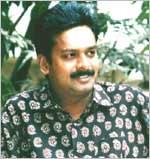 "I do not know why some people want to paint my first film as a non-success," said Perumal. "It was well appreciated and it made a profit."

Though Perumal spoke sadly about his first two films (his second film Udaya starring Vijay is yet to be released), he is in an upbeat mood as he has just started shooting his third film with the 'safest hero' in Tamil films, Srikkant.

For the first time, Srikkant has been paired with Meera Jasmine, another favourite of Tamil film producers and directors after the massive success of Run last year. Azhagam Perumal spoke to rediff.com after finishing the first day of shooting -- a song sequence featuring the lead pair.

"I am trying to break the monotony of showing the same pair again and again," said Perumal. "I like to work with new people all the time. These two have not been paired before and the idea excited me. I decided to have them because both of them are young and fresh, and appeal to the young generation. Both of them are very interesting, fresh and bubbly."

If Dum Dum Dum was a romantic comedy, his new film Joot is an action film in keeping with the current trend.

The title also follows the present trend in Tamil cinema of naming films with slang words like Dhil and Dhool. But it was not the success of these films that made Perumal choose a name like Joot. "I wanted a small title, a two-letter word in Tamil," Perumal explained. "We were discussing so many words. Suddenly the word 'joot' came to my mind. Immediately I knew that was what I wanted. I had seen an ad some time ago in which the word 'joot' was used and it remained in my mind."

In Tamil, youngsters say, 'come on, joot'. Joot can be roughly translated as 'let's go'.

Joot

is going to be Srikkant's first action film. So far he has only acted in college love stories and family dramas. Srikkant said, "I want to try out something different. I also want to act as a villain soon."

The villain in Joot is Bollywood's Aditya Panscholi. Joot marks his debut in Tamil films.

The film's hero was all praise for music director Vidyasagar's compositions for Joot. "Music is very important these days," he said. "Only good songs can promote a film initially."

Asked if the tag 'safest actor' puts him under pressure, Srikkant said, "Not exactly. I want to be a minimum guarantee actor. As long as you select good stories, you are safe. It is not only your character but all the characters in a film that are important. I try selecting films where all the characters are crucial and important."