No regrets, no remakes
After the debacle of Yeh Teraa Ghar Yeh Meraa Ghar, Priyadarshan seems to have shifted his focus to Tamil cinema.

He has just completed shooting

Kanmani Nee Vara Kaathirippen, starring a new sensation, Shyam. He has also announced his next film Anbe Shivam with Kamal Haasan and Madhavan.

Rumour has it that

Kanmani Nee… is a remake of the successful Malayalam film, Summer in Bethlehem directed by Sibi Malayil, starring Suresh Gopi, Jayaram, Manju Warrier and Mohanlal [in a special appearance].

Shobha Warrier spoke to the director on how this film has shaped up:
Were you disappointed with Yeh Teraa Ghar Yeh Meraa Ghar's failure?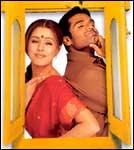 Yes and no. When I made the film, I knew it was not meant for that particular audience. The problem I faced was the success of Hera Pheri. Everyone expected a laugh riot like Hera Pheri with YTGYMG too.
Hera Pheri did not deal with any social problem; YTGYMG did. I did not expect it to become a huge hit but did expect it to do reasonably well. I expected appreciation, more than commercial success.
In Malayalam films like YTGYMG would be appreciated but that is not the case for Hindi audiences --- they want pure entertainment and drama, not realism. I understand that now.
You were planning to make Thalavattom in Hindi [starring Mohanlal, Lisi and Karthika] with Shah Rukh Khan. Will you make the film now?
No. No more remakes. I am doing only originals in Hindi. The film, which I am now making with Shah Rukh, is set in the British Raj period.
While making Hindi films, you seem to emphasise a lot on the technical aspects of the film, losing out on soul...
No, I don't agree. I emphasise the technical aspects in all my films, not just Hindi. If what you say is true, every Hollywood film should lose its soul.
We are very poor in the technical department. If you take films of most of the great filmmakers, you will see that they have all been poorly shot. And [Aamir Khan's] Lagaan would have definitely won the Oscar if it were technically better. The content and approach were excellent but I am sure it missed out only because of its technical quality.
Why are you making a Tamil film and not a Hindi or Malayalam one?
It has been a long time since I made a Tamil film. After Gopuravasaliley, I haven't made a Tamil film. Snehgithiye, which I made in all the South Indian languages was a hit. So I was pressurised to make a Tamil film because this is the one place where I can make my kind of films. I am comfortable in Tamil.
What differences have you perceived between each language?
The sensibility, aesthetic sense and lifestyle of the people of these regions are different.
An important difference is the pace of the film. A Malayalam film can move very slowly. You can't have that in Hindi cinema. In Kerala, people are more educated, so you can have subtlety in Malayalam films.
Tamil films have to be faster than a Malayalam film but not as fast as a Hindi film.
I have also noticed that the audiences in Kerala do not tolerate illogical situations. In Tamil, you need more emotion, more drama.
Rumours have it that Kanmani Nee Vara Kaathirippen is based on the film Summer In Bethlehem...
Not true.
Tell us about your other Tamil film, Anbe Shivam with Kamal Haasan and Madhavan. Is it a comedy?
It is not a comedy. It's an emotional love story. Like in all my films, there will be humour in this film, too. It is based on an original story by Kamal Haasan. Kamal and I have been planning to work on a film for the last four years. But nothing exciting came our way.
Then, out of the blue, he narrated this story to me, and I thought it had great potential as a film subject.
You are known for your comedies in Malayalam as Kamal Haasan is known for his comic roles...
Well, the film is not a comedy, but it does have humour. It's an emotional film but there is no action. Of late, comedy in films has been reduced to buffoonery. Even comedy films need a good storyline and emotions.
You were planning to make a realistic Tamil film to be shot in Kancheepuram. What happened to that film?
It is a small film and I have just finished the paperwork. When I get time, I will shoot it. Actually, I am waiting for the rains to commence shooting. That film is for my own satisfaction. I have no audience in mind.
When I make a commercial film, I will make compromises to entertain. For this film, there will be no compromises.