But then again, under the smile lies tight-lipped determination. And those twinkling eyes mask the glint of ambition.
In less than half a decade, Tanuja has carved a niche for herself as a writer and director of repute. Backed by the success of Tamanna, Zakhm, Dushman and Sangharsh, she now eagerly awaits the release of Yeh Zindagi Ka Safar.
Vivek Fernandes caught up with the director for her thoughts:
On Yeh Zindagi ka Safar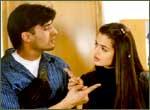 It is about a girl in search of her identity. Amisha Patel plays the lead -- a pop star who's on the verge of making it big. But Jimmy, an editor of a rundown tabloid, publishes a story which says that she isn't her father's real daughter. Amisha leaves home in search of her birth mother.
When she does locate her, the mother, played by Nafisa Ali, wants to have nothing to do with her. The girl wants to know why, and discovers her motherís past. Here's when she Ė a girl who had led a very sheltered, luxurious life -- undergoes a complete transformation.
She opens her eyes to reality and tries to correct the wrong.
Jimmy, who's only interested in the scoop, undergoes a change, too. He realises that the truth is far more frightening than he imagined it could be. He shoulders the responsibility he shirked earlier and becomes the real journalist he should have been.
On her cast and crew
When we signed Amisha, she was only a film old. Gadar was the only other film she had then. Even though Amisha was not a newcomer, she hadnít achieved what she wanted to in terms of fame with Kaho Naa...Pyaar Hai, so she was new in that sense.
Because she is urban, she has that crossover look we were looking for. And because she knew she wanted to get somewhere, she worked with an extraordinary zeal and determination.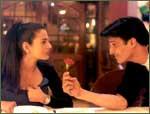 I saw Jimmy in Maachis and took to him immediately. But I never had the chance to work with him professionally. After Mohabbatein, even the distributors and producers recognised his talent.
I'm certain he will be a superstar after this film. Like Amisha, he is passionate about his work, too.
I've also worked with a new cameraman and choreographers for the film.
Nafisa Ali, as Amisha's mother, has a new look -- she's the victim here. Gulshan Gover plays Amisha's father, the good guy in the film -- that's novel too.
Rajpal Yadav stars as the adarshwadi owner of the newspaper. I cast him before he became famous with Jungle.
Mahesh Bhatt wrote the screenplay based on a real life story. After the press has gone out of its way to tell me how I copy foreign films, I must say that this film is a complete original.
On her association with woman-based issues
Yeh Zindagi Ka Safar is Amishaís story. But the novelty here is that it is Jimmy's, too.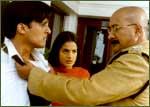 This film deals with a woman who doesn't believe in accepting wrong passively. She will fight back. She personifies power feminism -- she won't cry because the world is an evil place. She fights the evil.
On how she has grown as a director
I think Yeh Zindagi Ka Safar doesnít have the sort of desperate intensity my earlier films had. You learn from your earlier work. One tone, one kind of feel, which is sombre and dark, gets boring. After a point, it didn't touch me anymore.
This film has an easier feel; it has its silly, sweet moments. Itís not grim. It has more colourful people with deeper characters, who react to life differently.
On the delays associated with the production
Normally, I complete a film in a year but Yeh... took over 18 months to complete. We were delayed because of Govinda, who was to play the hero.
His television show came along and he wanted the shooting postponed. I couldn't and didn't want to run my life according to the stars, so I decided to go ahead without him. Without meaning to do so, Govinda actually did us a favour -- we wouldn't have found Jimmy otherwise.
On whether she is satisfied professionally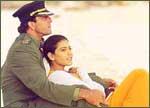 Not at all. How can I be when my films arenít box office hits? With Dushman, Ashutosh Rana became a star and Kajol won praise for her role. But in terms of money, it wasnít a winner.
Until you have that, you're not complete as a director. In any venture, you need to have a certain level of success to become a complete professional.
On working in a male-dominated industry
If you don't act overtly coy, there isn't a problem. You need to be professional. They doubt your capabilities in the beginning. They have apprehensions about the kind of film you'll make. They are afraid that you are the 'arty' kind of director.
I don't blame then because most women filmmakers deal with that kind of cinema. But after my first film, they could see that commercial cinema was what I was interested in.
I believe in making good quality products with a small budget and big story idea. It's got to be a high-voltage dramatic film.
Now, no one has a problem with me. I'm one of the guys.
On whether she will pursue writing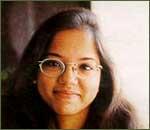 Writing is an important part of filmmaking. I started with writing Tamanna and Zakhm.
I've worked on the story and the screenplay for my next film which Pritish Nandy will produce. Pooja Bhatt and Lucky Ali will play the lead stars. It's called Tujhko Kya Chahiye Zindagi. I've also written the screenplay for Vikram Bhatt's next which will be filmed soon.
Also read:
Writer, director, likely star!
'I don't like making namby-pamby pictures'