Beyond Kallu Mama
Saurabh Shukla loves cinema.

As a young lad, he saved up all his pocket money to make a film of his own. But the Rs 5,000 he collected got him nowhere.

He put his dreams on hold and ventured into theatre. After his fill of Arthur Miller, opportunity knocked with Shekhar Kapur's

Bandit Queen in 1992.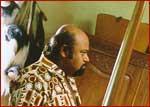 Then came his stint as Gopi (detective Sam's sidekick) in the popular television serial,

Tehkikaat. As Kallu Mama in Ramgopal Varma's Satya, Shukla's career reached new heights. But as he juggled the silver screen and the idiot box, he never lost sight of his goal.

With

Jaaneman Jaan Le Tu, Saurabh hasn't quite reached that goal. He's just getting closer, says Vivek Fernandes.

Tell us about your film.

We have just begun shooting for Jaaneman Jaan Le Tu. It's a newcomers' film set to a thriller format, with many twists and turns. It doesn't deal with a specific social problem or address a particular issue.

Amol Sinha (son of veteran producer Vinay Sinha), Sai (daughter of Debu and Shraboni Deodhar), and Rajat Kapoor play the central roles. Anand Milind will compose the music.

The story demanded that I use newcomers. I couldn't use people who already had an image. Of course, there are also actors like Om Puri in my film, whom I chose because they were not bound by an image.

Amol is a fabulous actor; Sai is truly magical. Rajat and I go back a long way. He acted in my first television directorial venture, Little Mirchi, Thoda Pepper. He also starred in Mr Mehmaan -- my telefilm which was aired on Channel 9.

What is the genesis of this film? How did you come to direct it?

Well, I had written the script for Jaaneman... But the producers were impressed with my work -- they asked me to direct it, too. I was not prepared for this project, and this wasn't going to be my first directorial film.

How different is your film from a, say, Dil Chahta Hai, Style or Paanch?

You see, when people talk of making films on or for the youth, they're lying. Youth, to many, only signifies colour. A frame filled with fresh faces, young voices and loud music.

But youth also means being scared, being happy and being horny -- all at the same time. A fluorescent shirt doesn't necessarily make me a teenager, does it?

I've seen DCH and Paanch. DCH is a slice of life. Paanch looks at the darker side of life, contemporary problems. It's a completely different genre.

Did you always aspire to be a director?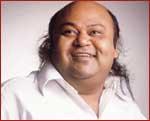 I have a strong theatrical background. I've been a playwright, an actor and director on stage. I've had the urge to direct from the very beginning. Theatre happened only because I wanted to make films.
At one point, I believed films could be shot with a still camera. In my first year of college, I even convinced my mates to put aside money for my film. We saved up for a year, but we realised that the money we collected wouldn't be enough.
A friend suggested we try our hand at theatre. It was close enough to making a film. We began rehearsing; I was appointed director. I had no clue what one was supposed to do. I read a few plays, but couldn't figure them out.
So I wrote something that I understood completely. That's how I became a playwright. I enjoyed theatre and continued writing, acting and directing.
I came to Bombay, after I did Bandit Queen with Shekhar Kapur in 1992, for a television serial called Tehkikaat. Shekhar directed the first episode of the serial, too. I asked him to take me on as his assistant. He laughed at the idea. He told me life would be easier as an actor. He told me to continue acting.
Aren't you afraid of ending up as the jack of all trades and master of none?
Everything you learn enhances your knowledge. I wasn't an excellent commerce student, but whatever I learnt has helped me.
Once you act, you understand the difficulties of an actor. As a director or writer, you might not undertsand them. Scriptwriting, for example, is very different from writing plays.
So, each medium has its own demands; you need to convey things differently. My story moves through two people talking -- through the moment rather than through the explanation of the moment.
I also look for a lot of inputs from the actors. I firmly believe in improvisation. To me, the lines are not as important as the thoughts which create those lines.
Which of the three -- writing, directing or acting -- represents you completely?
All three. Writing, by itself, is very depressing. I get tired and edgy; I'm very unhappy when I'm writing. The entire process is almost eerie and it can be frustrating.
I could have written at least 14 scripts after Satya, but it just gets too personal for me. I can't treat it like a job.
Acting is fun. I'm like a football player on the field. You have to play the game -- from the time the camera rolls to the time the director says 'cut'. So your energy is at its highest. It gives you the result immediately, so you feel good.
Direction is most fulfilling because it's a very internal process. A scriptwriter writes only with a pen. A director needs to write keeping in mind the script, the songs, the performances, the editing...
How long did it take you to understand the technical aspects of direction?
That was something I was always interested in. I befriended the cameramen in the industry and learnt as I went along. Understanding the concepts -- the hows -- isn't difficult. Understanding the use of certain lenses and different cameras -- the whys -- does.
Your wife, Barnali, assisted Ramgopal Varma in Satya. Will she be involved professionally in this project, too?
No. A film she has written will go on the floors soon. She didn't want to debut with me; she has her own identity.
Do you think the 'Kallu Mama' tag has hampered your chances as an actor in the industry?
People know me by two names in the industry. Post Satya, people call me Kallu Mama. Before that, they called me Gopi -- the character I played in Tehkikaat.
People kept asking me whether I would go beyond Gopi's character. I did.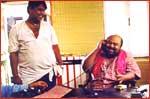 To me, Kallu was just another character that came my way. Tomorrow, I might play Keshavbhai. He could get the audience pulses racing. That is part of every actor's life.
When I did Snip, people asked me if I was rehashing Kallu's character. If you've seen the film, you will know that even though both characters are gangsters, they are poles apart. The profession is the only common factor between Munna (Snip) and Kallu (Satya).
Have you ever thought of directing yourself?
No, not right now. Direction is more than a full-time job. Also, there is a difference in the thought process. As an actor, you are focused on your part, your dialogues, your character's personality.
As a director, you need to look at a bunch of characters and decide how to put them together, motivate them and move them in a particular direction.
I've made my mistakes. Four years ago, I made a small film, but wasn't too happy with the outcome. I thought I'd never understand direction, but I did. And here I am.
Which medium do you prefer to work with -- television or film -- and why?
Television gave me a variety of roles to experiment with. It also taught me to respect time and taught me to economise.
It is very important to make good films. But making good, economical films is even more important in today's context. We always take for granted the producers who go through the most nightmares.
I would have loved to make a Rs 25-crore film for my debut. Who wouldn't? But I will not. I want my producer to profit from the opening day.
Do you think the industry lacks good scriptwriters?
I know we don't have good scripts. I also know that people do not allow you to write good scripts. When you have to reproduce a time-tested formula, how can you experiment?
Thankfully, after Lagaan and DCH this is changing.
It is a good sign that people like Aamir Khan and Kamal Haasan are doing the kind of films they want. That is very encouraging.
ALSO READ:
Fat lot of good