Superstar is a word he has always associated with his brother Sunny or father Dharmendra.

Bobby Deol has never had the pleasure of associating the word with himself.

Not that he is unduly worried. He is happy to find his own happiness levels.

His

Ajnabee releases this Friday. It is, according to him, a very bold film. Excerpts from an interview with the actor:
You seem to enjoy working with Abbas-Mustan. Soldier, Ajnabee, two more films in the offing with them...?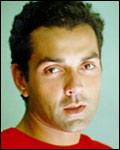 Yes, we share a great rapport professionally and personally. I trust them with my life. I know they'll never let me down.
They wanted me to do a two-hero film. That's a first for me. But working with Akshay was marvellous. We hit it off so well.
Is Ajnabee a remake of Consenting Adults?
Ajnabee is a thriller.
I play a married man trapped by mysterious circumstances. The film does have a lot of romance and action. But it's not based on Consenting Adults.
I can't say too much -- that would give the plot away. The film deals with a bold theme; Indian cinema has not seen anything like this before.

How would you describe your profession?
It's not easy. We work under the most difficult conditions. Try shooting in a desert, for example. The sand keeps flying into your mouth, hair and eyes.
There are times when we have no proper place to stay, no restrooms or bathrooms. Our studios are like ovens.
The junta is enamoured by the glamour. They are blind to the grind we have to go through.
Don't get me wrong. I'm not complaining, I love acting.
Are you happy with the way your career is shaping up?
I couldn't have asked for more. My audiences love watching my films. My producers and directors know my potential. I've had my share of successes and flops and have learnt to balance both.
Whenever I'm feeling low, I look at dad's (Dharmendra) careergraph. He survived many a superstar.
Which other films are you working on?
Besides Ajnabee, I am working on two other films with Abbas-Mustan.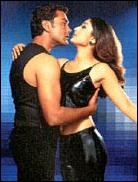 I am also doing Mahesh Manjrekar's film costarring Priyanka Chopra. It will go on the floors soon. I liked Vaastav , so I'm looking forward to working with Mahesh.
There is also a David Dhawan film, a Naresh Malhotra film with Vinod Khanna and Amisha Patel. It is an action film in which I play a cop for the first time. Next year will be a mixed bag.
Sunny must be overjoyed with Gadar , especially after so many flops...
No one but Sunny could have done that role. The audiences love him and he deserves it. My brother is a great actor. Just because he doesn't harp about his achievements, people don't talk about his work.
I saw the film in the theatre and enjoyed the experience. It was very gratifying to see his hard work pay off.

How are you coping with fatherhood?
It's just super, though it hasn't sunk in yet.
Being a parent is a huge responsibility. Your child becomes the centre of your world. I stayed with my wife (Tanya Deol) for 25 days when son child was born because I wanted to make sure I wouldn't miss a thing.
I am only now beginning to understand the joys of parenthood. After a long day, I find myself anxious to get home. My son is the best thing to happen to me after Tanya.
India News Feature Service
Also Read:
The Ajnabee music review