Style makes a statement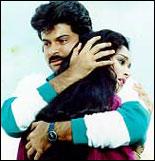 You probably wouldnít have heard of Chandrakant Narvekar.

Mention

N Chandra and any film enthusiast would rattle off a list of films he has been associated with -- from Ankush and Tezaab to Pratighaat, Narsimha and Beqabu.

The directorís last two outings -- Wajood and Shikari were BO duds. You could be forgiven for overlooking them.

But N Chandra is not one to give up easily. Heís ready to experiment, reinvent, if need be, with the-soon-to-be-released

Style.

He has written the script and completed the film in four months. All this with a cast of virtual newcomers.

Vivek Fernandes caught up with the director for an informal chat:

What is the genesis of Style?.

As the title suggests, Style a film about todayís youth. Most of my previous films -- Ankush, Tezab, Beqabu -- dealt with the darker side of the youth, their intense, passionate love stories, their sorrows and despair.

Style looks at the lighter side. It revolves around college life in Bombay with a principal, professors and the usual bonhomie. It is a comedy. But, in the last three reels, things begin to heat up. Iíve used the murder mystery format as the crescendo of the story.
The cameraman, lyricist Abbas, and three new stars -- Ria, Sahil and Shilpi.
Why choose newcomers especially after working with people like Madhuri Dixit, Nana Patekar, Karisma Kapoor and Sunny Deol?
The script demanded fresh blood. I couldnít have 35-year-olds playing college kids.
Sharman Joshi, one of the male leads had acted in Godmother; the others are all newcomers.
Could you elaborate on the characters?
The two boys play Chintu and Bantu, from middle class families, who study at an affluent city college. Their street savvy helps them stay alive.
Ria (daughter of actress Moon Moon Sen) plays the daughter of an NRI in the film. She suits the part; her accent and poise gave her an advantage. Shilpi plays a rich girl, too.
What research did you need to put in for this film?
My son gave me the idea for the leg-shaking bit that you see in the filmís promos. That has caught on like wild fire.
I couldnít use my own personal college experience. Attitudes have changed -- the thinking, clothes, the manner of speaking to elders arenít the same any more. I had to rely on my son's advice and on the youth literature I had read.
Many films based on the friendship theme seem to be doing the rounds. Does Style stick to that format, too?
Although friendship is part of the narrative, the film is not like any other.
Mujhe Kucch Kehna Hai were young films, true. So was Dil Chahta Hai.
I donít know too much about Paanch but Style experiments with something completely different.
Will the film play to the NRI gallery?
This film is targeted at the average college-going kid. I'm sure it will appeal to students abroad, too. They will identify with the fun-loving, down-to-earth characters.
Youíd face similar situations if you were studying at St Xaviers, Patkars or Cambridge.
What is your opinion of the performances of the newcomers in the film?
Mind-blowing. All of them have performed like seasoned actors. Iím really more than happy with them. Ria especially has all the qualities to make it big.
The last decade hasnít been too kind for you. Why do think the last two films fared badly?
In the last five years, the entertainment industry scenario has changed completely. Today, media publicity plays a vital role in filmmaking. Unless people are really excited about a film, they wonít go to a theatre and spend Rs 100 on a ticket.
Those, like me, who were unprepared for these unprecedented changes didnít have budgets set aside to handle this. We only concentrated on making a good film and pumped our money there. Both Wajood and Shikari failed miserably on the publicity front.
Despite being unsuccessful with collections, both the films were well received critically.
Do you agree with directors who say that Indian cinema lacks good scripts?
Yes. I would have to. Most of our writers have been fed on Hollywood. All they churn out is a compilation of the hits there. There is a dearth of real creative genius here.
What is your opinion of the new breed of directors the industry has seen in the last six months?
I donít want to criticise anybody, but these directors have been bred on Hollywood cinema. Thereís nothing wrong with that, but one must not forget the 'Indianess' of the film. At the end of the day, youíve made the film for the one billion Indians.
Whatever Iíve seen is a rehash of Westernised emotions, which we Indians canít relate to.
Youíve been here a long while. How much has the industry progressed in the last ten years?
We have definitely grown in terms of cinematography. The visuals are superb, thanks to the equipment and effects. But content-wise, weíre still at square one.
Indian audiences are very rigid, they won't always accept different material. Only three things work from Kanyakumari to Kashmir -- Love, Injustice and Rebellion.
If you stray away from these, you enter a risk zone.
What are your future plans?
We have just released the music of Style. The film will open this October.
If it clicks, we have another script ready for the sequel -- Style 2. That will be another first for Hindi cinema.
ALSO READ:
In search of oneself

Do tell us what you think of this interview