Shyam Bhatia
India Abroad correspondent in London
As Kareena Kapoor revels in her newfound status as India's leading young actress, her proud father has revealed his innermost thoughts about her future well being.
Randhir Kapoor, eldest son of the legendary Raj Kapoor, says he would like to see both his daughters settled soon.

"I am very protective", he told India Abroad in an exclusive interview. "I understand their eagerness and their artistic cravings. But I would have liked them to get married, just as Indian parents want their children to get married early."
A leading Indian film magazine has highlighted in its latest issue how Kareena has dethroned Aishwarya to claim the crown in tinseltown. Now, back in India, she has just completed a stunningly successful stint in Karan Johar's mega blockbuster Kabhi Khushi, Kabhie Gham.
Her father, Randhir, who is all praise for Kareena's acting prowess, denies there is any rivalry between his two daughters.
"Karisma is thinking of settling down and is almost landing, while Kareena is taking off," he said. "I don't think there is any flight competition."
"Right now, I'm making a film with Abhishek, which should take off in a year", says Randhir, whose last film, Heena, was a moderate success."
He still has fond memories of Pakistan, which he visited while Heena was being made. The highlight of his trip some five years ago was a one-on-one meeting with the then Prime Minister, Nawaz Sharif, who arranged for him to visit his family home town of Peshawar.
Sharif turned out to be a fan of Raj Kapoor's films. He had also monitored Randhir's own progress as an actor and director.
So far, Randhir has acted in 45 films. Today he is busy with the affairs of RK Studios and films. However he still keeps a doting eye on his baby daughter's progress. "Kareena is 20 years old" he explains. "But I do advise her how to go about her career, the right tactical moves, the films she should take, the ones she should avoid..."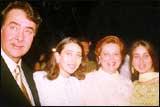 Although Randhir and his wife Babita lead separate lives, they are still very close. Babita has nurtured their daughters' careers and continues to manage their daily affairs.
Randhir denies press speculation that the Kapoor khandaan is against their wives and daughters acting in films. But then, at the height of their respective careers, both Babita and Neetu Singh, Rishi Kapoor's wife, gave up their lives as film actresses.
"It's not true that my father wanted the women in his family to stay out of the fim industry," says Randhir. "In fact, today, in India, this is one of the most respected, looked upon and lucrative careers. You get love, respect and dignity. You get people coming from well educated, highly placed homes wanting to join films -- so there's nothing wrong."
Both Karisma and Kareena, who belong to the first family of Hindi filmmakers, have more than lived up to the filmmakers' expectations.
This is a fact not lost to their father. "I think it's very prestigious to be in the position my children are in today", says Randhir. "They have certainly proved themselves. They are good artistes, hard-working, disciplined and focussed."