HOME | MOVIES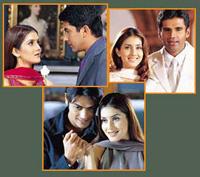 Credits:
Producer: Gulshan Rai
Director: Rajiv Rai
Cast: Sunil Shetty, Aftab Shivdasani, Keerti Reddy, Monica Bedi, Isha Koppikar, (introducing) Arjun Rampal
Music: Viju Shah
Lyrics: Anand Bakshi
The Plot:
A Multimillionaire Yash (Sunil Shetty)
A fun loving, friendly medical student Taj (Aftab Shivdasani)
A flirtatious, good looking model Gaurav (Arjun Rampal)
What do they all have in common?
Isha (Keerti Reddy). The love of their life.
Who gets her? Who is left heartbroken?
Find out in Pyaar Ishq Aur Mohabbat.
Text: Sukanya Verma
Hear the songs of Pyaar Ishq Aur Mohabbat on Rediff Radio!