HOME | MOVIES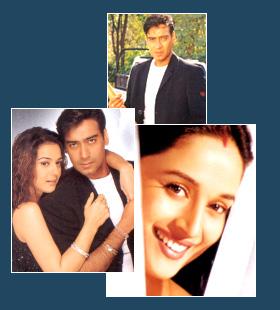 Credits:
Producer: Pradeep Sadarangani and Deepak Shivdasani
Director: Deepak Shivdasani
Cast: Madhuri Dixit, Ajay Devgan, Preity Zinta, Vikram Gokhale and Sunny Deol (special appearance)
Music: Sanjeev Darshan
Lyrics: Anand Bakshi
Plot
A thief turned businessman Vicky (Ajay Devgan).
Neha (Madhuri Dixit), a young woman suffering from selective amnesia, dreams of someone (Sunny Deol) and is married to someone else (Ajay).
Vicky's past, Saakshi (Preity Zinta), craves to get back with her beloved.
Yeh Raaste Hain Pyaar Ke is a bumpy ride to one destination -- love!
Text: Sukanya Verma