HOME | MOVIES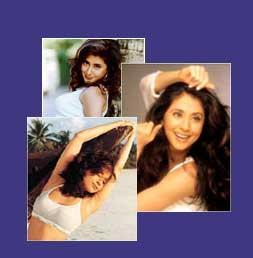 Dreamy. Seductive. Lonely. Innocent basti girl. Psychopath killer. An obsessed woman.
Urmila Matondkar has moulded herself well to the various requirements her roles have demanded.
Her journey as an actress began with a brief, but noteworthy, stint as a child star in films like Shyam Benegal's Kalyug and Shekhar Kapur's Masoom. After which Urmila disappeared.
Until she resurfaced in N Chandra's Sunny Deol-starrer Narsimha as a full-fledged heroine, opposite newcomer Ravi Behl. Unfortunately, her lacklustre comeback went unnoticed. It was followed by duds like Aa Gale Lag Ja (where she was paired opposite her Masoom brother Jugal Hansraj), Shreeman Aashique (opposite Rishi Kapoor), Chamatkar (opposite Shah Rukh Khan) and Bedardi (opposite Ajay Devgan).
Thereafter began her long stint with director Ramgopal Varma, starting with the low-profile Drohi, opposite Telugu superstar Nagarjuna. Drohi didn't click. Her association with Varma did.
And Rangeela happened. Urmila's looks, hair, clothes, attitude... everything went in for a complete transformation, thanks in a large part to dress designer Manish Malhotra and make-up whiz Mickey Contractor.
Her new hot, glamorous persona became the talk of tinseltown.
To her credit, the Maharashtrian beauty worked harder, constantly innovating herself, both in terms of looks and acting. Witness Daud, Mast and Judaai.
The sceptics weren't happy. They ranted about Urmila being able to give hits only in mentor Ramgopal Varma's films.
Take a look at the statistics: Apart from Judaai and Hindustani, all her films with other productions like Kunwara, Dillagi, Janam Samjha Karo, Khoobsurat, Deewane and Hum Tumpe Marte Hai have been BO disasters.
Also, sceptics overlooked the acting bit and dismissed her as a mere sex symbol.
To prove her mettle, Urmila not only sported a make-up free look in the underworld thriller Satya but came up with superb performances in the whodunit Kaun as well as in her latest avatar as the obsessed lover in Pyaar Tune Kya Kiya .
Urmila , the person, has steered clear from controversy, besides rumours of her alleged affair with Ramgopal Varma.
After over a decade in the industry, Urmila is today a seasoned industry person, who has learnt the ropes well. Knows how to come out tops through the lows in her career. What's more, get herself noticed. And not just her hourglass figure.
Discover: The Real Urmila
Text: Sukanya Verma