HOME | MOVIES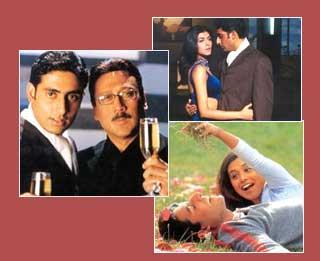 Credits
Producer: Madhu Ramesh Behl
Director: Goldie Behl
Cast: Abhishek Bachchan, Jackie Shroff, Rani Mukherji and Sushmita Sen
Music: Aadesh Shrivastava
Lyrics: Goldie Behl, Shyam Raj, Nida Fazli, Mona Alivar and Dev Kohli.
The Plot:
Benares lad Suraj (Abhishek Bachchan) aspires to make it big and follow in the footsteps of business tycoon Naved Ali (Jackie Shroff).
In his ambitious fervour, Suraj puts lady love Pooja ( Rani Mukherji) on the back burner and becomes friendly with Lara (Sushmita Sen).
Suraj gets successful. But then he also finds out how deceptive Naved and Lara really are.
Once a nobody, Suraj is now the cynosure of everyone's eyes. Will he be able to give his fame and wealth up? Will he be happy?
Continued...
Also! Hear hit songs from Bas Itna Sa Khwaab hai on Rediff Radio
Text: Sukanya Verma