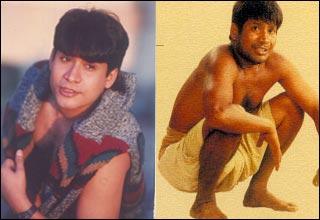 HOME | MOVIES
Aditya Lakhia
Kachra, the untouchable

The beginning: I worked in Kabhi Haan Kabhi Naa with Ashu and in Jo Jeeta Wohi Sikandar with Aamir.
I even assisted Ashu in Pehla Nasha. I knew he was doing Lagaan. He called me for a screen test and I was selected.
I had to get into my role. Many felt I looked like a city boy. So I had to work hard on my character. I lost five kg for the role.
I read P Sainath's Everyone Loves A Good Drought which portrays the hardships of the lower castes.

The shoot: When we went to Bhuj, all of us had to lie in the sun for a week so we got a good tan. We had to wear our costumes and get used to them.
As for me, I had to stay away from the rest of the cast -- I was the untouchable and had to get used to being on my own. It was very lonely. I started interacting with people only later.
I kept my right hand folded, the way you see it in the film -- I thought that's how a crippled hand should look. I kept it like that for five-and-a-half months.
The shooting was perfect and the atmosphere very friendly. We were treated royally, with the best food, etc. Our schedules lasted the whole day. Sundays were off and we could do our own thing.
There were also sad instances: When A K Hangal fell and hurt his back, he had to be hospitalised. Raghuveer Yadav had to go in for an appendix operation.

Best scene: My introductory scene. The team needs one more player; they need a tough person. But then I get chosen, a cripple.
It's a very emotional scene. I even liked the way we look at Captain Russell (Paul Blackthorne), at the end of that scene, when the team is complete and we look at him defiantly.

On Lagaan: I've been waiting for a film like this. I didn't expect it to do so well.
Lagaan will help me because it has been critically acclaimed internationally. Now, producers and directors look at me differently!
I have also been mentioned by critics in their reviews of the film. I am very happy.