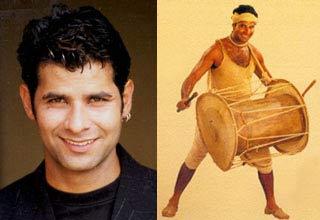 HOME | MOVIES


Amin Hajee
Bagha, the mute

The beginning: Ashu (Ashutosh Gowariker) and I acted together in Goonj in 1989. We've been friends ever since.

In 1996, Ashu came to me with a script. My twin Karim and I thought it was a great script. I didn't realise I would be in it one day. You know, the Lagaan of today is the seventh draft.

Ashu then asked me to audition as Bagha. Since it doesn't have dialogues, the role is very dramatic. Mute roles are dream roles -- you have to convey everything through emotion and expression.
I practised three months for my introductory scene in the film, where I look at the clouds and beat my drums, trying to draw the villagers' attention. I enlisted the help of some band members to train me to play drums.
I knew of some mutes in Dharavi, Bombay. Those who don't communicate with grunting noises.
Their relatives who could speak would laugh behind their backs. I didn't want people to laugh at me while I was communicating because the essence of the scene would be lost. So in the film, I either scream loudly or speak very softly. It worked!
I didn't watch Reshma Aur Shera for tips. People said Amitabh Bachchan's first film was a mute film. They told me I'd become the next Big B!
After my audition, Reena (Aamir Khan's wife) told me that Junaid (Aamir's son) really liked my performance. Ashu and I celebrated my selection by going out for the film, Taal. I bought the tickets in black.

The shoot: It was tough. The temperature ranged from zero to 50 degrees Celsius, as we worked from winter to summer. Our mojris were very thin. Since sand is good conductor of heat, the nights were really cold.
Before the shoot, all of us had to make a character sketch of the role we were playing. Then Ashu would tell us if we were on the right track. During the shoot, if I went wrong somewhere, Ashu would call me and say, "You're Stallone. Don't forget!" (He always told me I was like Sylvester Stallone.) I had my ears pierced, too.

Best scene: I love the scene on the second night of the match. I get out and I'm the last of the six best batsmen. That night, I break down and cry. And then a bhajan starts.

On Lagaan: It's like a dream come true.

We expected the film to be successful -- it wouldn't have a budget of Rs 250 million else. The film changed the theatre into a stadium with people doing the Mexican wave!
When I went to Sun City, Hrithik Roshan came up to me at the airport and said, "You're etched in my mind." That is such a compliment.
Aamir watches all his films from the projection room at Gaiety, Bandra. But once, he and I went to Chandan, Juhu, to see the public's response to the film. We were shocked to see people dancing and cheering when the match was on. We didn't anticipate this at all!

Future projects: I've signed five films but I'd rather not mention them now.