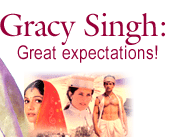 One would think that Gracy Singh was one of the many Kutchi women Aamir Khan persuaded to act in his film.

One would be mistaken. Gracy Singh has drawn a lot of compliments for her dancing and emoting skills.

For those unaware, the Gauri of

Lagaan is also the pretty sister in the Zee TV serial, Amanat.

Lagaan seems to have got off to a good start at the marquee -- the film recorded 100 per cent collections at the BO in Bombay.

Today, a happy, but slightly apprehensive, Gracy talks about her debut film:
You've received rave reviews and a great opening for Lagaan. Aren't you nervous that expectations will automatically be raised?

I never dreamt I'd be a heroine. After being known as a TV star, it's tough to be a lead in films.
When my secretary called me for the Lagaan screen test, I thought it was for a small character role in the film. But I met Ashutosh Gowariker (director of Lagaan) and realised that things were much bigger than I had expected.
Even then, I thought it would be a TV serial. When they told me it was a period film with Aamir Khan, I was so excited. I would have started shooting then and there if I were asked to.
It was the biggest day in my life. After my screen test, I waited for two days for their call to try out costumes, the look and the language. It was fun. Now that the feeling has finally sunk in, I am a little nervous.
Aamir Khan is said to be a perfectionist. Was it difficult working with him?
I think Aamir is a great actor and a good person. He gets very involved with his films. And that is why he gets the best results in terms of box office success.
He pays so much attention to detail and is so in quest of perfection that you have to give your best.

It was a great learning experience. I was inspired by his work. I admire his desire to better himself all the time.
All I did was follow my director's instructions completely. If the film has turned out well, a lot of the credit goes to Aamir.
What do you expect from Lagaan?
What can I say?
I hope the film does well at the BO. It has all the ingredients necessary for a hit film -- I hope it is a hit. Only then will the efforts of the unit and technicians be rewarded.
It's not my film alone. It belongs to Aamir, Ashutosh, A R Rahman, the costume and set designers.. so many others.
Will you go back to television?
As much as I would like to, I don't see it as a possibility. But then again, the future is very unpredictable. I can't say for sure.
Now that I am into films, I want to stay here forever.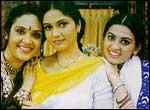 Which other films have you signed on?
None yet. There are many offers, but I wanted to wait for Lagaan to release and see the response.
I want to take on good films. Now, after Lagaan, I want my films to have some class.
India News Feature Service
Do tell us what you think of this interview