HOME | MOVIES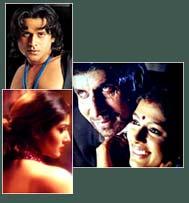 Credits:
Producer: AB Corp and Flicks Motion Picture Company
Director: Rakesh Omprakash Mehra
Cast: Amitabh Bachchan, Manoj Bajpai, Raveena Tandon and Nandita Das.
Music: Anu Malik
Lyrics: Gulzar
Aks - The Reflection, is a psychological thriller with a touch of the supernatural.
A dedicated police officer (Amitabh Bachchan) with his young wife (Nandita Das) and kid.
A weird psychotic criminal (Manoj Bajpai) on the run.
A hot club dancer (Raveena Tandon).
One fateful day, their (Bachchan and Bajpai) souls are interchange and their roles are reversed.
What next?
Text: Sukanya Verma

Hear the songs of Aks - The Reflection on Rediff Radio!