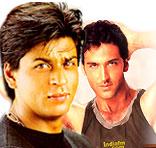 Shyam Bhatia
India Abroad correspondent in London
One of India's hottest film directors, Karan Johar, has denied speculation of personality clashes between Shah Rukh Khan and Hrithik Roshan.

Johar, who has been shooting his latest film, Kabhi Khushi Kabhie Gham in the picturesque locales of the United Kingdom, told India Abroad in an exclusive interview, "Hrithik and Shah Rukh are fine. There's a ten-year gap between them. So Hrithik really is a student compared to Shah Rukh.
"Hrithik is still building up his own school of acting, whereas Shah Rukh has already developed his own method. l think Hrithik's imbibing a lot."
Johar has created a little bit of film history by casting three of India's leading Hindi film stars in the same production. Critics say this is a remarkable achievement for a young director only in his second film.
His first film, Kuch Kuch Hota Hai, smashed all records at the BO. Johar says it was the astounding success of his first film that encouraged him to write Kabhi Khushi Kabhie Gham.
"My first film was released in 1998 -- it did really well. And that's why I got completely hysterical," he admits. "So l took a year off and wrote my next film."
Johar is aware that the public expects him to deliver to another blockbuster. He says, "I don't think I can sleep at night because of the expectation. What I do is l don't let it come in my way when I'm at work. I let it bother me when I'm not at work."
Besides Shah Rukh and Hrithik, the 29-year-old director has also cast Amitabh Bachchan. In the film, Bachchan plays the father of two brothers -- Shah Rukh and Hrithik -- who fall in love with two sisters, Kareena and Kajol.

"To put it very broadly, we're dealing with human relationships -- a father and two sons," explains Johar. "There is a kind of different angle. I'm marketing the film with the line that it's all about loving one's parents.
"It's about the father-son bonding, really. But given the magnitude and the scale of a commercial mainstream film, it's basically about two brothers, two sisters, a mother and son, a father and sons. I'm covering most relationships."
Asked how he managed to tame the super egos of superstars, Johar replied, "The last problem I have had is with my starcast. They all seem to be family. Amitabh Bachchan has been a family friend for a long time. My family has known him for years.
"Shah Rukh has been a very close personal friend. And Hrithik and I have grown up together. So I have known these people -- it's literally like one has been a friend, one has been an elder brother and one has been a father figure. So I have had absolutely no problem."
Johar admits there was a small glitch with the remuneration of Amitabh and Jaya Bachchan, who plays the role of the mother. Neither one of the Bachchans was prepared to accept money from Johar, whom they have known since his childhood. "Yes, there was a small problem," admits Johar, "but the press blew it out of proportion.
"They (the Bachchans) didn't want to accept payment. We were very touched, but my father spoke to them. After all, one gains from casting them. Why should they not gain from it, too?"
British Asians have followed with interest the many different locations in the UK where Kabhi Khushi Kabhie Gham has been shot. These include the Millennium Centre in Wales, the Bluewater Shopping Complex in Kent, Blenheim Palace in Oxford, Stowe Public School, St Paul's Cathedral and the banks of the Thames in London.
Johar says his love for the UK started when he was a small child and would visit London during his summer holidays. He admits to writing the scripts of both his films in the British capital.
"I just love London and wanted to be here. So I said, why not shoot here as well? I could have based my plot in New York or anywhere else. But London is kind of close to my heart. I like to weave my films around London.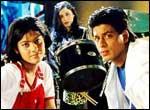 "For Kuch Kuch Hota Hai, I just went to Scotland to shoot against the ruins and things like that. But this film's second half is based in London. The characters live in London."
One of the other surprises of Kabhi Khushi Kabhie Gham is that one of the seven songs has been filmed against the backdrop of the white desert sands of Bahriya in Egypt. This is a first for a Hindi film.
The Rs 40 crore film is slated for a Diwali release and most of the investment, according to reliable film sources, has already been recovered through the sale of music rights and distributors' advances.