HOME | MOVIES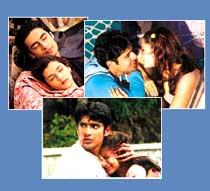 Credits:
Producer: Ravi Doddi
Director: Joy Augustine
Cast: Introducing Karan Nath and Aarti Agarwal, Dr Vilas, Bharat Dabholkar, Joy Fernandes, Howard Barneyer, Farhan Khan
Music: Raju Singh
Lyrics: Sameer
The Plot:
Roma Pinto (Aarti Agarwal), is the cherished and pampered younger sister of her five devoted brothers.
Her life takes an unexpected turn when the dashing heir of a rich family, Sameer Malhotra walks into her life.
Without further ado, the two fall head over heels for each other.
Twist in the tale comes with Karan's abrupt and mysterious murder.
What happens to Roma? Is Karan really dead? Check out Paagalpan.
Text: Sukanya Verma

Hear the songs of Paagalpan on Rediff Radio!