'I like to play heroes loved by all'
Arthur J Pais
Unlike screen rival M G Ramachandran, Sivaji Ganesan never became a political phenomenon.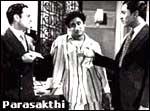 'I was never an atheist,' said Sivaji Ganesan discussing Parasakthi, some 40 years after the film created box-office records in Madras state in 1952.
M Karunanidhi, later Tamil Nadu's chief minister, wrote the film that espoused atheism or what Dravida Kazagham leaders called the 'rationalist movement.'
Ganesan, whose strong religious belief and nationalistic outlook grew steadily, went to the famed Tirupati temple, some say, as repentance for working in such a film, even as the Parasakthi phenomenon swept Tamil Nadu, boosting the Dravida movement.
His pilgrimage to Tirupati, one of the India's best-known temples, angered many of his fans in the Dravida movement who thereafter started calling him 'Tirupati Ganesan.'
Despite his ideological break from the Dravida movement, Sivaji Ganesan remained friends with Karunanidhi and the movement's leaders including C N Annadurai who would later become the state's first non-Congress chief minister.
Ganesan often said he embraced the Congress party because of its appeal to Indians across the country.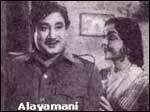 'Whenever I hear Bharatiyar's (Subramania Bharati, the renowned Tamil poet) name in the streets I feel proud,' Ganesan said. 'But I would also like our boys and girls to know about Rabindranath Tagore and Bhagat Singh, more about freedom fighters and poets from all over India.'
Like other movie stars, Ganesan enjoyed an affluent lifestyle but he was a great admirer of Kamaraj Nadar, the late Congress leader who was much admired for his austerity.
When Kamaraj broke away from Indira Gandhi and the Congress, Ganesan stayed with Kamaraj's smaller fraction of the party.
When Indira Gandhi declared a state of Emergency in June 1975, her supporters tried to persuade Ganesan to rejoin the Congress. There were a few threats, too. He was threatened that the income tax department would raid his home. But Ganesan did not budge. Only after Kamaraj's death did he return to the Congress.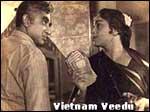 With Ganesan waving the Congress flag, the Dravida Munnetra Kazhagam began championing actor M G Ramachandran who enthusiastically declaimed DMK slogans in film after film. He seldom failed to salute the rising sun (the DMK symbol). When color came to Tamil films, MGR wore black trousers and red shirts, the two colors in the DMK flag. And when he was seen reading a book in a film, it had to be a book by either Karunanidhi or Annadurai.
It wasn't that Ganesan did not bring politics into his movies. But he did so occasionally.
'I like to show the politics that benefits everyone,' he said. 'I like to play heroes loved by all.' In two of his resoundingly successful films, Kappalottiya Tamizhan and Veera Pandiya Katta Bomman he played a nationalist rebel.
While MGR's political career zoomed, Ganesan, whose popularity with the masses was no less significant, never became a political phenomenon.
People do not want to see a bigger picture, he often complained, wondering if regionalism had not gone too far in Tamil Nadu.
Also Read:
A Tribute to the Legend Sivaji Ganesan