Bandit Queen runs to packed houses again
The film that was perhaps instrumental in turning Phoolan Devi from a domestic icon to an international legend has got fresh life in her death.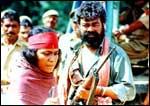 Shekhar Kapur's Bandit Queen opened to a capacity audience at a cinema hall in Lucknow, the capital of Phoolan Devi's home state Uttar Pradesh, reports the Times Of India.
While the film was scheduled for a rerun in Sudarshan theatre, no one quite expected the kind of turnout being recorded, the paper said. The reformed bandit's assassination in New Delhi, Wednesday, has changed the film's fortunes. The theatre has even garlanded a gun-toting Phoolan Devi's image in the promotional poster outside.
Kapur had won accolades for Bandit Queen when it was released shortly after Phoolan Devi was freed from prison in 1994. Actress Seema Biswas' portrayal of the wronged woman taking to crime to hit back at her oppressors earned her critical acclaim.
Accused of crimes ranging from murder to abduction and loot, the former bandit leader spent 11 years in Gwalior prison, Madhya Pradesh, without undergoing trial. The most serious crime she is accused of is the Behmai massacre of 1981, where she is alleged to have led her gang in killing 20 upper caste men in the Uttar Pradesh village.
Phoolan Devi was released under an amnesty announced by then Uttar Pradesh chief minister Mulayam Singh Yadav, whose Samajwadi Party she later joined and represented in Parliament.
Bandit Queen traced Phoolan Devi's life, from the time she was abducted and raped as a teenager to when she led her own gang of bandits and finally laid down arms in 1983.
The sale of Phoolan Devi's biography India's Bandit Queen: The True Story of Phoolan Devi, by Mala Sen, has also recorded a rise since the assassination. The film Bandit Queen is based on the book.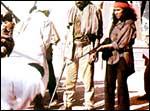 "We never expected this (spurt in sales) -- Phoolan's biography is not the most popular of books in our shop," says Vikas Bajaj, who runs the Cambridge Book Depot in the capital. "After news of her death, we have placed orders for more copies as sales are likely to remain high over the next couple of days," he was quoted as saying.
The day after Phoolan Devi was killed outside her official residence in New Delhi, Bajaj's store sold six of the seven copies of the biography it had in stock. Several stores reported receiving queries about the book and some recorded brisk sales.
Indo-Asian News Service
ALSO READ
Complete coverage of Phoolan Devi murder