Shyam Bhatia
India Abroad correspondent in London

Kareena Kapoor has been described as 'kiddish' by director Subhash Ghai who says she needs to learn tact and diplomacy in her dealings with the media.
The not-so-gentle observation amounts to a reprimand by Ghai against the current queen of Hindi films and his own leading lady in Yaadein, which is due for international release this week.

In an exclusive interview, Ghai said, of Kareena, "She has a very instinctive talent; she is a bundle of talent. Only, she is a bit kiddish and speaks her mind without realising the consquences.
"She has still to learn how to talk to the press and to people on stage. She doesn't want to use flowery language, doesn't want to be diplomatic."
In a bid to temper his views about Raj Kapoor's granddaughter, Ghai added, "She's too young. But I can tell you she's a very good-hearted girl, very honest. She's very, very cooperative and very loving towards everyone. She doesn't have that starry attitude that says, "I belong to the Kapoor family..."
Kareena has a reputation for being temperamental. Earlier this year, when she was in London for the shooting of Kabhi Khushi Kabhie Gham, in which she stars opposite Hrithik Roshan, stories flew about how she insisted on travelling in a Mercedes, refusing the vans that producer Yash Johar provided for transporting the cast.
Now, Ghai's publicly quoted comments about Kareena provide a rare insight into the challenges of working with one of Hindi cinema's most radiant stars.
However, Ghai goes almost over the top in eulogising Hrithik's professionalism during the making of Yaadein.

"I find him a very dedicated actor, very professional. No doubt in part because he's the son of a producer-director who has seen his father struggling, dealing with the stars and all that", Ghai said.
"He knows what not to do -- trouble the director and producer like coming late. He understands production hazards -- he's been around film sets since childhood.
"He's always cooperative, respectful towards the director -- he has everything I don't find in other stars who become stars overnight and come from outside. He is a thorough gentleman."
In Yaadein, Hrithik is the son of UK's richest British-Indian families. He plays the role of a lover who falls for one of the daughters of another British Indian played by Jackie Shroff, who has lived in the UK for 25 years.
Ghai, who has psychoanalysed the needs and shortcomings of the British Indian community in the UK, says his film is based on an old Sanskrit shloka which says, "Cuddle your child until the age of five, watch him for the next 10 years and make a friend of him at 16."
The producer of Taal and Pardes has been travelling to and from the UK for the last 25 years and says, "We need to tackle some social issues, especially for the people living abroad. What I could find was that there was a lot of love between the family members, lot of sacrifice and sharing pain, but what was lacking, I found, was the friendship within the family.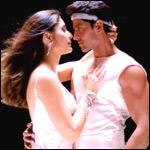 "There is too much misunderstanding because of lack of friendship. Today I see that people have a lot of money, they have a lot of pounds, but they have some kind of internal problem with their own grown up children.
"This is the theme running through the film."
He denies his film is based on the plot of Fiddler On The Roof and describes Yaadein as "an entertaining film with a message to parents and as well to youth about achieving that optimum balance which they have been looking for for many years.
"Yaadein is all about being in love in family, adding an element of friendship in it. It is a story about a father and three daughters. Suddenly, the father finds three grown up daughters and how he goes through various situations marrying them off, one by one."
One of Ghai's personal professional triumphs is his success in casting both Hrithik and Kareena long before they achieved superstar status. He says, "When I cast Kareena Kapoor and Hrithik Roshan, they were new. I wanted to make my film with them because it was a story oriented film. It is just a matter of luck that they became strong later on. Within a year, Hrithik was a superstar.

"The script demanded an upcoming artiste or a newcomer. New boy, new girls -- all three girls I wanted new. So this is just a matter of luck, I would say.
"I cast them on the eve of the release of Kaho Naa... Pyaar Hai, on January 18, 2000. That was Hrithik's big break.
"But one thing I can tell you -- although both artistes are new, upcoming stars, they have performed like veterans. The scenes are very emotional, difficult. And they played those characters wonderfully."
"Watch the film. You'll find it tough to decide who is the better actor: Jackie Shroff, Hrithink Roshan or Kareena Kapoor. They are equal parts and it is the story of three characters, not one."
Audiences in the UK, in particular, are expected to warm to the US $ five million budget film because the theme deals with the problems facing British Indian families. Ghai also reveals that 70 per cent of the film makes extensive use of British locations, particularly in London and Windsor, with the rest of the footage based on locations in Udaipur and Malaysia.
Asked why the UK has become so popular with Hindi filmmakers, he says, "You see, it's because India cinema has a wider coverage, wider audience and wider visuals. So, naturally, the locations are all over the world. You will see that we are no more local Indians; we are global Indians -- whether it is Indian Americans, British Indians or African Indians."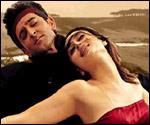 "The whole world is accessible today. Indian filmmakers can pick up any character from any family, anywhere."
Ghai also claims that advance sales of Yaadein music cassttes have broken all previous records. "The figures are that Taal sold 12 lakhs cassettes in the first 21 days. Yaadein has outstripped by selling 16 lakh cassettes.
"In fact Yaadein's music has broken all records of all Indian music albums. These are the figures that have come to us from music companies all over the world.
"I am sure after seeing the film, people will love the music three times more."
Playing Mr Perfect -- Hrithik's your ideal guy in Yaadein
Destiny's lucky child -- Kareena
Subhash Ghai on Kareena
The 'Daddy' of all roles for Jackie
Yaadein: Fresh off the Web
Yaadein will a fond memory in the heart of millions
The Yaadein music review