HOME | MOVIES | QUOTE MARTIAL


She's an upstart. Brash. The face teenagers are pressing into their diaries.

She's in the limelight with Subhash Ghai's latest blockbuster

Yaadein. And she's only 20.

In an exclusive interview with

rediff.com, Kareena Kapoor spoke to Bijoy Venugopal about herself, Subhash Ghai, and why she's not going to remain just another tinsel memory:
Now that you are working with Subhash Ghai, will he change your name (he has a habit of changing names to start with M)? Only Mareena comes to mind...
No, no way. Not at all!
You insist on being labelled as an actress and not a star. Why?
Iím here to act, not just to be a star. This profession is about acting not about being labelled as a star. I think Raj Kapoor was known as an actor first before anything else.
Does the vast ocean of talent in your family unnerve you?
No. My family is my learning ground. I've watched all their films. I'm proud to belong to this family and don't want to let them down in any way.
You seem to be singling out certain well-known directors. What's the reason behind this?
Singling out as in not working with them?
No, working with them...
I don't know. I guess I got a chance to prove myself in my very first film, Refugee. Not very many girls get to act in their first film. That's why I deliberately chose Refugee as my launchpad.
It's paid off. Because filmmakers realised that I was somebody who had talent and could act.

I've always wanted to work with Subhash Ghai. I'm not the kind to hold back my views or not go up to a director and tell him I'm keen to work with them. I made it a point to go up to him, Karan Johar and Sooraj (Barjatya) and said that I'd like to work with them.
A lot has been said about your firm resolve and determination. Where does this come from?
*laughs* Probably because I am a Virgo. I am a perfectionist. I want to do everything right.
Does the stress ever get to you?
Of course! I break down completely. I'm very emotional, very sensitive and tend to take everything very seriously. That gives me a lot of stress. I'm very hyperactive anyway. So I'm prone to stress.
At 20, would you say you're just out of your teens or are you someone very sure of herself?
I think I'm sure, very mature. I take my own decisions.
At 20, most people are just discovering the world. But the world has discovered you. Would you call yourself an early bloomer?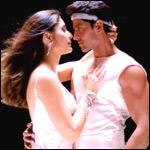 I just call myself a lucky girl -- Destiny's lucky child!
You believe in Destiny?
Yeah....
Do you also believe in God?
Of course. Fiercely!
Does Yaadein follow some sort of trend after Refugee?
Yaadein is a very emotional film; my role is a very mature one. I play Jackie's (Shroff) daughter. Itís a performance-oriented film.
Refugee and Yaadein are total contrasts, right?
Yes, completely. I played a Bangladeshi girl in Refugee. In Yaadein, I play a girl of today.
Which of these are more like you?
There were shades of me in Refugee, though not entirely because I am not a Bangladeshi girl. But the simplicity in both the characters... that's the only similarity.
I think I like Yaadein more.
What was working with Jackie like?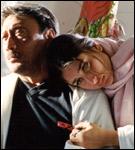 I think it was wonderful because I have always been an ardent admirer of his. I love him. I think heís so good-looking. I want to marry someone like Jackie.
How was it working with Subhash Ghai?
Brilliant. I think he is one of the finest filmmakers that there ever has been or there ever will be. It was a dream to work with him.
Do you think you'd like to push that dream further?
Of course! I'd love to work with him again and he knows it. I'd be shattered if he cast someone else in his films. *laughs*
You've made a very alternative start. Do you think this will slot you as a 'roles' person?
I want to be. And when a director knows (this), he won't waste my time, his time and his energy coming to me if he doesn't have something concrete, something that's substantial enough for me.
That's the brand you want to create for yourself?
Yeah...
You obviously might have had to turn down a lot of roles for that reason. It could result in opportunity not coming knocking on your door, and you knocking on the doors of opportunity...
Maybe the tables will turn...
What can we look forward to in Asoka The Great? How is it working with Santosh Sivan?
He's outstanding. He is God. I call him God. I think he's God's gift to cinema.
Why would you say that?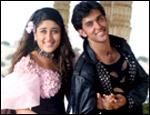 Because he's a magician. The way he's captured me in the film is unbelievable. People will go completely crazy only because of Santosh, I know that. He's given me such a wonderful role. I think he's a great director.
What kind of film is it?
It's a period film. I play a girl from the jungle.
Are you a politically aware person?
Into politics? No!
I mean politically aware. What if you were to do a real-life Refugee? If things between India and Pakistan improve, would you like to do a film across the border? Are you a person who takes risks?
No! I don't like taking risks. There's too much pain and torture involved. I run away from that.
Do you think that might work against you in the industry?
No. I don't think so.
What kind of homework do you do for your roles?
I've never really done any homework for any role. I don't do that. Whatever the director does, I mould myself according to him. He's the best, he's the captain of the ship. If the ship sinks *shrugs*, he's the captain.
Do awards really mean anything to you?
They do. If you put in so much of hard work, you want to be recognised, you deserve acknowledgement.
Whom do you look to for inspiration?
I think my sister.
Your sister Karisma has had a very different way up...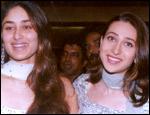 I guess she did but that was ten years ago. Today, it's different. She put up a fight, that's why I admire her.
Were you overshadowed by your sister while growing up?
Not at all.
There's quite an age difference between you two. Is there any trace of sibling rivalry between you two?
We have six years between us. But I've always looked up to her. She's my source of inspiration. So I could never, ever feel that way.
How is your family reacting to your sudden stardom?
Some say this is the way it was going to be! I don't think it's come as that much of a shock to them.
Are you a film buff?
Yes. I do watch a lot of films.
Who, in your opinion, is the greatest reigning actor now?
In my opinion? I think Shah Rukh Khan and Hrithik (Roshan).
Which actor would you emulate?
I think I admire Nargis, Madhubala and Meena Kumari a lot. They were very talented, they are legends.
What excites you in your decision to choose films?
The director and the role. If the director is brilliant, why would you want to turn a film down with him?
Where do you see yourself in five years?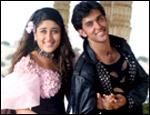 Either working in films or happily married.
Happily married! That's quite unlike a careerwoman...
That's true, but you don't know where this career will take you.
Would your family like to see you happily married or grow into a big star?
I think both. First into a good actress and then a big star, making a name and that sort of thing. And then, I guess, moving on in life.
You've also courted your share of controversies. You lashed out at Salman Khan...
That's a misquote. There's no problem at all. In fact, my sister is a great friend of his. They've also done eight films together.
What about your comments against David Dhawan?
We're working together on a film next year; we've already spoken about it. I don't know why people are saying that. I would never degrade any kind of cinema.
So does Yaadein have a happy ending?
It does.
Would you like to see your life imitate that path -- like life imitating art?
Definitely. Everybody wants that.
So do you want to tell me what happens at the end of Yaadein?
*laughs* No, I want you to go to the theatres to see that!
ALSO READ:
Subhash Ghai on Kareena
The 'Daddy' of all roles for Jackie
Yaadein will a fond memory in the heart of millions
The Yaadein music review
An earlier interview

Do tell us what you think of this interview