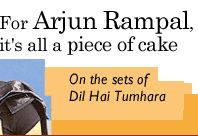 Ronjita Das
A board of directors sit around a long table, watching a screen intently.
The screen flashes the word Product. Then Marketing. And Response. A red curtain to the side of the screen is raised.
And a cardboard statue of Jimmy Shergil holding Refresh apple juice comes into view. The directors applaud heartily.
End of shot.
Simple? Not quite.
A lot of things are going wrong.

For one, the three words aren't timed correctly. And director Kundan Shah wants the cassette to show some greenery instead of the commentator's face.
Not that Shah is upset. He seems to be enjoying himself as much as the rest of the cast and crew. Except, of course, the assistant who can't get it right. After a torrent of jokes at the cost of the assistant, he gets it right. The shot is okayed.
The board of directors, including chairperson Alok Nath, Anjan Shrivastav and Arjun Rampal, walk out of the room, chuckling.
This is the 52nd day of Dil Hai Tumhara, starring Rekha, Preity Zinta, Mahima Chaudhry, Arjun Rampal and Jimmy Shergil at Famous Studios, Bombay.
The studio has been converted to Arjun's office. Dev (Ajun Rampal) is making a presentation of his new product, Refresh apple juice, to the board of members and his father, Alok Nath.
The actors retire to their rooms. And the technicians get busy by changing the sets. From a conference room, the scene shifts to Arjun's private office. The lighting is arranged and the walls are touched up with a little paint.
Half an hour later, Arjun appears, wearing a navy blue suit with a blue and white pinstriped shirt, as opposed to the beige suit he was wearing for the earlier shot.
The scene goes like this: he enters his office disappointedly as the love of his life, Preity Zinta, is avoiding him. He confides in his two CEOs (Dilip Joshi and Vivek Shroff). They tell him that she's gone to the bank downstairs. That's enough for Arjun to rush down to catch her.

But not before the CEOs offer him some pastries to take along with him. Arjun then does something strange -- he smears some of the icing of the cake on his shirt. As he exits, he smears some of it on his costars' faces.
The scene ends with the CEOs saying, "Very, very mad!" very dramatically.
The reason for Arjun's strange behaviour is that he wants to take Preity home and talk to her. Since she's avoiding him, the only way he can think of to catch her attention is to mess his shirt. That gives him an excuse to go home and take her with him.
And why is Preity avoiding Arjun? Because she has just discovered that her sister (Mahima Chaudhry) is also in love with Arjun. So she wants to stay out of his way.
Dilip Joshi and Vivek Shroff are humorous not only on camera but off camera as well. They don't seem to be able to stop themselves from teasing Arjun, who swallows their bait quite easily. He, of course, goes running each time to his director, who laughingly takes it in his side.
Arjun and Kundan share a jovial and relaxed relationship. Even after Kundan calls him, "Arjan" by mistake, and the model threatens good-naturedly to walk out.
The camera rolls again.
Take 1
Arjun fumbles his lines.
Take 2
Arjun fumbles his lines.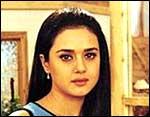 Take 3
Arjun fumbles his lines.
Take 4
Arjun gets his lines right. The shot is canned.
Kundan thinks Arjun should have smeared more cream on his co-actors' faces. Arjun decides this is a God-given chance for revenge. A retake is called.
Take 5
The scene goes beautifully with Arjun being very generous with his cream.
A few still shots are taken.
Another short break is declared.
Nashta as it is called, is very generous. Right from puri bhaji, dahi puri, cheese sandwiches, egg sandwiches, pastries, cutlets and tea.
It's 2100 hrs. The day is far from over.
A solo song of Arjun has still to be shot. It's a sad song.
I leave the crew as they prepare to shoot the song.
Also Read:
An interview with director Kundan Shah