HOME| MOVIES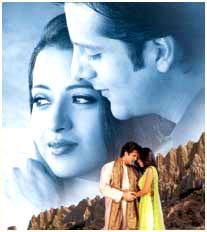 Credits:
Producer: Venus Records and Tapes Ltd.
Director: Ahathian
Cast: Fardeen Khan, Apoorva Agnihotri, Suresh Oberoi, Suman Ranganathan and Introducing Reema Sen.
Music: Nadeem Shravan
Lyrics: Sameer
Plot
Hum Ho Gaye Aap Ke is just another typical love triangle film.
'Richie Rich' Rishi Oberoi (Fardeen Khan) a spoilt and conceited soul, is only son of the wealthy Mr Oberoi (Suresh Oberoi).
When not making merry in the company of woman, Rishi finds time to befriend Mr Ideal Guy Mohan (Apoorva Agnihotri), who works in his father's company.
In comes the vivacious and righteous Chandni (Reema Sen), and the inevitable happens.
Who steals Chandni's heart? Brattish Rishi or the sober Mohan? Quite obvious. Isn't it?
Click here to find out more.
Text: Sukanya Verma
Also see:
Search for Hum Ho Gaye Aap Ke
The music review of Hum Ho Gaye Aap Ke
An interview with Reema Sen