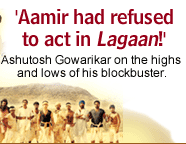 Lagaan is a spectacular hit.

Its writer, director and prime mover

Ashutosh Gowariker, fought a long battle to find a producer ready to make the film, still prefers to lurk in the shadows and let others hog the limelight. What will the media-shy director now do?

Ashutosh Gowariker, in conversation with

Pritish Nandy:

How difficult was it to make Lagaan? After all, it is not a typical Hindi film. There is no predictable romance, no violence. Even the cricket is period stuff.

Did you say difficult? It was almost impossible. I first went with the idea to Aamir (Khan) and he promptly shot it down. He not only refused to act in the film, he even tried to dissuade me from making it. He was convinced it would not succeed.
It was only when I persisted with the idea and went back to him, after a long break, with a detailed script and narrated the entire film to him, scene by scene, that he agreed to act in it. He was still a bit unsure about it I felt. But I was persistent.
After that, even after he had agreed to act in it, I found it extremely difficult to find a producer. No one was convinced about the story and the way it evolved.
Some wanted the budget to be sized down. Others wanted the ending changed. A well-known producer was ready to produce the film if only I would end the cricket match with a murder scene where Bhuvan kills the English captain. He felt the current ending was far too tame.
Did you agree to make any changes?

No. I listened. I smiled.
I said I would come back and kept looking around for other producers. Finally, out of sheer desperation, I suggested that Aamir himself produce it. Luckily, he agreed and the film was finally on.
Then, Jhamu Sughand came in and everything was fine. Hopefully, my next film will be easier to make.
Why did you not produce the film yourself if you had so much conviction in it?
I lacked the expertise and the experience and, to be honest, I wanted to focus entirely on directing this film. It meant too much to me.
Did you expect the film to be such a great hit?
I know it may sound terribly arrogant but if you ask me to answer that question frankly, it is yes. Otherwise, I would not have persisted with the film.
There were too many temptations to chuck the idea and move on to make some other film, more predictable in idea and format.
But I had faith in the film. All along, I knew it would work. As we went along, Aamir's faith in the film grew. So did the film. To cite an example, we wanted to lend the climax a stadium feel.

So I looked for a venue that had a hill surrounding it. It wasn't easy to find that out there in Bhuj. When I did, I thought a couple of hundred people would be enough to fill the hill up. Later, when I put them there, it looked ridiculous! I realised I needed thousands more to fill up that space and give it the right feel.
Can you imagine how difficult it is find thousands of people out there in the villages and how much more difficult it is to pick them up and cart them to that spot?
Bhanu Athaiyaji went mad trying to make enough costumes for them. It was a nightmare. Eventually, we had over 10,000 people rooting for Bhuvan and his cricket team!
Gracy Singh is a great find. How did you locate her?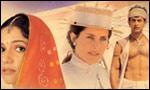 I was looking for Gauri for quite a while. I knew exactly what kind of person I wanted for that role but it took me some time to find her. She fitted the role perfectly. That was her strength. She took advantage of that and built on it.
What do you think was the reason behind Lagaan's enormous success?
I guess the simplest reason was that it was made out of conviction.
Do you mean to imply that your earlier films had no conviction?
No. But I was perhaps not half as sure as to where I was going. Having made not-so-successful films earlier, I was determined this time to work on the basis of my convictions, not on the basis of my compulsions.
What is your next film about? Another period piece, since you have sparked off an entire new genre, as it were, with countless film-makers scrambling to make historical or quasi-historical films like Lagaan?
I have no intention of repeating myself. I will not make another historical film. That is for sure. But to answer your main question, I do not know. I am still soaking in all the adulation.
I am still resting, taking a break. Once all this excitement has died down, I will take a call. To be honest, I have a couple of scripts lying around but these are not what I want to make right now. I haven't exactly zeroed in on what I want to do next.
I guess it will be a socially relevant film.
An art-house, socially relevant film, perhaps?
No, no. It will be a commercial film but based on a socially relevant theme. I am still too busy with Lagaan. Right now, I am cutting the promos for the international version.

The international version of Lagaan has already been released, hasn't it?
It has. But this is the version for the crossover audience. They need more insight into the film before they actually come to the cinema halls to watch the film.
So, the promos here have to be entirely different. This is what I am working on currently. Once this is over, I will take a one-month break and then decide what I want to do. I know broadly what it is but I need a script. I need to zero in on details.
Have you some scripts in mind?
No, I will write the script myself. That is the best way to start a film, in my opinion.
Will it be a big film?
Not necessarily. It could well be a small film. In fact, it is most likely to be a small film till I decide on what my next big idea is.
Also Read:
Aamir's biggest hit: Lagaan
Lagaan: The movie review
Lagaan: The music review
'One contribution isn't enough'
The Ten Samurai

Do tell us what you think of this interview