HOME | MOVIES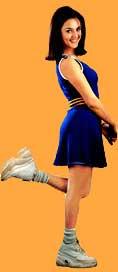 Young, vibrant and vivacious -- that's Preity Zinta. Ebullient, charming and infectious are also Preity Zinta.
Born in Himachal Pradesh, Preity schooled at New Delhi and took up modelling for pocket money.
Her child-woman persona in the Liril and Perk ads didnít go unnoticed. She auditioned for Shekhar Kapur's Ta Ra Rum Pum Pum Pum for a lark. Next thing she knew, Preity landed a plum part in the film. It never took off -- Shekhar Kapur got busy with his Hollywood career, post-Elizabeth.
Soon came an offer from Abbas Mastan for the runaway hit, Soldier. However, Preity's first film to hit the marquee was Mani Ratnamís Dil Se. Despite a short role, Preity hit the right notes with the audience.
Dubbed perfect for the cute, spoilt brat roles, Preityís attempt to do a Jodie Foster in Tanuja Chandraís version of Silence Of The Lambs: Sangharsh evoked mixed reactions.
The popular industry opinion was that Preity looked too young and inexperienced for the part. Not that it bothered Preity much. She continued in her pursuit for challenging roles.
Her long in the making Kya Kehna was the surprise hit of 2000. And Zinta got complete credit for it. Although the filmís plot that had her having a baby out of wedlock raised quite a few eyebrows, Preity considers it to be one of her best films.
Her performances in films like Har Dil Jo Pyaar Karega, Farz, Chori Chori Chupke Chupke and Mission Kashmir have been much applauded.
Straightforward and honest to the point of being blunt, Preity claims her life is an "open book". That's perhaps why, when she was involved with model Marc Robinson, she made no bones about it.
Preity is now to appear in films like Dil Chahta Hai and Yeh Raaste Hain Pyaar Ke.
Here are some pictorial chapters from the open book that is Preity.
Text: Sukanya Verma