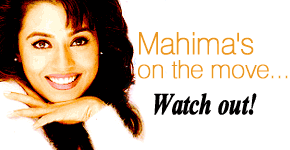 Model Ritu Chaudhry couldn't be happier with life.

Rechristened by mentor Subhash Ghai as

Mahima Chaudhry (for her debut film, Pardes), the reason why she has come this far is because she is so completely focused.

Not all the offers she has had are plum. Take her roles in

Dhadkan, Deewane and Dil Kya Kare -- they were hardly the kind to be snapped up by actresses vying with one another to top the numbers game. But Mahima did them with dignity and walked away with the honours.

Dil Kya Kare, in particular, had her pitted against heavyweight Kajol.

Mahima now has two releases up: Priyadarshan's

Yeh Teraa Ghar Yeh Meraa Ghar and Rajkumar Santoshi's Lajja.
In the first, she plays the lead. The second has her as one of the four women around whom the film revolves. An interview with the star:
You have been pretty successful in the choice of your films. Now with Yeh Teraa Ghar Yeh Meraa Ghar and Lajja due for release soon, what does your gut say?
Of course I want them to be superhits. But if wishes were horses, beggars would ride!
Yeh Teraa... is a lovely film. It will keep the audience in splits.
I play a tenant who has been asked to vacate the house I'm staying in. Sunil Shetty, my landlord, wants to sell the house. But I refuse to leave. I'm so stubborn that I don't relent even when the police tells me to.
Incidentally, for Sunil, Priyan's unit is like home. He knows just about everyone in that unit. But I never felt like an outsider. They made me feel so welcome.
Yeh Teraa Ghar Yeh Meraa Ghar is a must-see. Sunil and Paresh are brilliant in it.
Actually, I can't tell you too much about my role in Lajja. I am not supposed to.
The film is about four women -- Rekha, Madhuri Dixit, Manisha Koirala and me. We have four tales to tell and these episodes connect at one point in the film. There are social messages in every story. And each is fascinating in its own way.
Lajja talks about women's issues without being preachy and will be remembered whenever there is a woman's issue to write about.
How is it working with Priyadarshan?
He is a very cool, happy-go-lucky guy, and a wonderful director.
He narrated the character to me because he thought I had lot of spunk and spice; that's the basic character of the girl I portray.
The script, the shots and other details were ready beforehand -- that's amazing for an actor and the unit. I don't remember working overtime even once, for Priyan's film.
While you were shooting for Lajja, everyone spoke of this great camaraderie that you four women shared. Don't you think that it was a bit hyped?
*laughing uproarously* No, it's true. We did have a wonderful time.
It sounds strange, na? People wonder about it whenever I tell them that we lived like one big happy family. There were no problems.
I don't have many scenes with Madhuri and Rekhaji, so i didn't interact with them so much. But Manisha and I got along like a house on fire.
Which are the other films on the anvil?
I'm shooting for Mahesh Manjrekar's Tere Pyar Ki Kasam and Anupam Kher's Om Jai Jagdish and am committed to work in Rahen Na Rahen Hum and Dil Vil Pyar Vyar.
And there is Kundan Shah's Dil Hai Tumhara with Rekha and Preity Zinta.
Are you happy with the way your career is going?
Yes, quite happy. I don't think I've made any wrong moves.
I still enjoy work and the films I've been getting.
Most important, I am working with the best talent in the industry. I have had the chance to work with some of the top actors, actresses and directors of Hindi cinema.
So I certainly cannot complain.
One personal question. Is it true that there's romance brewing between you and tennis star Leander Paes?
That's personal. I don't want to comment about my personal life.
India News Feature Service
ALSO READ
The Mahima Chaudhry 5 Questions
Mahima's embarrassed to talk about herself
Mahima, Subhash Ghai's discovery
Do tell us what you think of this interview