Everytime a re-run of Phool Aur Kaante, is on television, you find your attention caught by a thin young man. Bad teeth nothwithstanding, he has a disarming smile and intense eyes.
And he performs stunts -- choreographed by his father Veeru Devgan -- with daredevil ease.
In the ten years since, Ajay Devgan has managed to hold that attention.
Despite the fact that he's had more than a fair share of flops -- Jaan, Dhanwaan, Gundaraj, Hulchul and Jigar -- he is still sought after.
Why? Because films like Naajayaz, Zakhm (for which he won a National Award), Diljale and Hum Dil De Chuke Sanam have won him the audience's hearts and the critics' praise.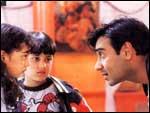 Ajay's comeback, Hum Dil De Chuke Sanam, was a runaway hit. His role of the dark, brooding husband determined to get his beautiful wife reunited with her lover, fetched him many accolades.
His career has seen several lows. His first production, Dil Kya Kare, directed by maverick Prakash Jha with Mahima Chaudhry and wife Kajol, proved an expensive experiment. The debacle of his Rs 300-million magnum opus, Raju Chacha, followed.
A mammoth set was erected at Ooty and the film rolled under the untrained supervision of the director, Ajay's cousin, Anil Devgan. But the film was jinxed from the start. Local environmentalists were up in arms and matters went to the court. Ajay emerged unscathed. Shooting resumed but the film bombed.
"It hurt because I still don't know why it (the film) was dismissed. I hate doing postmortems. The film is over and done with. I am proud of having tried. Try, try till you succeed, right?
"I'm going to keep making films I believe in. Whether I am successful or not is besides the point.
"Yes, Raju Chacha was a huge loss. I have had to sign a lot of films to make up. We spent too much on it. But it's a lesson for the next time. We are back on track and planning for another film."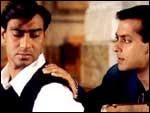 Now, he has several good films to look forward to -- Rajkumar Santoshi's Lajja, which will release later this month; David Dhawan's next film starring Sanjay Dutt and Amitabh Bachchan and the Mahesh Manjrekar directed Tera Mera Saath Rahe with Sonali Bendre and Namrata Shirodkar.
Right now, he's excited about is his new film -- Yeh Raaste Hain Pyar Ke.
"The film is about realising the finer nuances of love. Deepak Shivdasani, the director, has made a sensitive sensible film. Madhuri falls in love with me, but it is a case of mistaken identity. Then, a whole lot of confusion between Preity and me follows. It's a love triangle with many twists."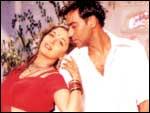 Yeh Raaste... is his first time opposite both Madhuri Dixit and Preity Zinta. "It was a wonderful experience. They are both extremely talented and professional. The film strikes a perfect balance between both of them.
"I love Madhuri's work -- it was a pleasure to work with a senior. She inspires you to give more to the film. I am glad to have done at least one film with her."
Director Deepak Shivdasani has also roped in Sunny Deol to make a special appearance in the film, hoping to cash in on Gadar - Ek Prem Katha's success.
Is Ajay insecure?
He shrugs, nonchalantly, "Why should I be insecure? Sunny has a guest appearance in the film which is fine by me as long as the film does well. The idea is to make a good film and see that it is successful. It is fine to use all the means available.
"Sunny is a cool guy. I have no reason to be bothered by what others say."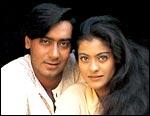 On the personal front, reports hint that all is not well with the Ajay-Kajol marriage.
"I do not want to comment on my personal affairs. People talk too much -- it's really irritating me now. They jump to conclusions for no reason, without sufficient proof. I never talk about my personal life. After these rumours, I definitely do not want to comment on anything."
"Preity and I are two mature individuals who happen to work together and work cordially. If people see hidden meanings between our exchanged hellos, too bad.
"I'd love to say I simply don't care about all that is written. But these rumours make working together really awkward at one level or another."
After Yeh Raaste.. the next Devgan film to watch out for is Rajkumar Santoshi's Lajja.
Ajay says, "My role in Lajja is very interesting -- that's why I agreed to do it. I've tried something different once with Zakhm. Now, it's Lajja. I had a packed schedule but I made room for the film.
"Because it was an opportunity to do a motivating role and work with Rajji. I liked Rajkumar Santoshi's Ghayal and Pukar."
You wonder if he ever feels insecure professionally.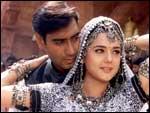 Pensively, he replies: "No, when I'm working, I leave all my fears and insecurities aside. I work only for my own satisfaction. I don't compare myself with anyone.
"Honestly speaking, I've got my share of adulation. People have appreciated my work. I only want to do better work. That's the focus of my life."
India News Features Service
Also Read
An earlier interview with Ajay Devgan