Making sure that the donkey doesn't kick him is something Paresh Rawal has become rather adept at.

Understand, of course, that you have to equate donkey with commercial Hindi cinema.

He is equally determined never to be number 1.

There could be a certain selfishness at play here. Because, once you hit the pinnacle of success, you don't want your days numbered. No actor, obviously, wants an expiry date stamped on him. That, says Paresh, is what happens when you become a star. He'd much rather be known just as an actor.

But then, in his book, right is right. Wrong is also right. It's just a matter of choice. A believeable choice.

So, we present excerpts from

the actor's interview with Sheela Bhatt:
It's been a long journey. Looking back, what are the changes you see in yourself?
I haven't changed. I am still the same.
But regretfully, I have become rather money-minded.
When you enter the industry, you are consumed by the desire to do good work -- for which you don't get paid. Over the years, you realise you get paid to do lousy work. Gradually, a certain kind of corruption sets in. You know fully well when you select a role that it is lousy. But you still do it and get paid for it.
This is a strange kind of arithmetic. I suppose that is because you realise that if you have a sudden setback, this (acting) is your only source of income.
Take Amitabh Bachchan's ABCL Corp. Unfortunately, it did not work. But he has to earn his bread and butter. So he has no way out but to act. If that means doing Aaj Ka Arjun, so be it.
To come back to your question, yes, I think I have improved as an actor.
In what way?
See, the more you know, the more you realise you know so little. I keep thinking I have not done this; I have to go this far; this is the right way to do things...

How, then, do you prepare yourself?
Watching films. Reading screenplays, books -- all kinds except science fiction.
I guess I have been searching for that mantra for acting. I've read dramas, screenplays, biographies -- which I consider humbug. I don't want to know how many men Marilyn Monroe slept with!
And did you find the mantra?
No. It's very, very difficult. You see, when you are given a new role, you keep digging deeper. You are at constant war with yourself because you find yourself groping in the dark. You want to take one way, but you are unsure.
That insecurity prompts you to opt for the standard route of acting. And then you know that's incorrect and you ultimately set out the hard and long way. This happens only for characters that are well-written.
What are your criteria for selecting roles?
It needs to be well-written, have a good director and offer good money. In that order.
Because only when the role is well-written will you identify with it. It should provoke you into saying, "Kamal ka role hai; yeh karna chahiye." (It's a fantastic role, I must do it). If it is not challenging enough, then the money should tempt you.
Then, there are times you do films for friendship, in spite of knowing deep down that the film is not going to work. You can be a good performer, but you can't control the fate of the film. After all, you are only a micro part of a film. It's not like theatre, where you can say what will work. Because you are God on stage.
But in films, anybody can muck up a film.
We know you as the villain of Dakkait, the comedian of Hera Pheri, the Dadaji in Hero No 1 and an actor on the Hindi and Gujarati stage. Where do you belong? Who are you?
I am just an actor. Don't brand me as a villain or comedian. That would be like asking a batsman to score by hitting only square cuts!
But people somehow think you are lost without a fixed identity...
Let me explain. Some five years ago, I was approached by the Screen Videocon Awards organisers to participate at the awards night. I would have to take the ramp with some seven-eight villains, wearing a tuxedo.
I refused. They're too costly, I said. Besides, I would never wear them in real life. More important, I don't perceive myself as only a villain.
My job is to enact several characters effortlessly with honesty and dignity. If I am liked equally in Sardar and Hera Pheri, I am a successful actor.
But how do you explain successful actors like Amitabh Bachchan who have a clear identity?
See, they are branded. Amitabh Bachchan -- with all his calibre, power and understanding of character -- has never been exploited. He was only given the angry young man's role.

Luckily I am not that big a star where I have to imprison myself. I am lucky that way. I have enjoyed a variety of roles.
Some artistes decide to be either a villain or comedian. There's nothing wrong with that. But this is my way. No confusion. In fact, I think I have great clarity.
But still, in the film world, you need an identity...
I am just an actor who can do any kind of role. Like an all-rounder. You wouldn't call him a great batsman or a great bowler. He can do everything. Likewise, actors should be able to do everything.
I might lack in, say, dancing. I might not be able to play Majnu. But you can't brand me only in one category. That's not what I set out to achieve.
I want to do many, many good roles. I want to be remembered as an actor's actor.
That is how I remember Naseer (Naseeruddin Shah) and Om Puri. And, to a certain extent, Amitabh Bachchan.
I want other actors to take note and say, "Here is Paresh."
Which Paresh?
The actor. Not Paresh the comedian. Not Paresh the villain. Not Paresh the filmwallah, not Paresh the theatrewallah.
What is the difference between Paresh the filmwallah and Paresh the theatrewallah?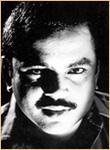 I am comfortable on stage.
Naseer once said,"The beauty of theatre is that like-minded people come together to create something."
After the play, you get together and share coffee and ideas. So the psychological comfort levels are quite high on stage.
That is not possible in films. Once you finish your work, you leave.
So are you a theatre person at heart?
It is not correct to call me a theatre personality. I have been groomed on stage, yes. Whatever I am is because of theatre.
But the Naseer and Om kind of theatre is not a paying one. The kind of passion, work, honesty and sanctity they have towards theatre is commendable. They are serious. What they do is real theatre.
But for us, play production is a moneymaking proposition. We admit it. I am also the product of the same system. I am criticising myself for it.
Are you a method actor or natural actor?
I haven't figured it out. I want to be a believeable character.
When someone sees me, he should say, "Yes. I have seen him somewhere." Realistic acting is possible when backed by a script. Though you can still be believeable without a strong script.
Which are your favourite roles?
Sardar, Tamanna, Hera Pheri and Sir are my favourites.
But Sardar was the most difficult. It was the biggest challenge of my career, and I worked hard for it. I am still not satisfied but I am proud of my performance.
I learnt history. I also became a very aware citizen. I understood the value of unity of India and Sardar's contribution towards it. What an awesome personality. What a tremendous character.
You played someone who was born 100 years ago. How did you orient yourself to that time period?
Photo reading. You see, not much footage is available on Sardar on film. But we had lots of photographs to study. I would keep looking at his photographs. Slowly, a picture emerged -- how he moved, his hand gestures, the tilt of his neck... The effort was to capture the spirit of the man, not be a replica.
What did you like about Tamanna?

Tamanna involved a real life character. Hats off to Pooja Bhatt for going ahead with the film. Any other debutant producer would have opted for a safer proposal. But she didn't compromise. That says a lot about her.
Because it was a challenging role. My intention was to disabuse the impression that eunuchs are not caricatures. I wanted to give them a human face and dignity. If my performance has helped achieve that in even a small way, it will be a small victory for me.
But wasn't it a little unrealistic?
No. Think about it. This guy finds a girl child and raises her for 18 years. A mard (man) might not do what this hijra (eunuch) did. I think it's a great thing.
And do you know what he said? "I did it because when I die, I want someone put a chaddar (blanket) over me. Such a simple thing. But so noble.
How did you absorb the essence of his personality?
I met him. You know, he belonged to a rich family. He was the son of the actress, Nazneen Begum.
She was the kind who wore a diamond-studded watch around her ankle. If you asked for the time, she would say,"Meri jhuti dekho" (Look at my foot). She used to smoke in a hundred rupee note.
She never accepted him as her son. "Tu to hijda hai. Hat! hat!" (You're a eunuch. Get away!) Imagine the trauma the child faced.
Very few characters move you to say, "I will shine in this role." This character did. There is this one scene where he goes to his mother's tomb and complains that his girl is not listening to him. There he is, going to his mother's grave, talking to a woman who never acknowledged him all her life.
Roles such as these restore your faith in the human will. You feel nice about life.
If inspiring roles are what drive you, how do you account for the innumerable villainous roles you have enacted?
They are all caricatures, without much thought being invested in them. I know they are bad; I know I'll not repeat them.
If role is well-written, it has a positive impact on you. Except for Dakkait and Kabza (where I played a character called Veljibhai), I have never come across a well-written villainous role.
The rest of my roles as a villain are stupid. Our villains are foolish -- you never get scared of them, yaar. So I try to give then an amusing look. That's the problem with Hindi films -- they are devoid of believeable structure and storyline.

How do you rate your role in Hera Pheri?
Neeraj Vora wrote it well. In Hera Pheri, comedy was born out of poverty. It has touched people's hearts; their response has been exceptional.
The film worked because its characters worked. Sunil Shetty, Akshay Kumar and I trusted each other. That showed on screen. Also, they never behaved like stars.
To go back a little, how did you hone your talent?
I was a very mischievous child. I loved making people laugh in class. I poked fun all the time. People liked my company. They even collected money to fund my school picnics.
When I was 11 or 12 years old, I realised that I wanted to act. And I have to thank my principal, Induben Patel, Lion's Juhu School, Bombay, for encouraging me. In the conservative 1960s, she said, "It's okay if you don't study. Pursue acting."
I was active in intercollegiate drama competitions. Again, it was thanks to U R Kohli, the principal of N M College, Bombay. He was a remarkable man. He would say, "Paresh, go for your rehearsals. Forget about classes." You know, when we returned to the college at night, after the competitions, Mrs Kohli would make dinner for us.
I just had this deep burning passion inside me. And acting, I realised, was the outlet for my emotions. When I acknowledged that, the process of my learning began.
How?
Well, I joined professional theatre in 1973 with the Indian National Theatre's Vhent Chetu Maut (Death Is Just A Span Away).
I just wanted to be a successful theatre actor. I never wanted to act in films until I saw Naseer, Om and Amitabh. I realised then that I wanted to be there with those people.
And my struggle in films was really not that difficult. In 1978-80, I tried my luck in the art circuit. They had their own star system. They had Farooque Shaikh-Deepti Naval, Naseer-Shabana and Om-Smita. They had no place for me.
I started meeting Shyam Benegal, Govind Nihalani and Kumar Sahani. Even that did not help.
What did you do then?
I finally said, forget it. And went back to theatre. Then, producer Karim Morani happened to come for one of the shows at Prithvi Theatre. He suggested my name to Rahul Rawail.
First day, first shoot. Rahul saw me and said, "Paresh you'll be there in all my films."
And then, the success of Tokhar (the Gujarati play based on Peter Schaeffer's Equals) boosted my confidence immensely. I found myself. I could act. I knew after Tokhar that I had arrived.

Another amazing thing happened. I fell in love with Swaroop (Sampat). The years 1976 and 1977 were a happening time. Imagine a Gujarati middle-class, medium-built boy falling in love with a rich, Cathedral-educated Femina Miss India. Dream chal raha tha! (It was a dream run for me).
As far as my acting skills go, I learnt from Balraj Sahni, Naseer, Om Puri and from many Hollywood greats. This is when I came to know what good acting was all about.
Then came the turning point -- I worked with Ketan Mehta in Chanas (Madhu Rai's adaptation of One Flew Over The Cuckoo's Nest). Those three months of rehearsals were invaluable to me. He taught me the finer nuances of refined acting.
How do you view acting?
There's no wrong or right in acting. Both sides of the coin are right. It is just a matter of choice.
I see acting as an opportunity to live several lives without going through the real-life consequences. Where else will you get such a noble chance?
But, of late, I have been thinking that acting is a spiritual experience for me. That happens when the role is well-written. Then, I think about its demands. I have to go deep into myself to bring out the person I have to portray.
The aspects I can't bring out, I study. For example, I researched for the characters in Tamanna, Sardar, Sir, Do Pal and Andaz Apna Apna.
Ultimately, I am the instrument to flesh out the character. Then I realise what kind of person I am. And my self-purification starts.
Otherwise, my Hindi film roles have only given me bread, butter and popularity.
Is that old passion still within you?
Yes. It is unbridled. I want to make my mark.
Was money a problem at any stage in life?
Well, I had a rich girlfriend and we were soon to get married. She was an actress and starred in the very popular television serial, Yeh Jo Hai Zindagi. Compared to me, she was a big star.
I was a nobody, just a good actor. But I was in love. I used to borrow money from her. We never had any ego problems. Never. We might have been immature, but we were both good people at heart.
But the period between 1980 and 1985 was frustrating. I used to get angry, because I was trying to find a foothold on stage. I was focused but not channelised. The commercialism and mediocrity was getting to me...
People say you are a good actor. They also say you are a snob and are reserved with your colleagues on the sets. Is that true?
I like being aloof. When my costar is good, I do approach him. But if he happens to be a duffer, I stay away.
Take Shah Rukh Khan. Not only is he a good actor, he is very hardworking, too. I watched him during the shooting of Phir Bhi Dil Hai Hindustani. I was impressed by his energy and tenacity.
I am an uncomplicated actor. I do my work and get out.
Is it because you are shy?
No, I am not shy. I am just uncomfortable. But I am comfortable with Sanjay Dutt, Aamir Khan, Shah Rukh Khan, Naseeruddin Shah, Om Puri and Kamal Haasan.
I am very comfortable with the theatre people. There should be a common wavelength, right?
Why do you avoid journalists?
It's not that I am avoiding the press. I firmly believe in the strength and might of the press. And no artiste can live without the press. It is just that I don't like unnecessary publicity. I don't believe in keeping press clippings.
Also, no one asks interesting questions any more. The questions border on gossip, which puts me off.
Moreover, I don't make interesting copy. I might not be boring, but I have nothing to say. An actor's job is to act. A batsman's job is to score runs. Not woo the press.

My communication is through the screen, through dialogues, through my acting.
Do you think this attitude has somehow affected your careergraph?
I entered the film industry in 1985.
In my first film, Arjun, right from the first shot itself, people told me I am a terrific actor. Any other actor in my place would have cashed in on this.
I didn't want to tread that path. That is why you will never see me at any party, premiere or muhurat.
But you could have become a bigger star with the publicity...
Look, it's not that I am against publicity. It's just that I won't do it. I believe that the same money and effort can be better utilised to make a good film, play or an album.
And I am happy where I am. You see, if you are number 2, you strive to be number 1. But when you become number 1, a certain complacency, a certain stagnation sets in. As also a strange kind of satisfaction.
You start thinking you are God. I don't want that feeling. Yes, I like adulation but not too much. Adulation, after all, is a passing phase.
An actor will survive. A star won't. Stardom is timebound. Stars come with expiry dates written on them.
If you were asked to list your limitations as an actor, what would they be?
Romance. I don't look good running around trees.
My idea of romance is different. For me, eyes speak. It's not jhatkas but the power of silence.
What do you think of Hindi cinema today?
Bad. All the way. When you are offered three goats, four donkeys and one panchkalyanak (virtuous) horse to choose from, you can deal with the situation.
Here, I am offered only donkeys to choose from. I look at the story and make sure that this donkey will not kick me!
See, today, the lyrics are bad. The screenplay and dialogues are ultra bad. The actors' market is intact thanks only to the hardworking new crop.
Who are your kind of directors?
Ketan Mehta, Rajkumar Santoshi, Priyadarshan and Mahesh Bhatt.
They have a human approach. Frank Capra once said, "People see people, people don't see a picture."
Priyadarshan, for example, uses the camera without the actors knowing about it.
As for my all-time favourite film, it's Il Postino (based on Pablo Neruda's novel).
Amongst artistes, I think I like Kajol because she acts effortlessly. I like Marlon Brando and Naseeruddin Shah -- especially in Paar and Sparsh. I like Amitabh's silence. Watch him in any frame when he is just listening and staring at his co-artiste. He is incomparable.
You see, any artiste finds it difficult to accept a great performance. When I saw Deewar, I told myself, "Why can't you do this role?"
My worst film was Zameer. My favourite book is One Flew Over The Cuckoo's Nest. The screenplay of Godfather 2, too, is a favourite.
How do you want to be known?
As a great actor, but a normal human being.
ALSO SEE:
Paresh Rawal on chat!
Tell us what you think of this report