May 06, 2009

Dr Kirori Lal Meena is perhaps the most influential Independent candidate in the fray in Rajasthan this general election.

The powerful leader of the Meena community, who is contesting the election from the Dausa reserved constituency, is an intriguing politician who easily convinces supporters why he can go with either the National Democratic Alliance or the United Progressive Alliance if he gets elected to the Lok Sabha.

Interestingly, Dr Meena and his wife Golma Devi -- an Independent MLA who was a minister in the Rajasthan government -- still support Ashok Gehlot's Congress government from the outside. Golma Devi though resigned from the Gehlot cabinet after her husband was denied a Congress ticket to contest the election.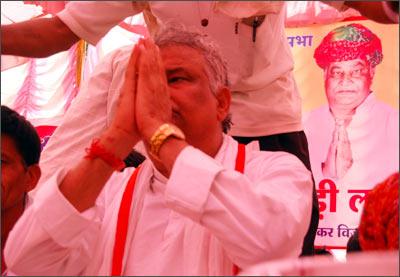 In an interview with rediff.com's Prasanna D Zore, Dr Meena discusses how the caste arithmetic -- the Bharatiya Janata Party [Images] and Congress candidates are also from the Meena community -- will not hamper his chances of winning.
Why did you decide to contest as an Independent?
I had contested the assembly election as an Independent. But when Ashok Gehlot's Congress government fell short of a majority we offered them our support.
Both the Congress and BJP wanted to offer this seat to me. But the problem was I would have been disqualified as an MLA had I contested the parliamentary seat as any party's candidate.
So I asked the Congress not to field a candidate against me and leave this seat vacant for me. But they refused.
Isn't it intriguing that as an MLA you support the Gehlot government, but are contesting the Lok Sabha election against Congress candidate Laxman Meena? How do you explain this?
I offered my unconditional support to Gehlotsahib. You can ask anybody you want. I told him the way in which I am supporting your government in the state I will also support the UPA at the Centre.
I didn't want to contest as an Independent, but the people of Dausa wanted me to win and go to Delhi [Images]. So I have entered the arena to respect popular feeling.
You said in your speech that Mr Gehlot wanted to leave Dausa for you, but somebody played spoilsport.
There are so many of them. It is not good on my part now to disclose names.
You don't want to give any names?
Ashok Gehlot hi maan lo (Ashok Gehlot was responsible for it).
Why did Mr Gehlot do that?
I am not saying Gehlot is against me. But he has started criticising me in all his speeches even when I am still supporting his government from the outside. Only he can answer why he did that.
So what's your agenda?
I am not fighting this election on the Congress's or BJP's agenda. My agenda is the agenda of my janata (people). And the people feel that this region should climb the ladder of development as it has remained backward for long before this.
The people want to get rid of the bitterness that arose out of the reservation issue (last year's Gujjar agitation demanding scheduled tribe status for the community led to the death of 26 Gujjars in Dausa, thereby straining the relationship between the dominant Meenas -- who the Gujjars resent because of the advantages they get from their ST status -- and the Gujjars).
There should be a feeling of brotherhood amongst all the constituents of this region.
People in this region will not support either the Congress or the BJP. A candidate who will alleviate the feeling of bitterness and who will work for the development of this region will get the popular mandate.
In Geejgad (a small village in Dausa) itself availability of potable water is a big issue. And it is not so that this problem cannot be effectively tackled. MLAs and candidates who got elected from this constituency and who even became ministers (an oblique reference to the Congress's Rajesh Pilot and his son Sachin, the sitting MP from Dausa) have not solved this problem.
I will solve all the problems of the people here. If I get a chance, then I will surely open the road of development here.
Do you have a plan for the economic development of Dausa?
Agro-based factories have a huge scope in this area. The business of developing stone quarries can create big employment opportunities here, but it has not got good promotion yet. Sikandara (a town 27 km from Dausa on the Dausa-Agra highway) is the best example of stone quarries.
Even when three rivers flow through the region nobody has ever made an effort to dam this water and use it for irrigation. Though Dausa is part of Jaipur [Images] district there is still no major educational centre here.
There are no opportunities here to develop the scheduled tribe and scheduled caste people that form a majority of the voters here. It is my commitment to the people of Dausa that I will strive for their all-round development.
If you are elected and in the event of a hung Parliament who will you throw your lot with?
I will always prefer to go along with people with a clean image. And both (Prime Minister) Manmohan Singh [Images]ji and (the BJP's prime ministerial candidate L K) Advaniji fit that description.
I am not a slave of any party. I am bonded to the people of this constituency.
I can go with either of them depending on whether the NDA or UPA stakes its claim to form the next government at the Centre. If not, then I can go with any other leadership provided they project a person with a clean image as their prime ministerial candidate.
I will not support any leader who is corrupt even at the cost of sitting in the Opposition.
Would you demand a ministerial berth in such a scenario?
There is nothing like that. I have never demanded power even with the Gehlot government and will not pressurise anybody at the Centre too. If somebody offers me a Cabinet rank, then it is okay with me. But I will not put any conditions for getting a Cabinet berth.
For me the biggest Cabinet rank is the development of the region according to people's aspirations. That satisfaction will be bigger than getting a ministerial rank.
Most of the important contestants in Dausa belong to the Meena community. How would the election math work in your favour considering that Meena votes will be split amongst you, the Congress's Laxman Meena and the BJP's Ram Kishore Meena?
It is not like that. There is a Gujjar (Independent candidate Qamar Rabbani Chechi is a Gujjar from Jammu and Kashmir [Images]) contesting from here as well.
Ask anybody around me and they will tell you that 99.99 per cent of the Meenas will vote for me. Other Meenas will get a zero.
Plus, I have the support of people belonging to all the castes here. I have always been with the people of this region and will take everybody along with me in the process of development if elected. Whenever any worker of any party has come to me for my support I have crossed party lines and helped them.
That's the reason I have my supporters around me in this hour of crisis. BJP, Congress and BSP supporters have left their parties and have come to join me.
Image: Dr Kirori Lal Meena addresses his supporters in Geejgad, Dausa. Photograph: Prasanna Zore