April 08, 2009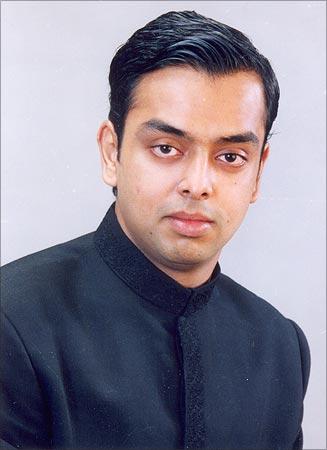 Along with party scion Rahul Gandhi [Images], Congress MP Milind Deora [Images], of South Mumbai [Images], is often held up as the best example of India's new breed of politician: young, well-educated and globally aware.
Just 27 when first elected to the Lok Sabha, with a degree from Boston University in one hand and a well-publicised guitar in the other, Deora really and truly fit the part of dynamic young politician, leading to a flurry of magazine and newspaper profiles, and much speculation that the Congress party had found a potential future national leader.
But today, though he's still just 32 years old, Deora himself questions this 'new' politician notion. "Do you want young, educated politicians like Varun Gandhi [Images]? Do you want young, educated politicians like Raj Thackeray [Images]?" he asks rhetorically, from his office in Churchgate, Mumbai. "More important than age or education, a politician should stand for certain values."
Five years on, hair peppered by streaks of grey, it's clear that the rigours of Indian political life have aged Deora. He's no longer the fresh faced bachcha he was in 2004, when he  beat tremendous odds to wrest back the South Mumbai seat that once belonged to his father, Murli Deora, from 1984 to 1996 and then again in 1998.
Plus, he's newly married, to Pooja Shetty, who heads the film production house Walk Water Media and is the daughter of filmmaker Manmohan Shetty.
But now, just as he's settled into the politician's life, many pundits are calling Deora's 2009 electoral chances in to doubt. In addition to the minority and regional party candidates, like the Bahujan Samaj Party's Mohammed Ali and the Maharashtra Navnirman Sena's Bala Nandgaonkar, Deora faces the strong candidacy of the Shiv Sena's [Images] Mohan Rawle.
And, indeed, public opinion polls show that Rawle is poised to give the 32-year-old quite a battle.
But Deora sees the election working out in his favour. "My expectation is that people will come out and vote from me, from all demographics. I am confident that I will win," he says.
As for his opponent, the Shiv Sena, Deora pulls no punches. "The Maharashtrian people have become largely disenchanted with the Shiv Sena. People can see the cracks in the Sena's ideology, which explains migration of voters to the Congress and the rise of Raj Thackeray's MNS."
Asked if the BJP's clout in South Mumbai will help Rawle, Deora says that business communities like Marwaris and Gujaratis, who traditionally vote BJP, will not support the Sena. "They don't agree with parties that divide along regional and linguistic grounds. These people are very antipathetic to the Sena's platform, so I'd expect them to gravitate towards the Congress. They understand the importance of a strong central government."
Ultimately, Deora continues, voters value stability at the Centre, consistent foreign policy and sound sense of judgment. "The Shiv Sena has none of this," he adds.
But critics claim that Deora hasn't yet mastered the jumping through of hoops necessary to get things done in India's Parliament. Thus, they say, his track record is unimpressive.
Deora is quick to respond, ticking off a list of some of his accomplishments: lobbying to get JNNURM (Jawaharlal Nehru Urban Renewal Mission) funds for Mumbai-area projects, helping secure upgrades for JJ, GT and Cama hospitals, a Rs 100 crore grant from the Centre for the University of Mumbai and efforts to improve Mumbai's infrastructure, such as the Bandra-Worli Sea Link and the Marine Drive [Images] and Gateway of India [Images] beautification plans.
As for what he hopes to achieve if re-elected, Deora says he will doggedly pursue developmental plans. Specifically, he wants to secure more funds from the Centre for Maharashtra and Mumbai, so that railway, road and sanitation infrastructure can be improved. He will also work to ensure that Mumbai directly elects a mayor.
"Rather than making impossible promises, I prefer to set realistic expectations and then exceed them," he says. "I try not to over-promise."
Asked about some of the contentious issues of the day, such as the North Mumbai versus South Mumbai rivalry and the Raj Thackeray versus North Indians battle, Deora states his beliefs plainly.
"I don't get into this South Mumbai, North Mumbai debate. People say that South Mumbai has better infrastructure, better roads. We also have a much older infrastructure," he points out.
"Anyhow, I think a mix of camaraderie and competitive spirit between the two is good. It's the sign of a healthy city. All great cities have different areas, with different flavours. That's what makes them great."
As for Raj Thackeray, he disagrees that the Congress was too lenient during the 2008 disturbances, which the MNS leader incited and encouraged. "The government came down hard on Raj Thackeray, to the point where some were staying it had overstepped its bounds. The Congress does want to hurt our image by supporting him. The MNS will cut into the Shiv Sena vote regardless of our lack of support."
In addition to being remembered as one of India's youngest ever MPs, Deora will also be forever inexorably linked to the horrific November 26, 2008 terror attacks in South Mumbai and their subsequent aftermath.
That fateful Thursday, with the world's spotlight shining squarely on his constituency, Deora was forced to act quickly.
"The moment I heard about the attacks, which was at about 10:30 pm, I took my mother's driver and a party worker and just set off, no guards or anything. It was an instinctive response, a concerned citizen's response, not an MP's response. I just tried to help out, however I could, so that order could be restored," he says.
After the attacks, some public outcry pointed at Mumbai's ruling politicians. Still, Deora explains, he wanted to participate in the December 3 Gateway of India rally, despite the admittedly anti-neta atmosphere.
"I went to the Gateway of India as a Mumbaikar, as a citizen, not as a politician. And I was welcomed there."
As for the criticism that Mumbai's police were underprepared, Deora responds passionately. "Civilian police are not trained and equipped to battle ten military-trained, commando-style Pakistani terrorists. It could be in New York, in Madrid, in London [Images], in Mumbai. It doesn't matter. Civilian police aren't supposed to carry out those types of operations. Does Mumbai need an NSG module? Yes, all of India's major metros do. I've raised this idea."
Milind claims that he does not want to capitalise on 26/11 politically.
"I don't want to make 26/11 out as only an attack on Mumbai, or on Maharashtra, like the Shiv Sena has done. This was an attack on India, all of India, originated from foreign soil."
The Sena's reaction to 26/11 has "exposed" the group, Deora continues. "Their politicians were nowhere to be found."
He adds that, by leading protests over Mohammed Ajmal Kasab's [Images] court-appointed advocate Anjali Waghmare [Images], the Shiv Sena is actually delaying the legal process. "I want to see Kasab have his trial, lose his trial, and hang," he says.
As for the upcoming polls, asked whether he'll try to emulate US President Barack Obama [Images], Deora is quick to say no. "Obama's campaign was good, but dangerous. He's promised so much, and has set himself up with such huge expectations."
But, like Obama's, Deora's campaign does have an Internet component. In his effort to combat South Mumbai's notoriously low rating rates, particularly among the wealthy, Deora is using every possible avenue to distil his message.
He says that, post-26/11, many South Mumbai youngsters have gotten in touch with him, setting up Facebook communities in his name and helping to drive his high-tech campaign.
"In that sense, we've been running two parallel campaigns," he says. "One is more traditional, and the other is largely online. I've created a platform to target affluent and middle class English-speaking young people, which is important in a constituency like South Mumbai."
Asked to summarise his campaign, Deora ratchets up the heat on his competition:
"You, the voters, have a chance to destroy the politics of hypocrisy and divisiveness. Let's stop the Shiv Sena from getting a single seat. Let's shun this type of politics once and for all."