When minnows Jammu and Kashmir defeated 40-times Ranji Trophy champions Mumbai on Wednesday, it was perhaps the biggest-ever shock victory in domestic Indian cricket.
Rediff.com's Vaihayasi Pande Daniel and Sonil Dedhia spent time with the J&K team after their stunning triumph to discover the inspiring story of how these fine cricketers turned adversity into advantage.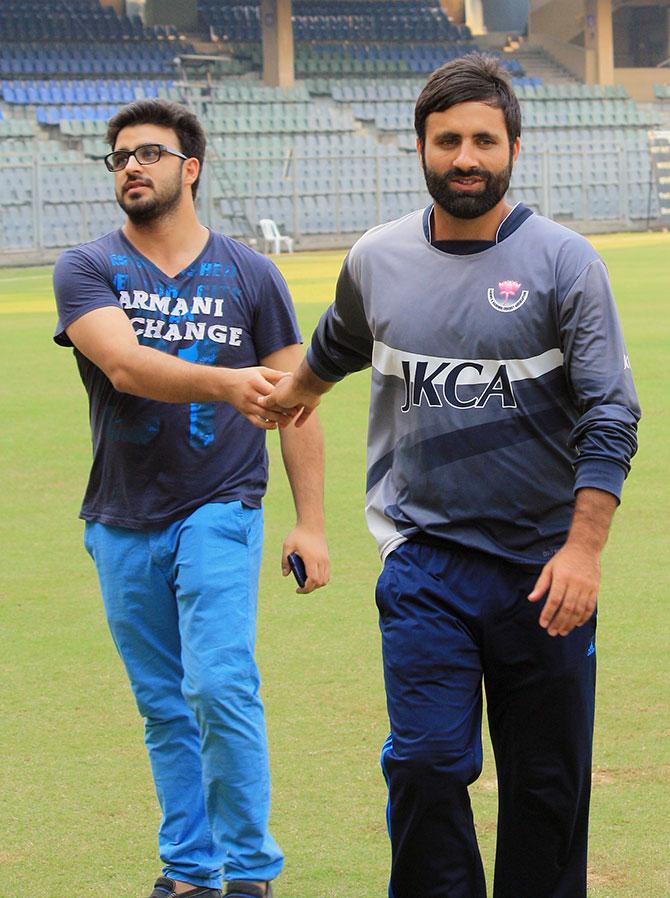 Image: J&K skipper Parvez Rasool, right, with a fan at the Wankhede stadium in Mumbai.
Photograph: Rajesh Karkera/Rediff.com
Early October, after the devastating floods that entirely submerged nearly 390 Kashmiri villages as well as key areas of Srinagar, killing 277 people, the state's cricket team grimly reflected on their future.
Ranji Trophy games were coming up in December. The Vijay Hazare Trophy games were around the corner.
Would they be able to participate? Or would they have to sit it out this season?
In the aftermath of those ruinous floods, communication was tenuous. Telephone lines and cellular phone networks were mostly down. There were no pliable roads. It was almost impossible for the players to connect.
Team captain Parvez Ghulam Rasool Zargar, 25, the first player from the Kashmir Valley to represent India in international cricket and the team's motivating force, was holed up in his village, nearly 60 km out of Srinagar, at Bijbehara, close to Anantnag.
The Jammu team members, camping in Srinagar, were cut off from their worried families. Many of the Kashmiri players had left their homes ahead of the rising waters and were living somewhere else. Batsman Adil Reshi's home in Habba Kadal was swept away; he lost all his certificates and mementoes.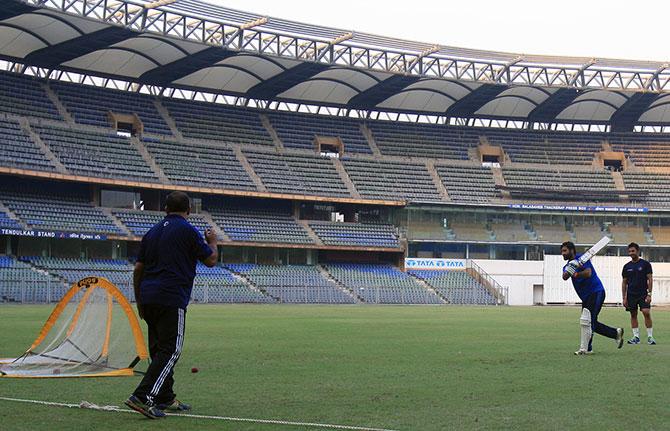 Image: The J&K team at the nets.
Photograph: Rajesh Karkera/Rediff.com
Right-handed batsman Samiullah Beigh, a resident of the unaffected Soura area of Srinagar, was helping with relief, distributing food packets. "It was a disaster. There was total chaos. I guess I was the only player who wasn't affected by the floods," he says in Mumbai after his team vanquished mighty Mumbai in the Ranji Trophy game on Wednesday, December 10.
Finally the J&K team, with great difficulty, coordinated to reach a spot in central Srinagar, by boat, through the flood waters, to discuss how to take things forward with their game -- to get a plan.
The prospects looked gloomy. Kashmir's only stadium, the Sher-i-Kashmir stadium, a second home to these players, was under many feet of stagnant water. When the water drained away, the pitch was a soupy slush of mud and slime. There was no electricity.
The Central Reserve Protection Force had set up base at the stadium, with uniforms, guns and ammunition, in the upper stands.
Where in the world was this plucky team to practice?
Kashmir is a state, the tall, strapping, dimpled Beigh tells you, that is probably more cricket crazy than any other state in the Union, he feels. Youngsters seize any free time to thwack a ball around the place. And people dream cricket. Bats are made there too from the plentiful willow.
"Cricket is played in every gully and every mohalla in Kashmir. The cricket fever is enormous amongst Kashmiri youth. Kashmiris are madder about cricket than Mumbaikars (laughs). These kids know cricket statistics better than any statistician," Beigh adds.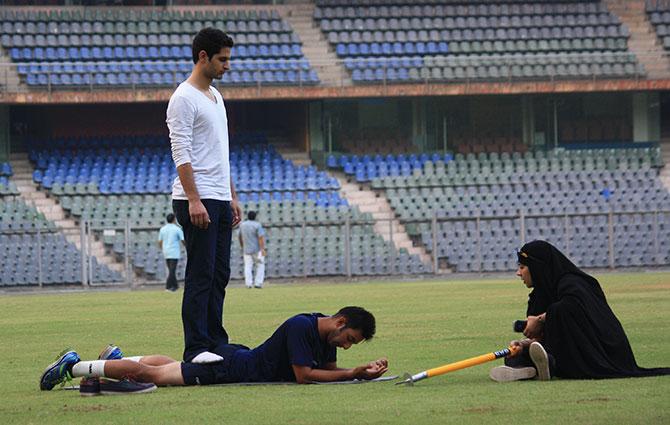 Image: Arsalan Dungroo (who used to play under 19s but is now studying engineering and is a "crazy fan") helps batsman Ian Dev Singh Chauhan as he works out. On the right is team media manager Shahana Fatima.
Photograph: Rajesh Karkera/Rediff.com
Yet the local passion for the sport has not translated into any infrastructure (The BCCI: Please note). "There are very few grounds and the Srinagar stadium is the only venue to play first class cricket." Beigh looks around in awe at the Wankhede stadium and says the Sher-I-Kashmir is nowhere close to the famed Mumbai ground where Sachin Tendulkar played his last Test last year.
J&K team coach Sunil Joshi (the former India left-arm spinner) had flown to Srinagar from Bengaluru to help the team train. When he signed the contract, before the floods, Joshi had been promised a variety of facilities to get the boys into shape.
Now there were none.
Even finding a proper hotel for Joshi was tough, recalls Shahana Fatima, the team's media manager, Kashmir's only lady sports journalist (who runs a sport magazine, Sports Unlimited) and says she tries to "communicate between the players and the media.
"I am going with the team everywhere just to make sure whatever they do -- especially the good -- gets highlighted in our state. I try to give them the proper kind of (exposure so people elsewhere realise that) in our state too we have guys who have talent..."
Hailing from a conservative Muslim home, the chadar-draped Fatima travels with the team accompanied by her brother Umer Asif, on her father's instructions. Asif has therefore became a photojournalist.)
Joshi was a fighter too. Recalls Fatima, "He said: 'Whatever limited resources we have I am here to help the players'." The team decided to head out to Dharamsala (in Himachal Pradesh) to play their North Zone one-day matches, with hardly a day of practice.
That is when the tide seemed to turn in their favour. They were chuffed to win three of the five matches played, coming fourth in that zone. "Everyone said you're doing good!" remembers Fatima. It spurred them on. Perhaps, all was not lost.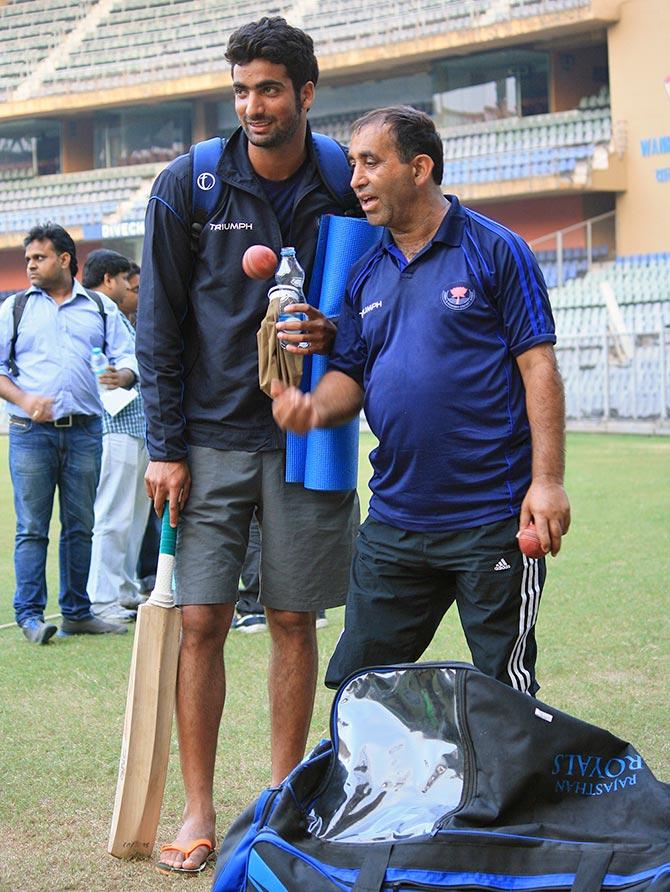 Image: Bowler Umar Nazir Mir, left, with a member of the team support staff.
Photograph: Rajesh Karkera/Rediff.com
Joshi suggested they join a fitness camp in Nagpur after Dharamsala. Says Beigh, "It turned out very helpful for players. Our coach Sunil Joshi worked very hard with us using his experience."
In the period running up to the Ranji Trophy the team spent 15 days at the World Cricket Academy, building muscle and flexibility, but not really hitting the nets that much although they played a few practice games.
After that they just had to hope for the best. Inshallah is a word that frequently wanders into conversations you have with the team.
"They didn't get much time to even shake their legs on a ground. Whatever they are doing -- it's without practice. (The team decided) that they have to do it. What happened (the floods) is not (something) somebody has done to us. It's God. So what can we do? We cannot crib. It is up to us to do whatever we have to do," explains Fatima.
For minnows like Jammu and Kashmir, whose record has been dogged by challenging circumstances and poor facilities, having the courage to believe in themselves is really the highest hurdle to clear.
That is something skipper Rasool reminds the boys about when he gives them pep talks. He underlines to them that the main lesson he learned playing for India was that everyone starts small. But that it is important to be feisty.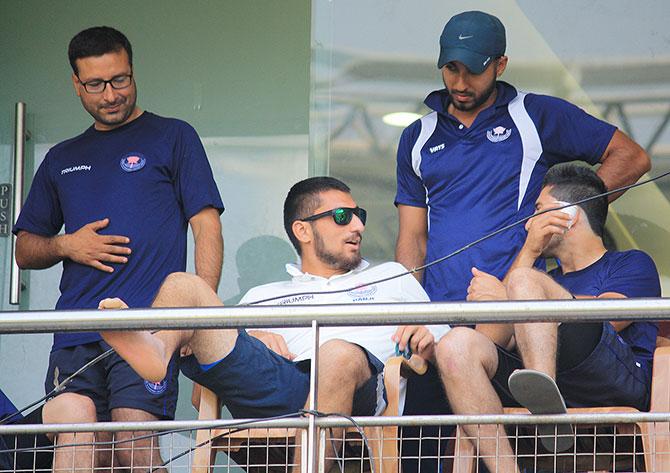 Image: Relaxing in the stands post the match.
Photograph: Rajesh Karkera/Rediff.com
"I have told them to grow their self belief. A person must have self belief. There is not that much difference between players; it is a difference of 19 and 20. But it is the person who handles pressure, keeps faith in himself, who gets ahead. I have always told the boys that when I go with the India team I never been made to feel I am a newcomer. I am looked at as a player, like any other player, be it a Virat (Kohli) or anyone else," says the calm and collected Rasool, who cuts a striking figure, like most of his team mates, with his beard and green eyes.
Wednesday, December 10, made them realise that Rasool was right.
In spite of barely any preparation in the pre-season, Jammu and Kashmir produced one of the biggest upsets ever in the history of Indian cricket.
Playing at the Wankhede stadium, for the first time, against 40-time champions Mumbai, Jammu and Kashmir scripted a sensational four-wicket victory in the Ranji Trophy match, the opening face-off for both sides.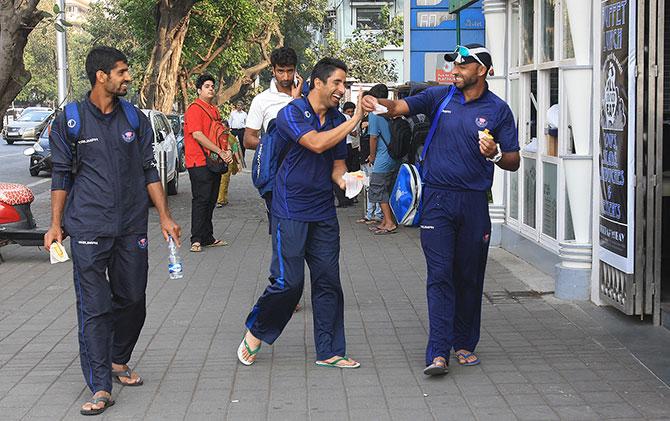 Image: Walking back to the hotel from Wankhede stadium after a detour for ice cream.
Photograph: Rajesh Karkera/Rediff.com
How could a team, many of whose players were rendered homeless, while their opposition was busy preparing at a world-class facility achieve this? What inspired Jammu and Kashmir in their shock upset over giants Mumbai?
Says Rasool, who is utterly delighted with the team's performance: "The flood situation in Kashmir helped us and made us mentally stronger. It is a big victory for us. I am thrilled and excited. With limited preparation we were able to achieve such a huge win, so I am confident that as we progress in this tournament we will be able to give good results. We have done so well despite lack of sufficient preparations which shows we have good potential."
The captain, who is easily recognised wherever he goes in Kashmir and attracts excited fans -- he is their Kashmiri Sachin -- feels that his selection in the Indian team is an encouraging sign for all aspiring cricketers in the Kashmir Valley.
"The J&K team looks up to me as the role model. It feels encouraging when my team asks me to share my experiences with the Indian team. These young players have started believing that if I can get selected for the national team, then they can do it too."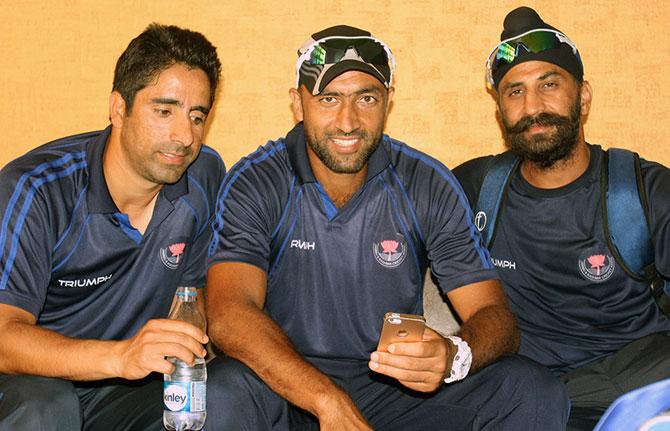 Image: Wicket-keeper Obaid Haroon, left, with batsman Samiullah Beigh, centre, and batsman Hardeep Singh, right.
Photograph: Rajesh Karkera/Rediff.com
When we catch up with the team, post their Mumbai win, there is a jhatka (current) of jubilation running around the stadium. Much of Mumbai's tiny Kashmiri population turned out to cheer the team, Rasool tells you "even students from hostels." Some ecstatically approach the skipper on the dressing room stairs to congratulate him.
The momentous win has the media electrified -- journalists and cameramen hang around waiting for bytes from Rasool and man of the match Shubham Khajuria.
Sachin Tendulkar pops by to see his defeated Mumbai team-mates for some morale boosting. There are expectations that he will drop in at the J&K dressing room to congratulate the boys.
He doesn't. But that doesn't take the icing off what has been a super-duper day.
Weary, but elated, the team heads back to their hotel. Some walk back, along the shimmering Marine Drive, stopping to buy the famous K Rustom's ice cream sandwiches at Churchgate (on the advice :))) of our colleague Rajesh Karkera). Others take the rattletrap non-air conditioned coach back.
When you catch up with the team, who are very approachable (though mildly uncomfortable speaking with a lady journalist) back at their hotel -- they are staying at the modest (Rs 3,400 a night) Sea Green Hotel near the five-star Trident -- there is only one thought running through your head, as you climb up and down the hotel's staircases to meet players either in the lobby or in their rooms (that they share) -- When there is so much money in Indian cricket, why is it not divided a little more equally?
The rather shy, soft spoken, 20-year old Shubham Khajuria is the star of the Wankhede show. He racked up a remarkable 107 runs and made sure the Suryakumar Yadav-led Mumbai team was out hours before tea. He shares a small room with another injured player and the short interview occurs amid clothes, shoes and banians neatly hung out to dry.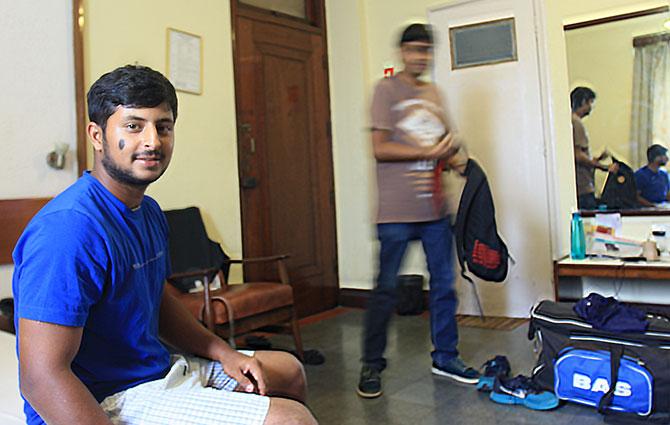 Image: Man of the match Shubham Khajuria in his hotel room.
Photograph: Rajesh Karkera/Rediff.com
Khajuria, who hails from Jammu and is the son of a science and math teacher, tells you: "People used to say that J&K does not know how to play. They have never played. Parvezbhai would say that if you are willing to do the hard work, give your best, perform well, then we can play."
In spite of growing up in a state where training facilities are limited, Khajuria says his father encouraged him to choose cricket as a career, "He supported me from the start," because he was also a cricket fan. After his century Khajuria spoke to his father who told him to "Carry this (good work) forward."
The batsman says not many people recognise him in Jammu, except in the streets next door to where he lives, and smiles tentatively when you suggest that all may change.
Says wicketkeeper Obaid Haroon, who hails from Srinagar and for whom a childhood obsession became a profession: "It did not feel like we did something different. We played the way we always play."
He is really kicked that he did his "wicket-keeping at the same place where (Mahendra Singh) Dhoni was doing wicket-keeping during the World Cup final in 2011."
Another coincidence he points out was that the winning runs were hit by Dhoni in that final and he also hit the winning runs in this game. That, he says, makes it an even prouder moment for him.
Rasool, who is on the list of 30 probables for the 2015 World Cup, says his team has silenced those who doubted their credentials. "Beating Mumbai at home is a great achievement. If you look at our graph, the performance of our team has improved steadily over the last two, three years. When we reached the Elite division (of the Ranji Trophy), there were people who wondered whether we deserved to be here. We have answered them now," he says with a big smile.
The J&K cricketers have enjoyed their stay in Mumbai. They don't get to the city often. They are bowled over by how warm and welcoming Mumbaikars are. Fatima was surprised how well informed Mumbaikars were about events in the Kashmir Valley, especially about the floods.
'How did you survive? How did you manage?' she is asked. "Whatever little I have seen here, people are very supportive. They don't peep into your life... They let you do your work. As long as you are working, they are not bothered. I like the people in Mumbai."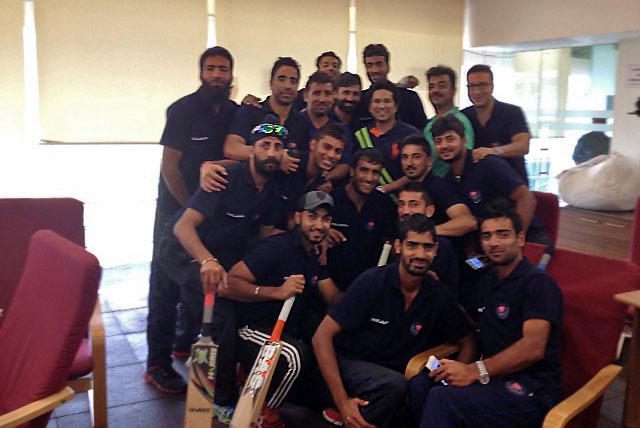 Image: Sachin Tendulkar with the J&K team at the Wankhede.
Photograph: Umer Asif
There is an unexpected second round of festivities the next morning when Tendulkar makes up for his unintentional oversight of the day before, to spend an hour with the J&K team at Wankhede. "(Sachin) congratulated the team for the victory," says Fatima, "told them not to get carried away and continue the good work." Inshallah.