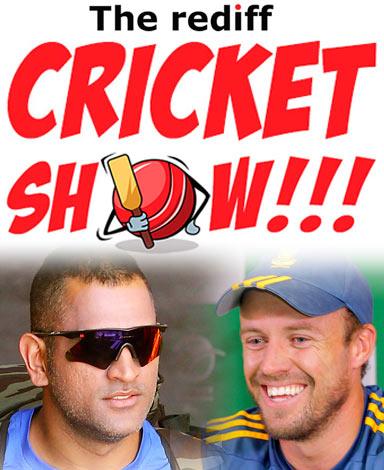 South Africa may be the favourite to win the World Cup, but February 22 -– the day they took on India -– told a different story.
Whether it was a finally-in-form Shikhar Dhawan, the fantastic innings by Ajinka Rahane, M S Dhoni's superb performance or India's impressive fielding and bowling, February 22 was a day to cheer as India handed South Africa a comprehensive defeat.
Or was it just the taunting 'Mauka hi mauka' ad that inspired our Lads in Blue.
Watch cricket fans Abhishek Mande-Bhot/Rediff.com and Keval Shah analyse the India versus South Africa match (scorecard) right in the The Rediff Cricket Show.
Video: Hitesh Harisinghani/Rediff.com
Catch the remaining shows on the following days here.
Saturday, February 28: India versus UAE
Friday, March 6: India versus the West Indies
Tuesday, March 10: India versus Ireland
Saturday, March 14: India versus Zimbabwe
Are you watching the World Cup? Do share your videos, photos and comments here.
Don't miss! The World Cup, as never before on Rediff.com