His first 5,000 runs came in 114 innings.
His second 5,000 runs came in 91 innings.
Rajneesh Gupta presents the numbers on an amazing feat.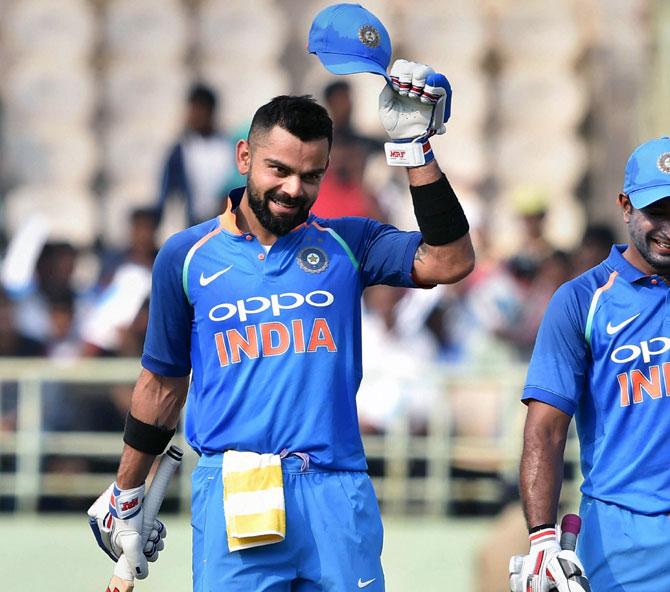 Virat Kohli started at Visakhapatnam where he had left at Guwahati, scoring his second successive hundred.
Virat set a plethora of records during his masterly innings of 157 not out, most notable being reaching the 10,000 run mark in this format.
Virat is the fifth Indian and 13th batsman overall to reach this mark.
And he is the quickest to do so taking only 205 innings -- 54 less than previous record holder Sachin Tendulkar.
Fastest to 10,000 runs in One-Day Internationals
| Innings | Player | Team | Reached on | Age | Days taken |
| --- | --- | --- | --- | --- | --- |
| 205 | Virat Kohli | India | October 24, 2018 | 29 years, 353 days | 3,719 |
| 259 | Sachin Tendulkar | India | March 31, 2001 | 27 years, 341 days | 4,121 |
| 263 | Sourav Ganguly | India | August 3, 2005 | 33 years 26 days | 4,953 |
| 266 | Ricky Ponting | Australia | March 24, 2007 | 32 years, 95 days | 4,420 |
| 272 | Jacques Kallis | South Africa | January 23, 2009 | 33 years 99 days | 4,763 |
| 273 | M S Dhoni | India | July 14, 2018 | 37 years, 7 days | 4,951 |
| 278 | Brian Lara | West Indies | December 16, 2006 | 37 years 228 days | 5,881 |
| 287 | Rahul Dravid | India | February 14, 2007 | 34 years 34 days | 3,969 |
| 293 | Tillakaratne Dilshan | Sri Lanka | July 26, 2015 | 38 years, 285 days | 5,706 |
| 296 | Kumar Sangakkara | Sri Lanka | February 17, 2012 | 34 years 113 days | 4,244 |
| 299 | Inzamam-ul Haq | Pakistan | September 19, 2004 | 34 years 200 days | 4,685 |
| 328 | Sanath Jayasuriya | Sri Lanka | August 9, 2005 | 36 years, 40 days | 5,705 |
| 333 | Mahela Jayawardena | Sri Lanka | November 18, 2011 | 34 years 175 days | 5046 |
This is how Virat reached every progressive milestone of 1,000 runs:
| Milestone | Innings | Remarks |
| --- | --- | --- |
| 1,000 | 24 | Quickest for India |
| 2,000 | 53 | 4th Quickest for India |
| 3,000 | 75 | 2nd Quickest for India after Shikhar Dhawan |
| 4,000 | 93 | 4th Quickest in the world |
| 5,000 | 114 | Joint Second Quickest in the world after Hashim Amla with Viv Richards |
| 6,000 | 136 | Second Quickest in the world after Hashim Amla |
| 7,000 | 161 | Second Quickest in the world after Hashim Amla |
| 8,000 | 175 | Quickest in the world |
| 9,000 | 194 | Quickest in the world |
| 10,000 | 205 | Quickest in the world |
Two halves of Virat's ODI career:
| | Innings | Average | 100s | 50s |
| --- | --- | --- | --- | --- |
| First 5,000 runs | 114 | 52.63 | 17 | 27 |
| Next 5,000 runs | 91 | 68.52 | 20 | 21 |