'He is like a pillar and the whole team bats around him.'
'In today's world, everyone likes to play their strokes while Pujara is someone who will tire out the bowlers.'
'If you have one batsman who can play out the new ball or play out a spell from a good bowler, then it helps the whole team, it helps the other batsmen.'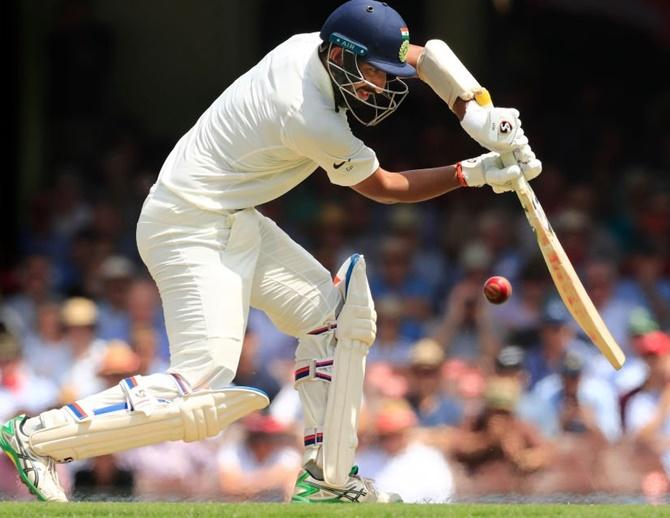 First, he helped India create history in Australia and now he is on verge of etching another golden chapter in Saurashtra's cricketing history.
Bowlers all over the world must considering having a global conference to plan how to dismiss Cheteshwar Pujara who just refuses to get off the batting crease.
After his heroics in Australia, where he led India to its first-ever Test series win Down Under, Pujara starred with the bat for Saurashtra. His unbeaten century -- a gusty innings of 131 -- helped Saurashtra outclass Karnataka to enter their second Ranji Trophy final in three years and with another chance to win their maiden Ranji title.
Pujara, who scored 521 runs in the Tests in Australia, continued his golden run with the bat as he first steered Saurashtra home with an unbeaten 67 in the quarter-final game against Uttar Pradesh when they chased down a record 372 for victory for an amazing comeback after they conceded a 170 run first innings lead.
Young opener Harvik Desai scored 116 and Sheldon Jackson made 73, but Pujara's experience proved crucial in the end.
Then he played a stellar role in the semis against Karnataka when Saurashtra were set 279 for victory on a tough pitch at the M Chinnaswamy stadium, putting on 214 runs with Sheldon Jackson who scored 100.
Saurashtra Coach Sitanshu Kotak is generous in his praise of Pujara who he says played the most defining innings under pressure in a big game.
"Pujara's knock in the second innings against Karnataka was just unbelievable, he soaked in all the pressure and kept the bowlers at bay," Kotak tells Rediff.com's Harish Kotian.
"Pujara will no doubt get all the credit, but I would like to credit the whole team because it would be very unfair to single out a few players and neglect the others. This was our 10th match in the Ranji season," says Kotak.
"Pujara played one match at the start and then the quarter-final and semi-final. The seven matches in between the youngsters and other players did exceedingly well, so they deserve a lot of credit," he points out.
Pujara had a gruelling two months in Australia involving four Tests, but wasted little time on his arrival in India to join Saurashtra.
"Pujara is an amazing player. Today, he is one of the top batsmen in the world in Test cricket, having scored runs all across the world, but whenever he has the time he comes and plays for Saurashtra," says Kotak.
"I have never see him complain or say that he wants to miss a Ranji Trophy game because he wants to rest after playing for India, not even once. He is so committed to Saurashtra cricket that he is always ready to play for us whenever he is not on India duty."
"This time after he came back from Australia he turned up for Saurashtra. He was in touch with (Saurashtra Skipper) Jaydev Unadkat. Then I spoke to him when he returned. He told me he wanted a couple of days rest and would miss a couple of nets sessions."
"But he turned up at the nets on the second day. This is how serious he is about playing for Saurashtra and about his game overall," says Kotak who played 130 first class games for Saurashtra in a career spanning nearly 20 years before he took over as the team coach.
The Saurashtra coach believes Pujara's style is perfectly suited for Test cricket -- grinding the opposition to submission with his gritty batting like he displayed in Australia.
"There are many players in the world along with Pujara who are very good -- someone like Virat Kohli. But I would say Pujara's way of playing Test cricket is probably the best."
"He is like a pillar and the whole team bats around him. In today's world, everyone likes to play their strokes while Pujara is someone who will tire out the bowlers," Kotak adds.
"There is a huge role for that in Test cricket. If you have one batsman who can play out the new ball or play out a spell from a good bowler, then it helps the whole team, it helps the other batsmen," he explains.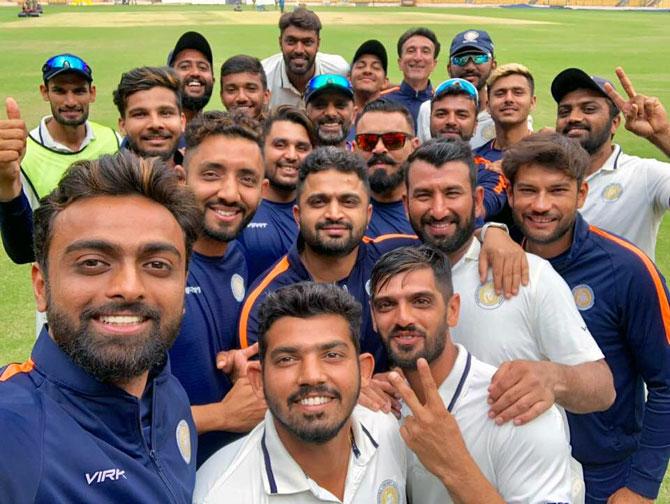 Kotak is clearly unhappy with the Bengaluru crowd for booing Pujara and chanting 'Cheater cheater' when he walked off the middle at the end of the game.
"It was very bad of the Bengaluru crowd to call Pujara cheater because even Karnataka claimed a wicket when Prerak Mankad was clearly not out in the first innings. That time they didn't call him back even though the wicket-keeper and the bowler knew that he was not out," says Kotak, adding, "that time the crowd didn't shout at their own players."
"When you don't call a batsman back if he is wrongly given out, then how can you cry when someone is given not out? It is the umpire's decision," says the coach. "Sometimes, these decisions go in your favour and some times it goes against you."
"I believe that it is your job to walk if the umpire gives you out even if you are not out and when you he gives you not out, you should stay and Pujara did exactly that."
The crowd at the Chinnaswamy stadium demonstrated their anger after Pujara was reprieved twice, courtesy of poor umpiring decisions in the match, when he was given not out to clear caught behind catches in both innings.
The Saurashtra coach felt Pujara was right not to walk after the umpire had ruled him not out, saying Karnataka paid the price for some poor appealing earlier in the game even when they knew the batsmen were not out.
"Karnataka kept appealing desperately every time even when they knew the batsman was not out," says kotak, "we never did anything like that. They were appealing so desperately every time, even if the batsman was not out which may have affected the umpire's thinking."
"The umpires may gone into the dressing room during a break and seen they made the wrong decision (against Mankad). They must have noticed that Karnataka appealed wrongly and that could have been a factor when they appealed against Pujara, the umpire must have thought that they are wrongly appealing for another wicket," Kotak believes.
"The umpire must not have been sure about the decision and hence he must have given Pujara the benefit of doubt," he adds.
"Karnataka had a few decisions which went in their favour like Mayank Agarwal was clearly out twice, but we never made a hue and cry about it even though he went on to score a half-century," he adds.
The crowd chants hardly fazed Pujara who was his usual calm self after the game. Shortly after the match ended, reveals Kotak, Pujara helped Karnataka opener D Nischal in the nets after the youngster called on the Indian batting star to help out with his batting.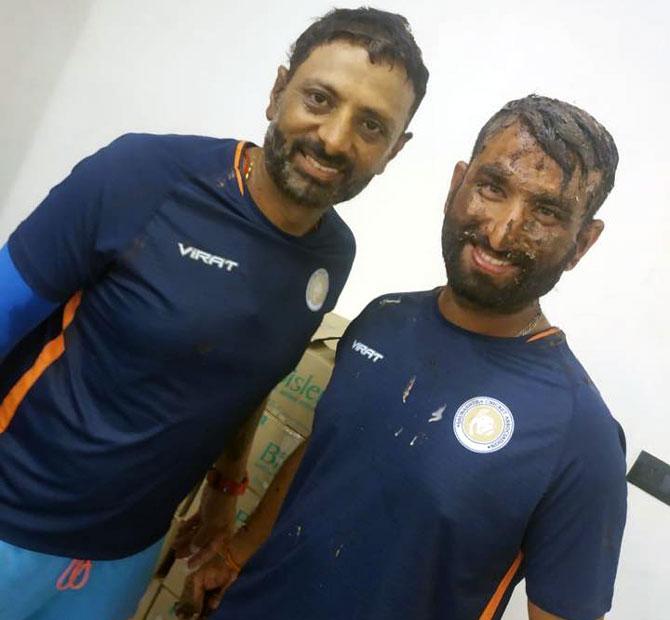 Kotak believes the momentum Saurashtra gained with their come-from-behind wins in the last two games will help his team in the title clash against Vidarbha which will be played in Nagpur from February 3.
Since Kotak took over as the coach four years ago, the team has constantly fought back from the dead.
In his first season in 2014-2015, Saurashtra were relegated before they made it to the final next season where they lost to Mumbai.
Saurashtra then made it to the Vijay Hazare final last season where they were beaten by Karnataka before making it to another Ranji final this season.
"In the 18 games that Saurashtra played in the Ranji Trophy, we have won 10 matches outright, in five matches we have taken the lead, in two matches we have conceded the lead, while we have lost just one match. So it is not that Saurashtra has emerged overnight, we have been doing well for the last 3-4 years," says Kotak.
"Since I took over as coach, we are playing our third major final, including two Ranji finals and last year's Vijay Hazare Trophy final. It is a proud moment for me and it shows that the process is working well for the team. If your team makes it to three big finals in four years, then you must be doing something right," Kotak adds.
"I am fully confident that we will win (the Ranji Trophy) because we have momentum on our side. We lost two Ranji Trophy) finals that we played, one in which I played and one in which I was the coach, so we will learn from those experiences and hope to finish on the winning side this time," he says.
"We have Pujara this time which is a big boost for us. We are missing Ravindra Jadeja, but apart from him the entire team which started the season and has been doing well is there."