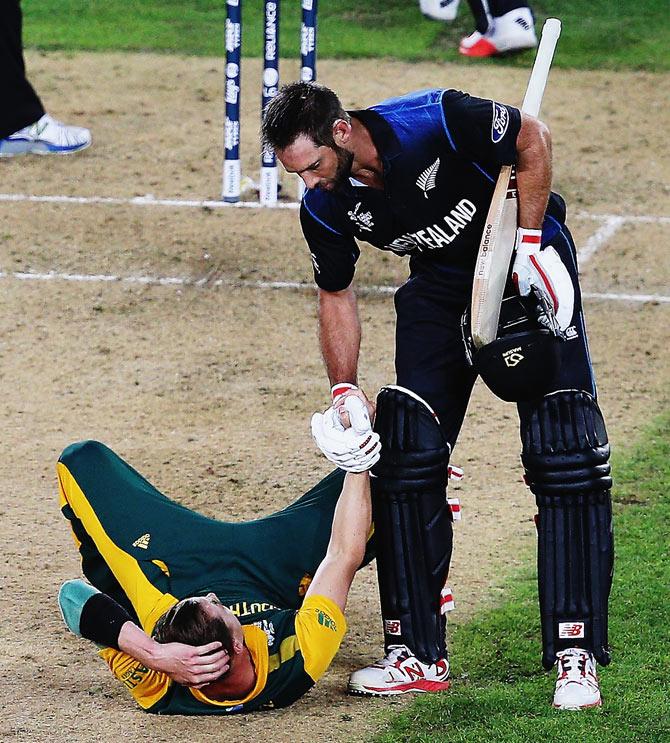 The semi-final between New Zealand and South Africa has everything.
Swashbuckling batsmen who smote the ball for sixes and fours.
Bowlers who took the battle to the batsmen.
Fielders who fielded as if their lives depended on it.
Ultimately, though, it was the catches that were fumbled, runs that were not taken and balls that did not challenge the batsmen and the will to fight till the end that made the difference.
In a nail-biting finish, Grant Elliot hit a six off the penultimate ball to take New Zealand into the finals (scorecard).
Off screen, Abhishek Mande/Rediff.com enjoys the friendly banter between New Zealand supporter Laxmi Negi/Rediff.com and South Africa fan Manu Shankar/Rediff.com.
Don't miss the discussion that took place after the first innings.
And do post your questions/comments about the India-Australia match below.
Video: Hitesh Harisinghani/Rediff.com
Do join our Live Discussion at the end of each innings of the match between India and Australia. The two formidable teams will battle it out to join New Zealand at the Melbourne Cricket Ground for the final match of the 2015 World Cup.
Don't forget to post your questions/comments here.
Catch our earlier videos:
Follow our World Cup coverage here.