Harish Kotian/Rediff.com rates the Indian players in England.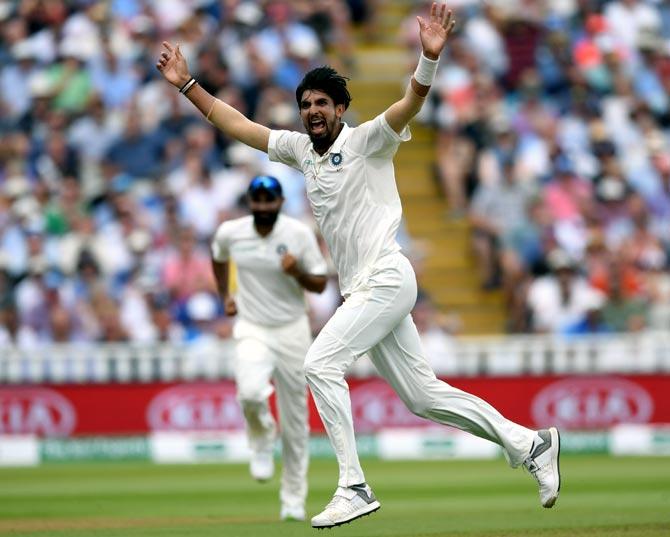 India may have competed well, but the scoreline says it all: England: 4 India: 1.
Virat Kohli underlined his status as the best batsman in the world as he amassed 593 runs -- the most by a batsman in the series.
Alas! the other Indian batsmen failed to support their skipper as the visitors once again came undone in overseas conditions.
The fast bowlers were India's real heroes. Ishant Shami, Mohammed Shami and Jasprit Bumrah produced some splendid performances, but the ultimate result does not summarise their brilliance.
Virat Kohli (9/10)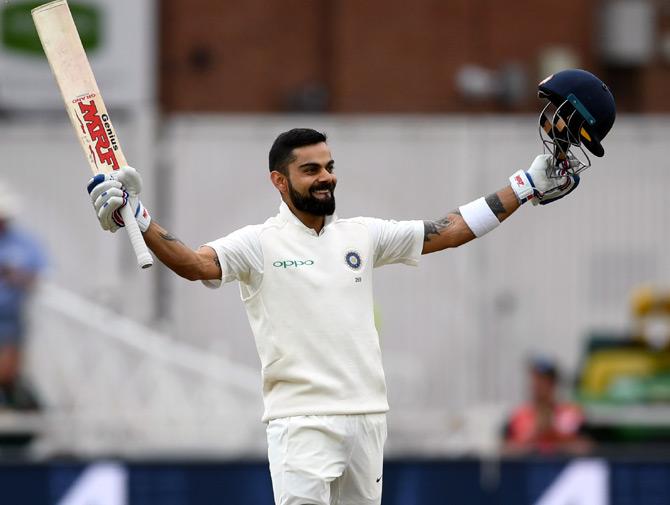 Virat erased memories of his horror tour of England in 2014 in style.
The India captain started with a century -- 149 and 51 -- in the first Test at Edgbaston and continued his golden run throughout the series.
His 593 runs were scored at an average of 59 with two centuries and three fifties.
Although Virat's batting was top class, his captaincy came in for much criticism, mainly for his team selections -- playing two spinners in seamer-friendly conditions in the second Test at Lord's even after the first day was washed out by rain; the shocking decision to drop Cheteshwar Pujara for the first Test among other puzzling choices.
My 9/10 is purely based on Virat's batting. Had his captaincy been included in my evaluation, his marks would have dropped to 6/10.
Ajinkya Rahane (4/10)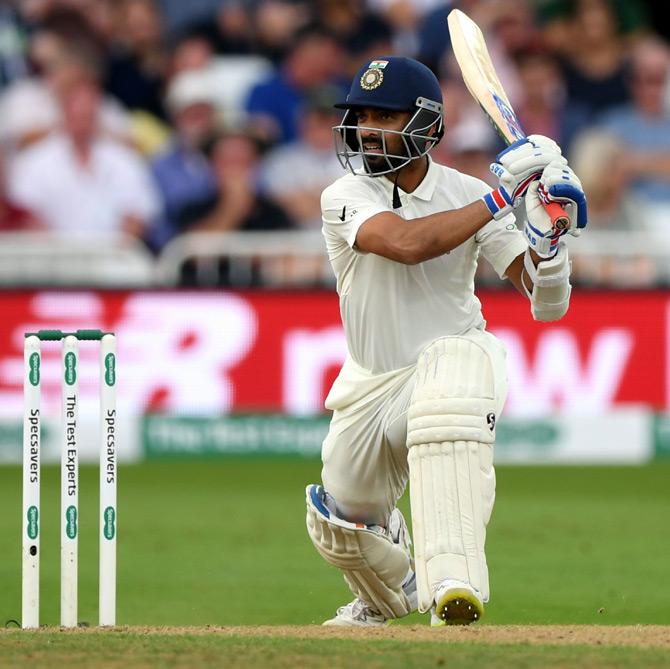 The vice-captain was one of India's biggest disappointments.
On the verge of being dropped after his failures in the first two games, he bounced back with a vital 81 in the must-win third Test at Trent Bridge, which India won to stay alive in the series.
'Jinks' followed it up with a half-century in the Southampton Test, but failed in the Oval Test.
Rahane's disappointing 257 runs at an average of 25 means his place at No 5 is up for grabs for the Australia series.
Cheteshwar Pujara (7/10)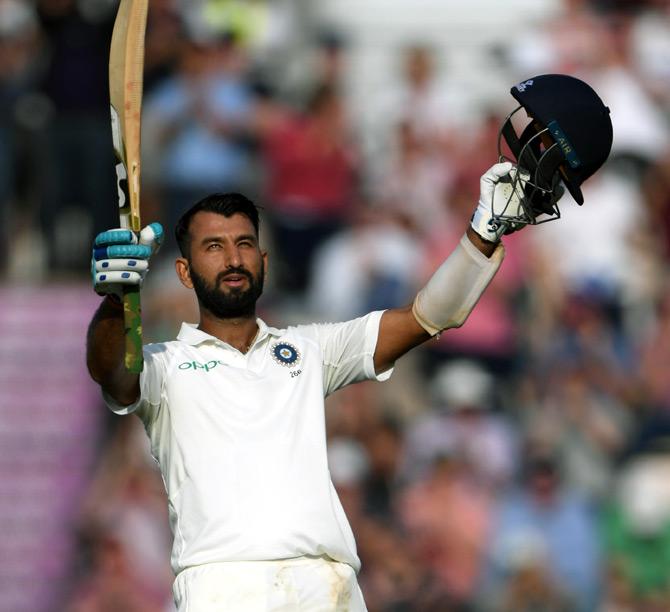 The captain and the head coach dropped Pujara for the series opener, slotting K L Rahul at No 3, a gamble which failed.
Pujara proved his worth when he hit a crucial 72 in the second innings of the Trent Bridge Test, putting on 113 runs for the third wicket with Kohli to put India on the victory path.
Pujara score a brilliant 132 not out in the fourth Test at Southampton to give India the first innings lead, but India failed to chase down 245 for victory.
With 278 runs in four Tests at an average of 39, Pujara will hope that his position at No 3 is secure for the first two Tests Down Under at least.
K L Rahul (4/10)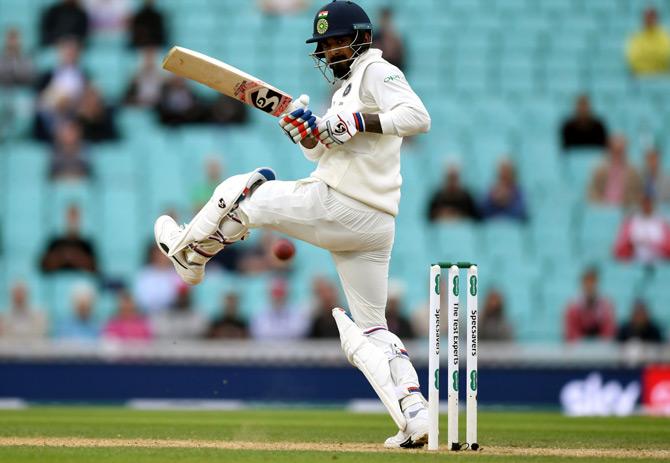 Rahul finished as India's second highest run-getter with 299 runs, but half of those runs came in the second innings of the fifth Test when he hit an entertaining 149.
At the No 3 position, Rahul failed in both innings in the opening Test at Edgbaston.
Drafted back as opener, he scored 23 and 36 in the Trent Bridge Test, but failed in the Lord's and Southampton games.
The 149 has given Rahul's career a reprieve for the Australia series.
Shikhar Dhawan (2/10)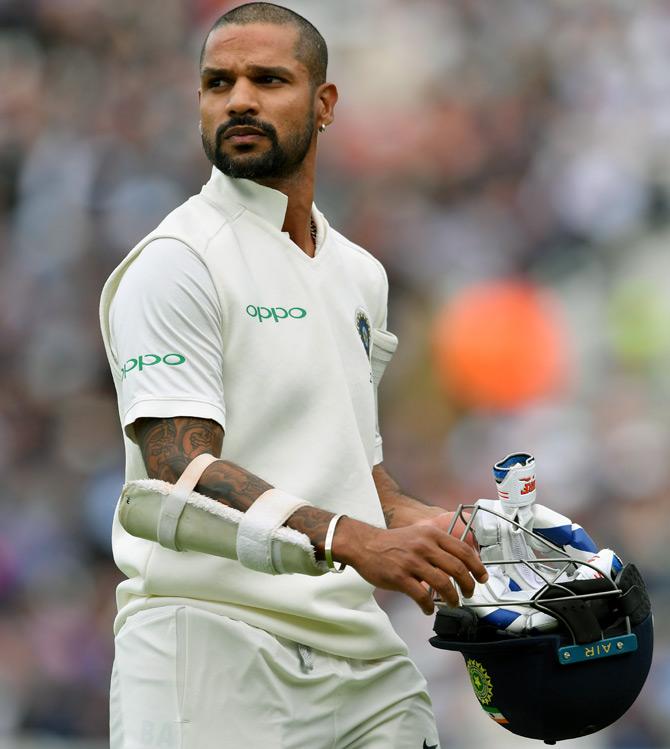 Dhawan may have played his last Test.
With Mayank Agrawal and Prithvi Shaw waiting in the wings, the left-hander will rue his failures in the England series.
After he disappointed in the Edgbaston Test, he was dropped for the Lord's game, but after Murali Vijay failed, he was picked for the Trent Bridge match.
He scored 35 and 44, but just as he looked good for a big knock, Dhawan threw it all away carelessly.
After his failure at Southampton, observers were surprised that Kohli and Ravi Shastri gave him another chance at the Oval rather than give Prithvi Shaw a Test cap. Sadly, Dhawan disappointed again.
Murali Vijay (1/10)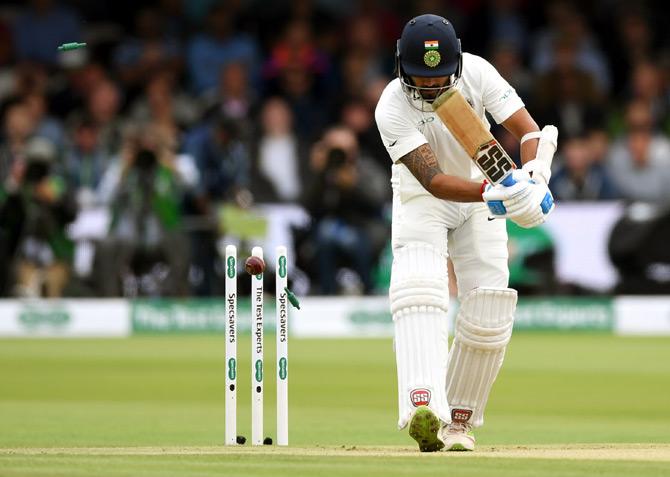 Another fine batsman whose Test career looks as good as over after his failures in the Edgbaston and Lord's Tests.
After he had a pair in the second Test, Vijay was dropped for the Trent Bridge game, then axed from the squad for the last two matches.
Vijay, who went into the series as one of India's most dependable batsmen overseas, scored just 26 runs in four innings.
Hanuma Vihari (5/10)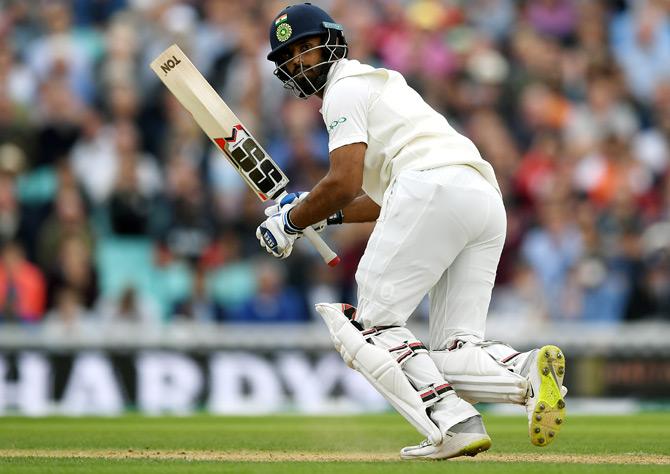 A surprise inclusion for the final Test, he shone on his debut with 56 in the first innings, but fell for a duck when it mattered in the second innings. He also took a couple of vital wickets in the English second innings.
Hanuma showed good temperament with the bat and the spirit to fight it out against a world class attack. Glimpses of heartening promise for the future.
Hardik Pandya (5/10)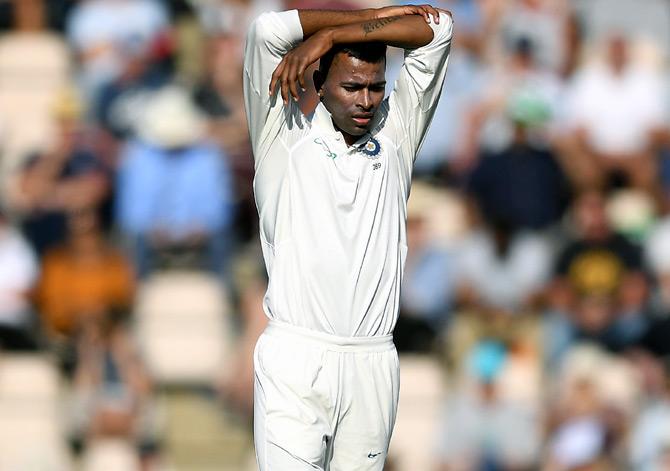 Hardik did the star turn in India's only victory.
He scored an unbeaten half-century and his 5/28 was one of India's finest bowling performances abroad.
Overall, he was a huge disappointment and was deservedly dropped for the Oval Test.
A pity he was so erratic given that he had the captain and coach's backing. Their support may ensure that he is picked for the Australia series, but Hardik will need to demonstrate that he is not just a showboat with a jazzy hairstyle, that his talent counts for something.
Rishabh Pant (6/10)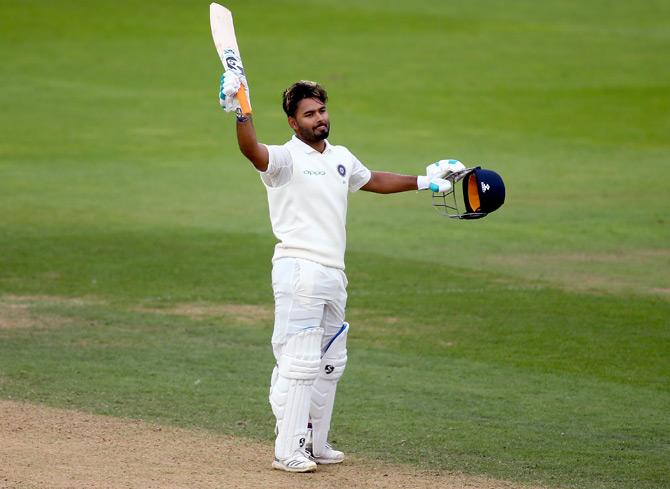 Young Rishabh scored an attacking century in the final innings of the series and finally revealed why he was the star of IPL-11 earlier this year.
He will need to improve his glove work though. With Wriddhiman Saha, the best wicket-keeper in the country recovered from injury, Rishabh may play second fiddle in Australia.
Dinesh Karthik (1/10)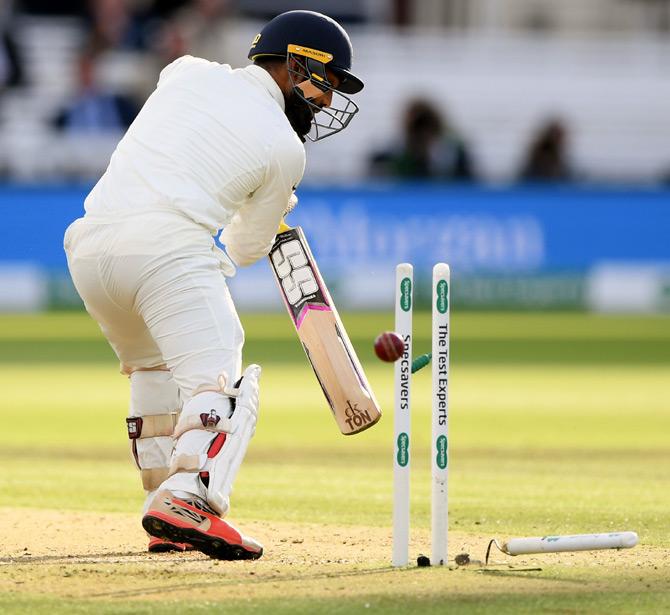 Karthik blew his chance to be a permanent feature in the Indian team in England.
He took 5 catches, but scored just 21 runs in four innings and lost his place to Rishabh for the final three Tests.
Ravichandran Ashwin (4/10)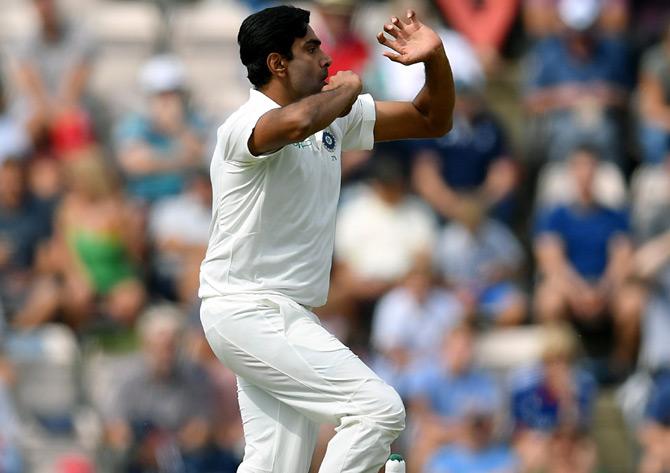 Ashwin began with a bang taking 7 wickets in the first Test. But it all went south after that.
The best off-spinner in the world managed just 4 wickets in the next three Tests.
What was most disappointing was Ashwin's lacklustre show in spin-friendly conditions in the Southampton Test.
While he took just 3 wickets Moeen Ali had 9 Indian scalps and spun England to victory in the series.
Ravindra Jadeja (7/10)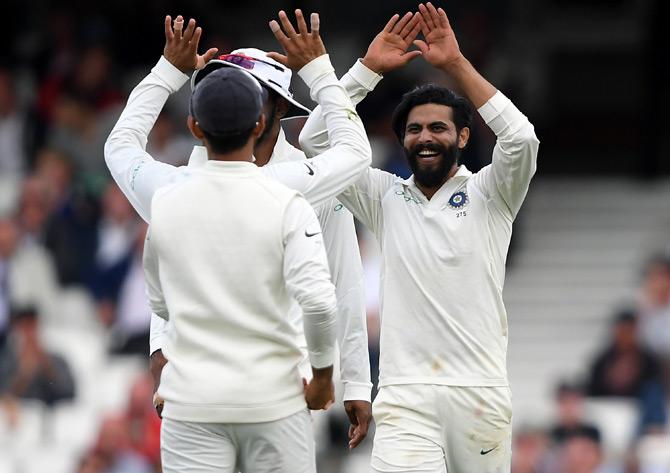 Nearly forgotten by Messrs Kohli and Shastri, Jadeja got a rare chance in the final Test and showed the captain and coach what they had missed out on.
He scored an unbeaten 86 in India's first innings and took 7 wickets.
Had he been picked for the Southampton Test, instead of the not fully fit Ashwin, who knows what could have happened.
Kuldeep Yadav (1/10)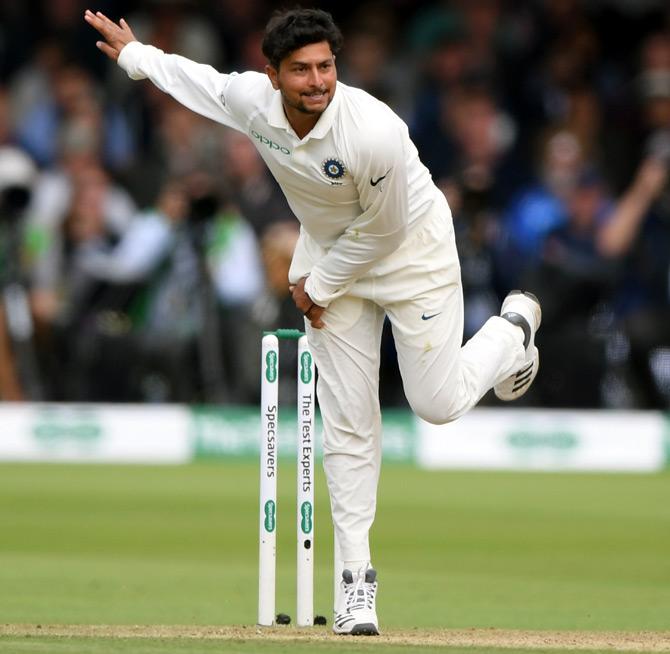 It's unfair to consider Kuldeep for this report card. He was built up as India's spinning ace in the Tests following his exploits with the white ball.
But Kohli and Shastri left him on the bench on an up-and-down pitch at Edgbaston and instead chose to give him a chance in the most seamer-friendly conditions imaginable at Lord's.
Kuldeep was toothless in his 9 overs and was sent home following the third Test, a decision that left spin legend E A S Prasanna baffled.
Ishant Sharma (9/10)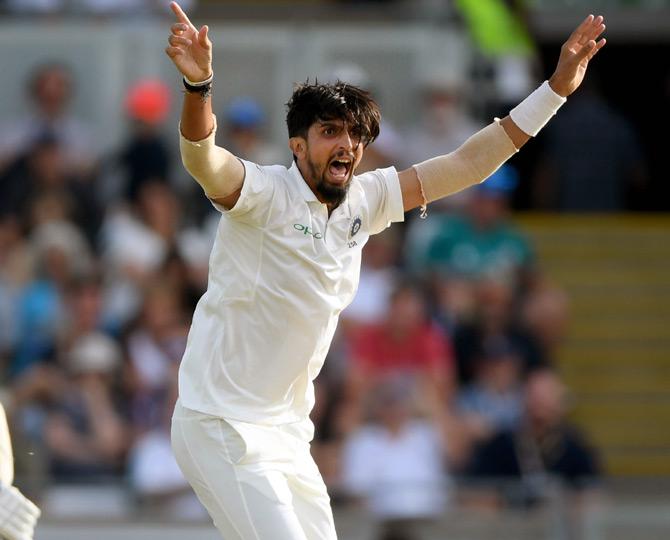 Easily India's Player of the Series.
Ishant gets better with age and with every game he plays.
He led the Indian bowling attack with great distinction, picking up 18 wickets.
Every time Kohli needed a wicket, Ishant was there to deliver the goods.
He also shared most of the workload, sending down 151 overs during the five Tests.
Alastair Cook, by his own admission, was relieved to see Ishant, his nemesis, hobble off the field on the fourth morning. Such is the hold he had on the great English opener and the other left-handers in England's squad.
The dismal Indian batting undid all the fine work invested by Ishant and the other fast bowlers.
Mohammed Shami (8/10)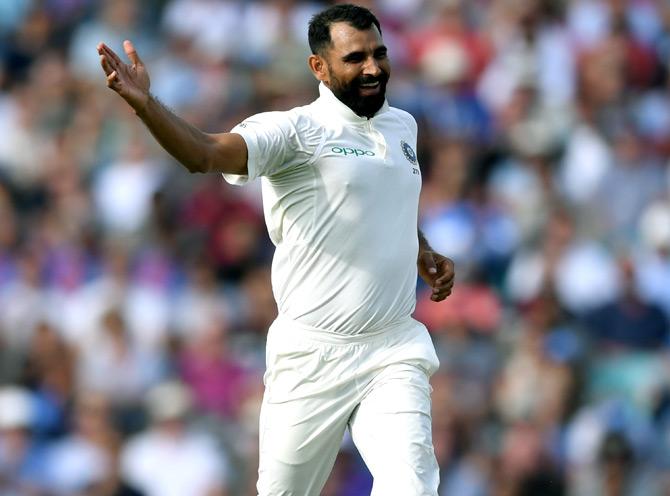 Ishant played the role of premier strike bowler while Shami etched the part of incisive third seamer.
He also went through the series without breaking down and a proof of his fitness was that he bowled 172.4 overs, more than any of his mates.
Shami ended up with 16 scalps and with better luck and better slip-catching could have ended up with many more.
He bowled what many consider 'the best spells ever without a wicket' in the first innings at the Oval when he beat the bat innumerable times.
Jasprit Bumrah (8/10)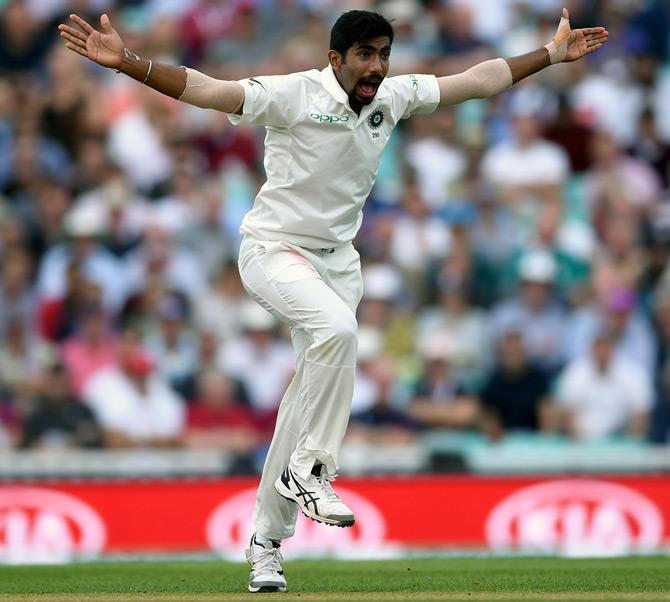 Young Jasprit emerged a potent bowling force in English conditions and promises to be India's strike weapon for years to come.
After missing the first two Tests with injury, he made a smashing comeback with 5 wickets in the Trent Bridge Test to play a key role in India's win.
Jasprit ended with a creditable 14 wickets from three Tests.
What stood out wasn't just his pace and seam movement, but a very astute cricket brain, which could be seen in the way he set up the English batsmen.
Remember the wicket of Keaton Jennings, whom he embarrassed with a ball that jagged back in incredibly to trap the Englishman leg before.
Jasprit showed the ability to bowl long, untiring spells at full intensity and kept running in and hitting 90 mph-plus speeds even in England's second innings in the final Test.
Umesh Yadav (4/10)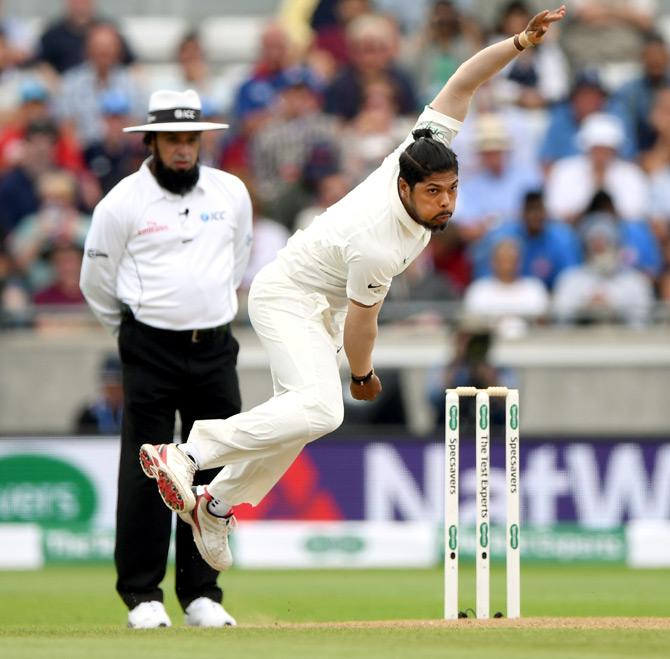 Why Umesh was dropped for the Lord's Test played in seamer-friendly conditions must remain one of the abiding mystery team selections this series.
English cricket writers were startled by Umesh's ability to swing the ball at high speeds after the Edgbaston game, and who knows what may have happened had he been picked instead of the left-arm spinner Kuldeep Yadav.
Umesh took three wickets in the only match he played in the series, but will stay in the reckoning for the Australia series.