Srinivas Bhogle and Purnendu Maji present Rediff.com's Most Valuable Player Index of IPL 2023 after the league stage.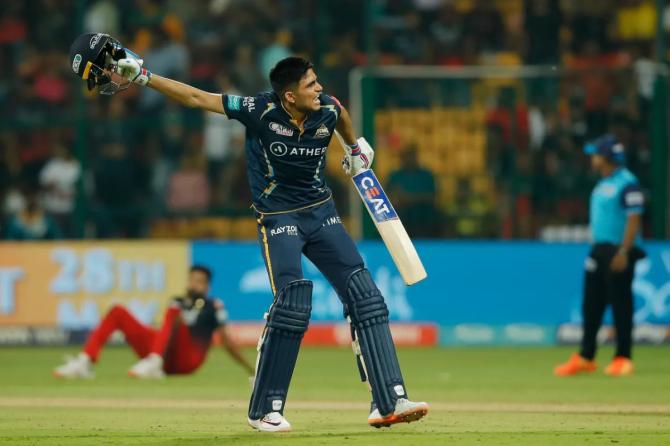 Faf du Plessis currently tops the MVP table with a MVPI of 766, but it won't be for too long because RCB was eliminated Sunday night. Yashasvi Jaiswal (MVPI of 752) too is about to relinquish his second place since RR too has been eliminated.
GT stars Shubman Gill (721) and Rashid Khan (712), currently at #3 and #4, respectively, look most likely to clinch the top spot (with Rashid Khan enjoying a slight advantage if he's required to bat).
The dark horse could be Suryakumar Yadav, currently #6, with an MVPI of 644. If MI win the title, then SKY could well become MVP because he'll have the opportunity to play three more innings.
Table 1 lists the top 50 players with the highest MVPI, and their corresponding PVI (paisa vasool index). PVI tells you how many US dollars the franchise pays the player for every 'run equivalent' that he contributes. The lower a player's PVI, the greater the value that he offers.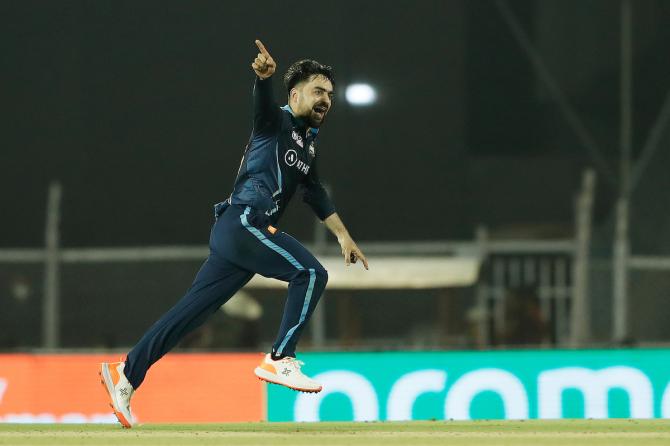 The best steals this year have been Jaiswal (RR; PVI of 665), Devon Conway (CSK; 223), Rinku Singh (KKR; 132), Piyush Chawla (MI; 139), Mohit Sharma (GT; 162), Ajinkya Rahane (CSK; 164), Prabhsimran Singh (PBKS; 205), Kyle Mayers (LSG; 172), Jitesh Sharma (PBKS: 71); Tushar Deshpande (CSK; 172) and Matheesha Pathirani (CSK; 173).
If 10 of the top 50 players have a PVI below 200, then one must question the acumen of auction teams. Let's also not forget how often the auction teams pay ridiculously large sums to get shockingly poor performances.
Table 2 contains more detailed data, and includes columns used in the MVPI calculation.
Best performing players In IPL 2023 (after league phase ending 21.5.23)
| Rank | Player | Team | From | MVPI | PVI($) |
| --- | --- | --- | --- | --- | --- |
| 1 | Faf du Plessis | RCB | SA | 766 | 1142 |
| 2 | Yashasvi Jaiswal | RR | IND | 752 | 665 |
| 3 | Shubman Gill | GT | IND | 721 | 1387 |
| 4 | Rashid Khan | GT | AFG | 712 | 2633 |
| 5 | Virat Kohli | RCB | IND | 671 | 2794 |
| 6 | Suryakumar Yadav | MI | IND | 644 | 1553 |
| 7 | Heinrich Klaasen | SRH | SA | 595 | 1103 |
| 8 | Axar Patel | DC | IND | 587 | 1917 |
| 9 | Ruturaj Gaikwad | CSK | IND | 582 | 1289 |
| 10 | Ravindra Jadeja | CSK | IND | 566 | 3534 |
| 11 | Devon Conway | CSK | NZ | 561 | 223 |
| 12 | Glenn Maxwell | RCB | AUS | 550 | 2500 |
| 13 | Mohammed Shami | GT | IND | 533 | 1466 |
| 14 | Rinku Singh | KKR | IND | 521 | 132 |
| 15 | Ishan Kishan | MI | IND | 503 | 3790 |
| 16 | Cameron Green | MI | AUS | 500 | 4375 |
| 17 | David Warner | DC | AUS | 486 | 1608 |
| 18 | Marcus Stoinis | LSG | AUS | 480 | 2396 |
| 19 | Mohammed Siraj | RCB | IND | 467 | 1874 |
| 20 | Nicholas Pooran | LSG | WI | 464 | 4310 |
| 21 | Nitish Rana | KKR | IND | 463 | 2160 |
| 22 | Sanju Samson | RR | IND | 460 | 3804 |
| 23 | Piyush Chawla | MI | IND | 450 | 139 |
| 24 | Shivam Dube | CSK | IND | 446 | 1121 |
| 25 | Jos Buttler | RR | ENG | 433 | 2887 |
| 26 | Yuzvendra Chahal | RR | IND | 428 | 1898 |
| 27 | Varun Chakravarthy | KKR | IND | 418 | 2392 |
| 28 | Venkatesh Iyer | KKR | IND | 411 | 2433 |
| 29 | Sam Curran | PBKS | ENG | 408 | 5668 |
| 30 | Krunal Pandya | LSG | IND | 406 | 2540 |
| 31 | Ravi Bishnoi | LSG | IND | 396 | 1263 |
| 32 | R Ashwin | RR | IND | 389 | 1607 |
| 33 | Mohit Sharma | GT | IND | 385 | 162 |
| 34 | Ajinkya Rahane | CSK | IND | 381 | 164 |
| 35 | Shimron Hetmyer | RR | WI | 378 | 2811 |
| 36 | Shikhar Dhawan | PBKS | IND | 373 | 2765 |
| 37 | Andre Russell | KKR | WI | 365 | 4110 |
| 38 | Prabhsimran Singh | PBKS | IND | 365 | 205 |
| 39 | Kyle Mayers | LSG | WI | 363 | 172 |
| 40 | Bhuvneshwar Kumar | SRH | IND | 363 | 1446 |
| 41 | Moeen Ali | CSK | ENG | 361 | 2770 |
| 42 | Mitchell Marsh | DC | AUS | 356 | 702 |
| 43 | Jitesh Sharma | PBKS | IND | 354 | 71 |
| 44 | Wriddhiman Saha | GT | IND | 348 | 682 |
| 45 | Tushar Deshpande | CSK | IND | 345 | 72 |
| 46 | Hardik Pandya | GT | IND | 345 | 5435 |
| 47 | Matheesha Pathirana | CSK | SL | 343 | 73 |
| 48 | Vijay Shankar | GT | IND | 336 | 521 |
| 49 | Liam Livingstone | PBKS | ENG | 331 | 4343 |
| 50 | Trent Boult | RR | NZ | 305 | 3279 |
Table 2: More data about the best performing players so far at IPL 16 (after league phase as on 21.5.23)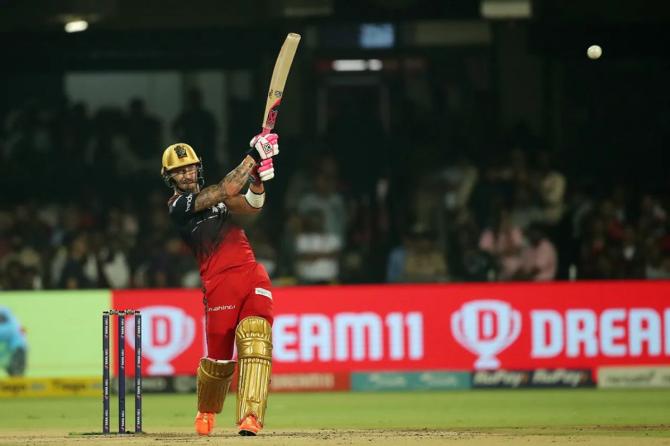 | Rank | Player | Runs | Top Score | 4s | 6s | Strike Rate | Wickets | Economy Rate | Game | PVI (INR) |
| --- | --- | --- | --- | --- | --- | --- | --- | --- | --- | --- |
| 1 | Faf du Plessis | 730 | 84 | 60 | 36 | 153.7 | 0 | - | 14 | 91384 |
| 2 | Yashasvi Jaiswal | 625 | 124 | 83 | 26 | 163.6 | 0 | - | 14 | 53191 |
| 3 | Shubman Gill | 680 | 104 | 67 | 22 | 152.5 | 0 | - | 14 | 110957 |
| 4 | Rashid Khan | 95 | 79 | 4 | 11 | 237.5 | 24 | 7.8 | 14 | 210674 |
| 5 | Virat Kohli | 639 | 101 | 65 | 16 | 139.8 | 0 | - | 14 | 223547 |
| 6 | Suryakumar Yadav | 511 | 103 | 56 | 24 | 185.1 | 0 | - | 14 | 124224 |
| 7 | Heinrich Klaasen | 448 | 104 | 32 | 25 | 177.1 | 0 | - | 12 | 88235 |
| 8 | Axar Patel | 283 | 54 | 21 | 15 | 139.4 | 11 | 7.2 | 14 | 153322 |
| 9 | Ruturaj Gaikwad | 504 | 92 | 36 | 28 | 148.2 | 0 | - | 14 | 103093 |
| 10 | Ravindra Jadeja | 153 | 25 | 8 | 8 | 137.8 | 17 | 7.7 | 14 | 282686 |
| 11 | Devon Conway | 585 | 92 | 69 | 16 | 138.6 | 0 | - | 14 | 17825 |
| 12 | Glenn Maxwell | 400 | 77 | 29 | 31 | 183.5 | 3 | 9.1 | 14 | 200000 |
| 13 | Mohammed Shami | 0 | 0 | 0 | 0 | 0 | 24 | 7.7 | 14 | 117261 |
| 14 | Rinku Singh | 474 | 67 | 31 | 29 | 149.5 | 0 | - | 14 | 10557 |
| 15 | Ishan Kishan | 439 | 75 | 51 | 18 | 143.5 | 0 | - | 14 | 303181 |
| 16 | Cameron Green | 381 | 100 | 32 | 19 | 160.1 | 5 | 9.6 | 14 | 350000 |
| 17 | David Warner | 516 | 86 | 69 | 10 | 131.6 | 0 | - | 14 | 128601 |
| 18 | Marcus Stoinis | 368 | 89 | 23 | 26 | 150.2 | 5 | 9.2 | 14 | 191667 |
| 19 | Mohammed Siraj | 1 | 1 | 0 | 0 | 50 | 19 | 7.5 | 14 | 149893 |
| 20 | Nicholas Pooran | 358 | 62 | 26 | 26 | 173.8 | 0 | - | 14 | 344828 |
| 21 | Nitish Rana | 413 | 75 | 38 | 20 | 141 | 3 | 8.5 | 14 | 172786 |
| 22 | Sanju Samson | 362 | 66 | 25 | 18 | 153.4 | 0 | - | 14 | 304348 |
| 23 | Piyush Chawla | 25 | 18 | 1 | 1 | 125 | 20 | 7.8 | 14 | 11111 |
| 24 | Shivam Dube | 385 | 52 | 12 | 33 | 160.4 | 0 | - | 14 | 89686 |
| 25 | Jos Buttler | 392 | 95 | 42 | 14 | 139 | 0 | - | 14 | 230947 |
| 26 | Yuzvendra Chahal | 0 | 0 | 0 | 0 | - | 21 | 8.2 | 14 | 151869 |
| 27 | Varun Chakravarthy | 1 | 1 | 0 | 0 | 11.1 | 20 | 8.1 | 14 | 191388 |
| 28 | Venkatesh Iyer | 404 | 104 | 32 | 21 | 145.8 | 0 | - | 14 | 194647 |
| 29 | Sam Curran | 276 | 55 | 20 | 13 | 136 | 10 | 10.2 | 14 | 453431 |
| 30 | Krunal Pandya | 180 | 49 | 14 | 6 | 116.9 | 9 | 7.2 | 14 | 203202 |
| 31 | Ravi Bishnoi | 17 | 5 | 1 | 0 | 81 | 16 | 7.8 | 14 | 101010 |
| 32 | R Ashwin | 67 | 30 | 5 | 3 | 131.4 | 14 | 7.5 | 13 | 128535 |
| 33 | Mohit Sharma | 0 | 0 | 0 | 0 | 0 | 17 | 8.2 | 11 | 12987 |
| 34 | Ajinkya Rahane | 282 | 71 | 22 | 13 | 169.9 | 0 | - | 12 | 13123 |
| 35 | Shimron Hetmyer | 299 | 56 | 12 | 23 | 151.8 | 0 | - | 14 | 224868 |
| 36 | Shikhar Dhawan | 373 | 99 | 49 | 12 | 142.9 | 0 | - | 11 | 221180 |
| 37 | Andre Russell | 227 | 42 | 13 | 18 | 145.5 | 7 | 11.3 | 14 | 328767 |
| 38 | Prabhsimran Singh | 358 | 103 | 38 | 19 | 150.4 | 0 | - | 14 | 16438 |
| 39 | Kyle Mayers | 361 | 73 | 35 | 22 | 144.4 | 0 | 8.4 | 12 | 13774 |
| 40 | Bhuvneshwar Kumar | 42 | 27 | 4 | 0 | 89.4 | 16 | 8.3 | 14 | 115702 |
| 41 | Moeen Ali | 115 | 23 | 12 | 5 | 132.2 | 9 | 7.5 | 13 | 221607 |
| 42 | Mitchell Marsh | 128 | 63 | 11 | 7 | 132 | 12 | 8.4 | 9 | 56180 |
| 43 | Jitesh Sharma | 309 | 49 | 22 | 21 | 156.1 | 0 | - | 14 | 5650 |
| 44 | Wriddhiman Saha | 287 | 81 | 37 | 7 | 129.9 | 0 | - | 14 | 54598 |
| 45 | Tushar Deshpande | 0 | 0 | 0 | 0 | 0 | 20 | 9.5 | 14 | 5797 |
| 46 | Hardik Pandya | 289 | 66 | 23 | 11 | 130.8 | 3 | 8.6 | 13 | 434783 |
| 47 | Matheesha Prathirana | 0 | 0 | 0 | 0 | - | 15 | 7.6 | 10 | 5831 |
| 48 | Vijay Shankar | 296 | 63 | 28 | 14 | 160 | 0 | - | 12 | 41667 |
| 49 | Liam Livingstone | 279 | 94 | 20 | 19 | 163.2 | 2 | 13.4 | 9 | 347432 |
| 50 | Trent Boult | 16 | 15 | 1 | 1 | 114.3 | 13 | 8.2 | 10 | 262295 |
Feature Presentation: Aslam Hunani/Rediff.com