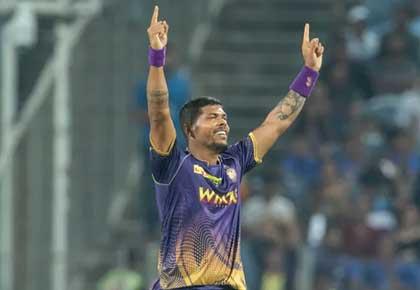 The top five includes Yuzvendra Chahal and Kuldeep Yadav; both reminding the Indian selectors that they can still be formidable magicians.
Purnendu Maji and Srinivas Bhogle list the 50 Most Valuable Players after the first 23 IPL 2022 games.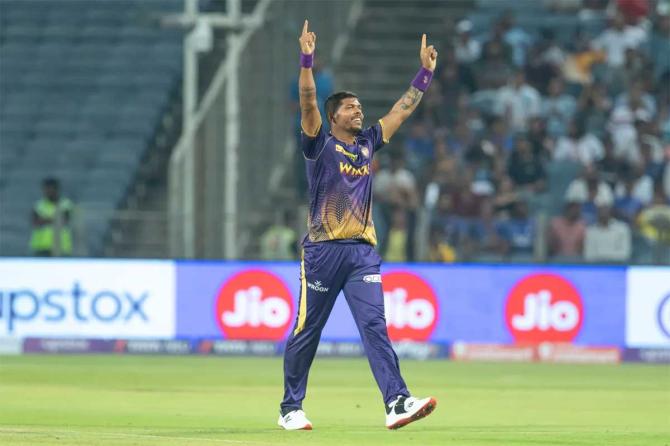 There's an early trend becoming visible in the 15th edition of the Indian Premier League: Indian players, especially bowlers, and especially those who haven't worn the India cap recently (if at all), are emerging as the Most Valuable Players (MVP) so far.
The top-ranked player is Umesh Yadav (KKR; MVPI: 249), who has taken a lot of wickets at a good economy rate and also hit some quick runs.
The top five includes Yuzvendra Chahal (RR; MVPI: 247) and Kuldeep Yadav (DC; MVPI: 220); both reminding the Indian selectors that they can still be formidable magicians.
Liam Livingstone (PBKS; MVPI: 224) is the top international player because he has hit a lot of runs at a furious pace, and taken a couple of wickets albeit at a high economy rate.
Two of India's top three batters: Virat Kohli (RCB; MVPI: 105) and Rohit Sharma (MI; MVPI: 103) have not made it to the top 50 so far, and the third, K L Rahul (LSG), is placed 41st with a MVPI of 122. Of course, these are early days with just 30% of the matches completed so far.
The MVPI collapses a player's batting, bowling and fielding performance into a single 'run equivalent'.
To have the best MVPI value, batters must score a lot of runs with a high strike rate and bowlers must take a lot of wickets with a low economy rate.
MVPI: Most Valuable Player Index = Sum of batting, bowling and fielding points. Run outs are counted as 1 (wicket) for a direct hit, and 0.5 (wicket) if the fielder is an equal participant in a run out dismissal.
This analysis is based on the first 23 matches of IPL 2022, and as on the morning of April 14, 2022.
Since the pitches are so far batter-friendly, and also bowler-unfriendly with all that dew, we've assumed the par score to be 180 and every wicket to be worth 18 'runs'.
Who, among the top 50 players, currently offer the best value for money?
They include Umesh Yadav (KKR; with a PVI of 382), Kuldeep Yadav (DC; PVI: 346), Robin Uthappa (CSK; PVI: 437).
Other players with a PVI below 500 are: Tilak Varma (MI; 415) Lalit Yadav (DC; 215), Jitesh Sharma (PBKS; 83), Ayush Badoni (LSG; 84) and Bhanuka Rajapaksha (PBKS; 213).
The Paisa Vasool Index -- PVI -- can be considered to be the number of US$ that the franchise pays the player for every 'run equivalent' contributed.
PVI is obtained by dividing the player's auction price by the number of 'runs' that he has contributed.
A PVI of under 1000 is usually good value for money; although the index is obviously skewed by the very high price paid to established (especially Indian) players.
Best Performing Players so far at IPL 2022 (after Match 23 ending 13.4.22)
| Rank | Player | Team | From | Runs | Top Score | 4s | 6s | Strike Rate | Wickets | Economy Rate | Games | MVPI | PVI(US$) | PVI(INR) |
| --- | --- | --- | --- | --- | --- | --- | --- | --- | --- | --- | --- | --- | --- | --- |
| 1 | Umesh Yadav | KKR | IND | 18 | 18 | 2 | 1 | 138.5 | 10 | 6.6 | 5 | 249 | 382 | 28686 |
| 2 | Yuzvendra Chahal | RR | IND | 0 | 0 | 0 | 0 | - | 11 | 6.5 | 4 | 247 | 1003 | 75188 |
| 3 | Shivam Dube | CSK | IND | 207 | 95 | 16 | 13 | 176.9 | 0 | 18 | 5 | 225 | 847 | 63492 |
| 4 | Liam Livingstone | PBKS | ENG | 164 | 64 | 13 | 12 | 186.4 | 2 | 11.5 | 5 | 224 | 2445 | 183355 |
| 5 | Kuldeep Yadav | DC | IND | 14 | 14 | 0 | 1 | 100 | 10 | 7.4 | 4 | 220 | 346 | 25974 |
| 6 | Robin Uthappa | CSK | IND | 194 | 88 | 17 | 12 | 163 | 0 | - | 5 | 218 | 437 | 32765 |
| 7 | Wanindu Hasaranga | RCB | SL | 11 | 7 | 1 | 1 | 183.3 | 10 | 8.2 | 5 | 213 | 2403 | 180248 |
| 8 | Jos Buttler | RR | ENG | 218 | 100 | 15 | 15 | 141.6 | 0 | - | 4 | 213 | 1789 | 134138 |
| 9 | Shubman Gill | GT | IND | 187 | 96 | 18 | 5 | 159.8 | 0 | - | 4 | 211 | 1444 | 108328 |
| 10 | Andre Russell | KKR | WI | 130 | 70 | 7 | 12 | 173.3 | 3 | 10.2 | 5 | 203 | 2815 | 211119 |
| 11 | Shimron Hetmyer | RR | WI | 168 | 59 | 10 | 14 | 178.7 | 0 | - | 4 | 203 | 1595 | 119634 |
| 12 | Tilak Varma | MI | IND | 157 | 61 | 12 | 9 | 160.2 | 0 | 6 | 5 | 195 | 415 | 31136 |
| 13 | Rahul Chahar | PBKS | IND | 34 | 22 | 3 | 2 | 141.7 | 7 | 7.3 | 5 | 193 | 1295 | 97150 |
| 14 | Prithvi Shaw | DC | IND | 160 | 61 | 21 | 6 | 170.2 | 0 | - | 4 | 191 | 1496 | 112191 |
| 15 | Harshal Patel | RCB | IND | 19 | 10 | 2 | 1 | 190 | 6 | 5.5 | 4 | 191 | 2680 | 201010 |
| 16 | Hardik Pandya | GT | IND | 141 | 50 | 18 | 2 | 122.6 | 3 | 7.6 | 4 | 190 | 3008 | 225564 |
| 17 | Dinesh Karthik | RCB | IND | 131 | 44 | 13 | 9 | 218.3 | 0 | - | 5 | 189 | 1386 | 103930 |
| 18 | Sunil Narine | KKR | WI | 16 | 12 | 2 | 1 | 160 | 4 | 4.9 | 5 | 185 | 1544 | 115830 |
| 19 | Shikhar Dhawan | PBKS | IND | 197 | 70 | 19 | 6 | 133.1 | 0 | - | 5 | 180 | 2183 | 163690 |
| 20 | Suryakumar Yadav | MI | IND | 163 | 68 | 11 | 12 | 158.3 | 0 | - | 3 | 180 | 2116 | 158730 |
| 21 | Quinton de Kock | LSG | SA | 188 | 80 | 21 | 3 | 132.4 | 0 | - | 5 | 175 | 1837 | 137755 |
| 22 | Avesh Khan | LSG | IND | 7 | 7 | 0 | 2 | 350 | 8 | 8.5 | 5 | 165 | 2886 | 216450 |
| 23 | T Natarajan | SRH | IND | 0 | 0 | 0 | 0 | - | 8 | 8.3 | 4 | 164 | 929 | 69686 |
| 24 | Washington Sundar | SRH | IND | 58 | 40 | 6 | 2 | 207.1 | 4 | 7.9 | 4 | 162 | 753 | 56437 |
| 25 | Trent Boult | RR | NZ | 3 | 2 | 0 | 0 | 150 | 7 | 7.3 | 4 | 161 | 1893 | 141970 |
| 26 | Kagiso Rabada | PBKS | SA | 38 | 25 | 5 | 1 | 131 | 6 | 8.2 | 4 | 156 | 2824 | 211767 |
| 27 | Ishan Kishan | MI | IND | 178 | 81 | 20 | 1 | 121.9 | 0 | - | 5 | 154 | 4716 | 353664 |
| 28 | Deepak Hooda | LSG | IND | 155 | 55 | 13 | 6 | 130.3 | 1 | 10.8 | 5 | 151 | 1813 | 135998 |
| 29 | Ravindra Jadeja | CSK | AUS | 66 | 26 | 5 | 2 | 117.9 | 4 | 8.2 | 5 | 149 | 5113 | 383509 |
| 30 | Krunal Pandya | LSG | IND | 68 | 22 | 6 | 1 | 151.1 | 3 | 7.1 | 5 | 148 | 2654 | 199083 |
| 31 | Dwayne Bravo | CSK | WI | 9 | 8 | 1 | 0 | 128.6 | 7 | 8.9 | 5 | 147 | 1425 | 106900 |
| 32 | Khaleel Ahmed | DC | IND | 0 | 0 | 0 | 0 | 0 | 7 | 7.2 | 3 | 147 | 1361 | 102041 |
| 33 | Rashid Khan | GT | AFG | 0 | 0 | 0 | 0 | 0 | 6 | 6.7 | 4 | 146 | 3914 | 293542 |
| 34 | Sanju Samson | RR | IND | 106 | 55 | 6 | 9 | 155.9 | 0 | - | 4 | 145 | 3678 | 275862 |
| 35 | Shreyas Iyer | KKR | IND | 123 | 54 | 15 | 2 | 148.2 | 0 | - | 5 | 139 | 4197 | 314748 |
| 36 | Mohammed Shami | GT | IND | 0 | 0 | 0 | 0 | - | 6 | 7.7 | 4 | 138 | 1725 | 129400 |
| 37 | Ravi Bishnoi | LSG | IND | 0 | 0 | 0 | 0 | - | 4 | 6.9 | 5 | 136 | 1401 | 105042 |
| 38 | Faf du Plessis | RCB | SA | 146 | 88 | 10 | 7 | 128.1 | 0 | - | 5 | 129 | 2584 | 193798 |
| 39 | Rahul Tripathi | SRH | IND | 100 | 44 | 11 | 4 | 169.5 | 0 | - | 4 | 128 | 2530 | 189732 |
| 40 | Shahbaz Ahamad | RCB | IND | 113 | 45 | 8 | 6 | 154.8 | 0 | 9.8 | 5 | 124 | 922 | 69124 |
| 41 | KL Rahul | LSG | IND | 132 | 68 | 9 | 5 | 128.2 | 0 | - | 5 | 122 | 6635 | 497658 |
| 42 | Lalith Yadav | DC | IND | 74 | 48 | 6 | 3 | 115.6 | 2 | 6.3 | 4 | 115 | 215 | 16149 |
| 43 | Jitesh Sharma | PBKS | IND | 79 | 30 | 3 | 7 | 183.7 | 0 | - | 3 | 115 | 83 | 6211 |
| 44 | Odean Smith | PBKS | WI | 38 | 25 | 1 | 4 | 131 | 6 | 12.1 | 5 | 114 | 2506 | 187970 |
| 45 | Ayush Badoni | LSG | IND | 107 | 54 | 8 | 6 | 148.6 | 0 | - | 5 | 114 | 84 | 6266 |
| 46 | Tim Southee | KKR | NZ | 1 | 1 | 0 | 0 | 20 | 5 | 7 | 2 | 113 | 632 | 47408 |
| 47 | Bhanuka Rajapaksa | PBKS | SL | 83 | 43 | 5 | 8 | 230.6 | 0 | - | 3 | 112 | 213 | 15944 |
| 48 | Shardul Thakur | DC | IND | 53 | 29 | 5 | 3 | 196.3 | 3 | 10.3 | 4 | 109 | 3757 | 281782 |
| 49 | Mayank Agarwal | PBKS | IND | 94 | 52 | 10 | 4 | 130.6 | 0 | - | 5 | 109 | 5242 | 393185 |
| 50 | Murugan Ashwin | MI | IND | 6 | 6 | 1 | 0 | 60 | 5 | 7.7 | 5 | 109 | 699 | 52425 |
Feature Presentation: Ashish Narsale/Rediff.com